How Birds Of Prey Got John Wick's Director To Help Direct Its Action Scenes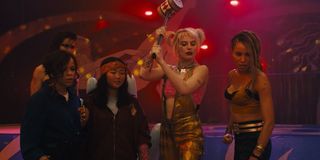 Action films are deceptively hard to pull off. You have to find a way to incorporate intense sequences that feel both original and believable, within the context of the story. And what's happening in the moments of explosive action have to match the tone of the rest of the film. Luckily, Birds of Prey's team had some experts on hand to help make sure they accomplished all that and more.
In an exclusive interview with ReelBlend, Birds of Prey's director Cathy Yan revealed that she had the John Wick series in mind when she began to plan the film's action sequences. And she reached out to Chad Stahelski, the franchise's director, to help her realize her vision:
Cathy Yan also worked closely with other members of the 87eleven team, both during initial production and in the reshoots that followed:
Birds of Prey's director had nothing but praise for Chad Stahelski, who's had a storied career in Hollywood -- first as a stunt double for actors like Keanu Reeves, and now as a successful director in his own right:
Ultimately, it seems as though the whole cast and crew of Birds of Prey were on board to take the action in the film to the limit. By all accounts, the actresses that make up Harley Quinn's motley crew put their all into bringing the film's most exciting sequences to life.
The collaboration at the heart of Birds of Prey's action sequences paid off big time. The film has been praised for its no-holds-barred approach to Harley Quinn's vengeance-fueled story. And if it becomes a hit, and spawns a franchise, Cathy Yan and the 87eleven team may end up working together more in the future. Birds of Prey opens in theaters Friday, February 7. Check out ReelBlend's interview with Cathy Yan when the podcast goes live Wednesday, February 5.
Your Daily Blend of Entertainment News