Why Birds Of Prey Is Rated R, According To Margot Robbie And Team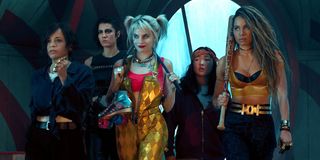 On the surface, Harley Quinn doesn't really seem like a PG-13 rating kind of girl, even though Suicide Squad landed that rating. So, it's not a huge surprise that her latest cinematic breakthrough in Warner Bro.'s Birds of Prey has been slapped with an R rating. While that may be disappointing to Harley's younger fans, Margot Robbie and the cast and crew of the film can and have offered plenty of reasons why it had to be that way.
At the opening of Harleywood in Hollywood, Margot Robbie, who reprises her role as Harley Quinn, opened up about how Birds of Prey's R-rating not only matched her character's mindset, but also freed the team up to tell her story. She said:
According to what Margot Robbie told Variety, the fight scenes featuring Harley and her fellow vigilantes are pretty intense -- and definitely not kid friendly. That meant intense preparation and fight choreography -- but it also gave the team a lot of freedom. In addition, Birds of Prey director Cathy Yan was grateful she could take the characters' story where she felt it needed to go:
Margot Robbie's co-stars were equally enthused about how the film ultimately gets its point across. Mary Elizabeth Winstead, who plays Huntress in Birds of Prey, spoke to the reasons why they took a 'no holds barred' approach, also noting,
In other words, we can expect the language in Birds of Prey tp be every bit as colorful as its visuals. That may come as a surprise to fans who first encountered Harley Quinn in Suicide Squad. Despite existing in the same universe, the 2016 action film was rated PG-13 -- so in some ways, it introduced a watered down, but still intensely popular, version of Margot Robbie's bombastic vigilante. With this R rating, fans can expect to see the same Harley Quinn -- albeit one that is much less restricted (both by the Joker and by the MPAA).
You can see Harley Quinn and the rest of her incredible crew gals in all their uninhibited glory when Birds of Prey hits theaters on February 7, 2020. Until then, check out our 2020 release schedule to see what other exciting films are coming your way soon.
Your Daily Blend of Entertainment News