Chris Pratt's Best Movie And TV Roles, Ranked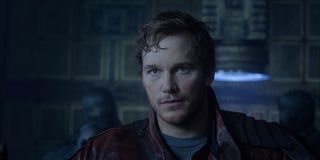 After years of playing assorted supporting roles in various movies and TV shows, Chris Pratt finally rose up the ranks into leading man status with Guardians of the Galaxy, thus allowing the actor to be an A-list superstar at the forefront of a variety of blockbusters throughout the past few years. While some folks might be quick to downplay his success, notably compared to his fellow leading men like Chris Evans, Chris Hemsworth and Chris Pine, to name a few, Pratt has certainly proven himself in the right role. A dynamic actor who can bring an earnest, enjoyable giddiness to the right role, including his long-standing part on NBC's Parks & Recreation, Chris Pratt has given us a number of charming roles in a number of projects. Let's take a look.
Before we get ahead of ourselves, though, we should mention a few honorable mentions that were considered but didn't make the cut. That includes his brief-but-memorable role in Wanted, as well as his supporting turn in Jennifer's Body. Also Everwood, where he did nearly 100 episodes, and his work on The OC.
10. The Magnificent Seven - Josh Faraday
Following the enormous success of 2014's Guardians of the Galaxy, Chris Pratt found himself scoring a number of A-list gigs, including Jurassic World, Passengers with Jennifer Lawrence, and an ever-growing presence in the MCU. Among those high-profile roles was 2016's The Magnificent Seven, based on the 1960 movie of the same name, which found Pratt working alongside top-level actors like Denzel Washington, Ethan Hawke, Vincent D'Onofrio, and more in the starry ensemble. While this remake didn't reach the ranks of the original, nor does it even compare to Seven Samurai, it was an enjoyable studio picture that saw Pratt riding on his charisma and star power as John Faraday, one of the members of the titular crew. Will it be remembered among the great westerns of today and yesteryear? Likely not, but it proved Pratt could hold his own in a high-profile ensemble.
9. Zero Dark Thirty - Justin
When it comes to the elite, now famous Navy task force, Seal Team Six, best known as the trained operatives who killed Osama Bin Laden, it can be easy to make it about the group's efforts and forget about the humanity found therein. In Zero Dark Thirty, the screenplay doesn't dive too deep into their personalities. The focus is primarily on the task-at-hand. But through the strong performances of the talented ensemble, we got a sense of who these men are — or, at least, how they were meant to be perceived. As Justin, Chris Pratt doesn't get a lot of screen-time, but he makes the most of it in Kathryn Bigelow's Oscar-winning drama. He allows Justin to be seen as wise-cracking solider, even filled with moments of skepticism, before he helps pull of this brave, incredible operation with his five other Navy Seals.
8. Moneyball - Scott Hatteberg
One of the keys to a really solid Chris Pratt performance is a gentle, even vulnerable sincerity and a disarming Midwestern-esque charm. Certainly, as we will detail throughout this article, that's something that often stands out in Pratt's better performances, and that's notably the case with Moneyball. The excellent 2011 sports drama didn't give Pratt a huge role, but it gave him a crucial one. As Scott Hatteberg, a middling baseball player who is still key to the Oakland Athletics' analytics-driven driven, Pratt plays up his humble sweetness to appropriately winning success, resulting in an underdog performance that helps to drive Moneyball's emotional good graces towards its rousing final moments. His performance really helps the film hit home.
7. The Five-Year Engagement - Alex Eilhauer
A few years after Chris Pratt's prominence grew as a dependable comedic actor, notably with Parks & Recreation gaining more notice and acclaim, Pratt earned one of his biggest, most prominent film roles (at the time, at least) in 2012's The Five-Year Engagement. As Alex Eilhauer, the romantic best friend of our lead character, played by co-writer Jason Segel, who finds himself quickly marrying his sweetheart, Suzie (Alison Brie) all while our lead characters, including Emily Blunt, find themselves in a five-year engagement — as the title suggests. In a role that's not too dissimilar from Andy Dwyer, Pratt didn't necessarily stretch himself here, knowing full well that he was there as the "best friend" character. Nevertheless, Pratt made the part his own, stealing a few scenes throughout and providing a constant stream of laughs in the altogether pretty solid, subversive studio rom-com.
6. Her - Paul
Though Her is undoubtedly Joaquin Phoenix's movie, even though Scarlett Johannson's voice-only performance shouldn't be diminished, Chris Pratt's fun, charming supporting turn as Paul, the mustachioed, good-natured co-worker of our lead character. Though he only has a few scenes in the film — which could very well be the best he's been involved in to date, despite his limited screen-time — Her is, nevertheless, a fine showcase for how Pratt can bring a lot of personality and warmth to even a minor role. Certainly, it's odd to see Pratt in this minor role just a year before he would become an A-list superstar, it's another likable, enjoyable supporting turn from the comedic actor, one that brings levitate and good humor to this masterpiece film.
5. Strangers With Candy - Brason
Before becoming a household name through roles in Guardians of the Galaxy and Parks & Recreation, Chris Pratt made his way into the business by playing a variety of supporting roles in various movies and TV shows. 2005's Strangers with Candy, based on the short-lived Comedy Central series of the same name starring Amy Sedaris and Stephen Colbert, is more of a cult classic than a famous hit, but it does have one of Pratt's earliest performances as Brason, a handsome student athlete used as a means of charming middle-aged prostitute-turned-high schooler Jerri (Sedaris) away from the science team. Though he's sometimes left to play second-or-third fiddle to the film's leads — some of whom, like Colbert, would also go on to become household names — Pratt's boyish charm is as apparent and winning here as it'd become in his beloved aforementioned future roles.
4. Onward - Barley Lightfoot
Away from his live action work, Chris Pratt's talents as a voice actor can sometimes be undervalued. Though he doesn't have a variety of voices in his arsenal, his boisterous, infectiously giddy vocal acting style plays well in the right role. That was certainly the case when Pratt became Barley Lightfoot in the newest Pixar film, Onward. As the lore-loving elf and the older brother of our main character, Ian (Tom Hiddelston), who becomes a mentor figure when the two siblings go on a quest to fully revive their deceased father, Pratt's emotional, endearing voice-only performance was filled with infectious bouts of heart and humor. His affection and admiration for his young brother was palpable and winning, filled with both joyous enthusiasm and rousing pride at his magical accomplishments. Particularly as Onward reached its tearful finale, Pratt's invigorated voice work became a spellbinding success.
3. The LEGO Movie - Emmet Brickowski
Likewise, Chris Pratt's talents for providing a giddy, boyish and appropriately animated enthusiasm to cartoon characters was seen (or, rather, heard) most prominently in The LEGO Movie and last year's sequel, The LEGO Movie: The Second Part. In the role of Emmet Brickowski, an entirely average, often slow-witted but unwaveringly bright-eyed construction worker in the town of Bricksburg who is believed to be The Special, ie. the piece who will bring justice and order amid a prophecy of chaos, Pratt's talents for playing guileless, disarmingly sweet-natured man-children worked extremely well in this smart, surprisingly poignant family movie with sharp animated, intelligent commentary, and winning performances, notably from Pratt in the lead. Everyone does their part well, but ultimately, it's Pratt's endearingly charming vocal performance that really makes The LEGO Movie come together.
2. Parks & Recreation - Andy Dwyer
Before he became a major A-list star through his leading man turn in the Guardians of the Galaxy blockbusters, Chris Pratt was best known as Andy Dwyer, the goofy, dim-witted but puppy-dog sweet personality who eventually works under the employ of Leslie Knope (Amy Poehler), the Pawnee, ID Parks & Recreation deputy director in NBC's fittingly-titled Parks & Recreation. The show, created by Greg Daniels and Michael Schur, never reached the cultural highs as The Office, but it grew acclaimed and a loving fanbase over time. It also boosted the careers of Nick Offerman, Aubrey Plaza, Rashida Jones and Aziz Ansari, in addition to Pratt. Following a bumpy first season, it was retooled and celebrated for its strong writing, warm characters, and strong performances from its talented ensemble. But often, it was Pratt who stole scenes and won the affection of many viewers.
1. Guardians of the Galaxy Vol. 2 - Peter Quill/Star-Lord
In the role that turned this likable supporting star into a major A-list actor, Peter Quill, i.e. Star-Lord, is by-and-far Chris Pratt's most recognizable role, and that's no accident. While it was benefitted by being inside the ever-growing Marvel Cinematic Universe, Guardians of the Galaxy took a little-known comic book property and turned into one of the biggest blockbusters of the 2010s. That's thanks to many, notably writer/director James Gunn, but Pratt's performance shouldn't be dismissed. As the rascal-with-a-heart-of-gold, Star-Lord is like Han Solo with a daddy complex, and more irreverent to boot, but Pratt's wide-eyed sincerity took what could've been an unlikable prick and turned him in an earnest space-traveler who wants to be loved. In Vol. 2, we saw more of his emotional side. Quill's added vulnerability paved the way for one of the most emotional MCU installments.
This poll is no longer available.
Will is an entertainment writer based in Pittsburgh, PA. His writing can also be found in The Playlist, Cut Print Film, We Got This Covered, The Young Folks, Slate and other outlets. He also co-hosts the weekly film/TV podcast Cinemaholics with Jon Negroni and he likes to think he's a professional Garfield enthusiast.
Your Daily Blend of Entertainment News
Thank you for signing up to CinemaBlend. You will receive a verification email shortly.
There was a problem. Please refresh the page and try again.