12 Actors Who Could've Been Cast In Titanic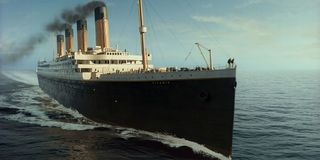 With 11 Oscars to its name and over $2 billion grossed worldwide, James Cameron's ambitious romantic epic, Titanic, was an incredible success, the likes of which are very rarely seen in Hollywood. It was a sweeping sensation, staying in theaters for over a year and continuing to charm audiences all around the world with its tragically beautiful love story. While it pushed Leonardo DiCaprio and Kate Winslet into stardom (and superstardom for Leo), they were among several A-list stars who were considered for these parts. Let's take a look at all the actors who could've appeared in the Titanic cast.
Matthew McConaughey Could've Played Jack Dawson (and Cal Hockley)
The casting process for Titanic was a long, extensive one, with several talented actors and actresses being considered for the various roles that needed to be filled. One of the toughest casting decisions was picking the man who would play our romantic lead, Jack Dawson. James Cameron had originally considered River Phoenix for the role, but the young actor tragically passed away before he could be asked to play the leading man part. And Paramount had several actors in mind, including Chris O'Donnell, Billy Crudup, and Stephen Dorff, but the studio's top pick was Matthew McConaughey. Apparently, Kate Winslet even auditioned with McConaughey originally. But Cameron felt he was too old to play 20-year-old Jack, and Cameron also thought the looks DiCaprio got from all the women around him made him an easy pick. He fought to have him in it.
Furthermore, in addition to be sought for the role of Jack Dawson, Matthew McConaughey was also considered for the villainous Cal Hockley, but the actor reportedly turned down this part. It ultimately went to Billy Zane. Alas, it apparently wasn't meant to be for McConaughey in Titanic, though he'd star alongside Leonardo DiCaprio in Martin Scorsese's The Wolf Of Wall Street several years down the road.
Winona Ryder Could've Played Rose Bukater
There's no doubt that Titanic was a star-making role for Kate Winslet. The then 19-year-old actress fought hard to play the part of Rose Bukater, and it paid off splendidly. Particularly since there were several big-name actresses who were up for the part, including Winona Ryder. As Winslet admitted in a 2012 interview with USA Today (opens in new tab), when Titanic was brought back into theaters for a 3D re-release, she was up against some formidable talent, and that included the rising Ryder. The former child star had already proven herself with roles in Beetlejuice, Heathers, and Little Women, the latter for which she was nominated for an Oscar, but Winslet ultimately got the part. No matter. The Stranger Things actress continues to prove herself in a number of roles.
Christian Bale Could've Played Jack Dawson
Christian Bale is one of the most transformative actors in the business today, taking on various challenging roles and continuing to prove himself as a chameleon of a performer. Alas, in his early years, notably before he broke out with 2000's American Psycho, the former child star was turned down for a number of major roles, including several that went to Leonardo DiCaprio. Those include What's Eating Gilbert Grape, Romeo + Juliet, and Titanic. He auditioned for Jack Dawson, as it was noted in the 2012 biography Christian Bale: The Inside Story of the Darkest Batman, written by Harrison Cheung, his former assistant and publicist, but Bale lost out for the role. Of course, it'd only take a few years after Titanic's release for Bale to rise up with other projects.
Uma Thurman Could've Played Rose Bukater
In addition to name-dropping Winona Ryder as a possible candidate for the part of Rose Bukater, Kate Winslet also mentioned in the aforementioned 2012 USA Today interview that Uma Thurman was also being considered. The Pulp Fiction star and future Kill Bill actress was still riding off the former film's success and pushing herself into bigger, more commercial efforts. Certainly, Titanic would've been her biggest film at the time — and probably to date if she had gotten the gig — but it wasn't meant to be. Thurman would go on to star in movies like Gattaca and Batman & Robin, both of which came out the same year as Titanic, before she was given one of her biggest roles to date in the aforementioned Kill Bill movies.
Johnny Depp Could've Played Jack Dawson
In the 1990s, Johnny Depp made his transition from TV star to matinee idol. The transition took place through a number of artistic movies, both big and small, though the actor had to turn down some roles in order to take on some of these titles. The biggest film that he turned down, as he revealed in an interview, was the chance to play Jack Dawson in Titanic. In a phone conversation with Howard Stern back in 2001, Depp revealed that he "labored" through the first few pages of the script, but he ultimately couldn't get into it. Suffice to say, if he had trouble reading the script for the first go-around, it'd be difficult for him to take on this leading role in this blockbuster. The role ultimately went to his What's Eating Gilbert Grape? co-star, Leonardo DiCaprio.
Claire Danes Could've Played Rose Bukater
In 1996, Claire Danes starred in Baz Luhrmann's contemporary re-imagining of Romeo + Juliet opposite Leonardo DiCaprio. If things had gone another way, they would've shared the screen yet again in James Cameron's Titanic. Alas, Danes turned down the role of Rose Bukater in the epic romantic weeper because she didn't want to make another romantic melodrama with DiCaprio. Not because they had a bad experience together, mind you, but because she felt it would've been retracing the same steps she just took; both movies were also filmed in Mexico City. So, it would've felt even more like deja vu for Danes. She admitted on the Armchair Podcast that she "didn't have it" in her. And she ultimately doesn't regret turning the role down.
Paul Rudd Could've Played Jack Dawson
For some actors, getting a role is — among other things — simply a means of furthering your career. But some roles are personal. At least, that was the case for Paul Rudd when he auditioned for Titanic. Although he wasn't quite as famous then as he is today, and he was going up against some of the biggest A-listers in the biz, he really wanted to get the part of Jack Dawson. And he wanted the role for one very specific and wholesome reason: he wanted to honor his father. As Rudd revealed on The Late Late Show with James Corden a few years ago now, Michael Rudd, i.e. Paul Rudd's father, is a member of the Titanic Historical Society. The eldest Rudd has a deep appreciation and fascination in the tragic history of that fatefully cursed ship.
In fact, Michael Rudd has travelled the world to witness key sights relating to the Titanic's voyage. He even served as a tour guide for certain locations. Paul Rudd not only wanted to get this part in this huge movie because it would obviously do wonders for him as an actor, particularly working for director James Cameron in this major blockbuster, but he knew that playing this part in this film dramatization of this historical story would make his dad proud. Alas, while he knew his stuff about the Titanic's doomed history, the casting directors didn't think Paul Rudd was the right fit for this part. There were no sour feelings from Rudd's camp. In fact, on The Graham Norton Show, Rudd claims he was the one who convinced (or, at least, encouraged) DiCaprio to take this part. They worked on Romeo + Juliet together at the time.
Gwyneth Paltrow Could've Played Rose Bukater
During a 2015 interview with Howard Stern, Gwyneth Paltrow revealed many details about her past, including two major roles that she didn't play: Rollergirl in Boogie Nights and Rose Bukater in Titanic. Regarding the latter, the Academy Award-winning actress claimed that she was "really in contention" for Rose and believed she was "one of the last two" actresses up for it. Ultimately, she turned down the role. While she didn't explain the reason why she opted not to play Rose, she admits that in this business, there are times when you accept roles you'll later regret and times when turn down other roles that might've been worthwhile. Alas, Paltrow doesn't seem to regret it much, notably as she won the Best Actress Oscar for Shakespeare in Love in 1998 (in a role Kate Winslet reportedly turned down, ironically enough) — just one year after Titanic's release.
Michael Biehn Could've Played Cal Hockley
Having starred in The Terminator, Aliens, and The Abyss, Michael Biehn and director James Cameron have established a long working history together, and it appears that the two of them almost collaborated once more on Titanic. As it was reported in the Chicago Tribune back in 1997, Biehn was in the running to play Cal Hockley, in the role Billy Zane eventually played, and there might've even been a meeting about it, but it didn't pan out for Biehn. To make matters worse, Biehn later claimed that he spent nine months thinking he would play RDA Col. Miles Quaritch in Avatar, but that antagonistic role ultimately went to Stephen Lang. Hopefully, Biehn and Cameron find the chance to work together again someday.
Reba McEntire Could've Played Molly Brown
Throughout the years, Reba McEntire has split her time being a musician and an actress. Sometimes, those two professions collide and they result in Reba making some tough decisions. That was ultimately the case when it came to Titanic. Although she was previously set to star in James Cameron's three-hour epic as Molly Brown, the production timeline kept getting delayed and it ultimately interfered with her touring schedule. Instead of rescheduling the tour and making the people on her payroll jobless, she opted to turn down the part and focus on her music instead. Ultimately, Kathy Bates ended up playing the unsinkable character instead. Certainly, it must have been a tough decision, but it was certainly noble of Reba to think of her employees and fans first.
Rob Lowe Could've Played Cal Hockley
In addition to Matthew McConaughey and Michael Biehen, Rob Lowe was also considered for the antagonistic Cal Hockley. However, he ultimately lost the part to Billy Zane. Lowe admitted this bit of movie trivia in a conversation with E! News back in 2015, and though there isn't a direct reason given for why he wasn't cast in the part, he suggests that his infamous sex tape might've possibly had an impact on the movie/TV actor not being cast here.
Robert De Niro Could've Played Captain Smith
While Bernard Hill played the part of Captain Smith in Titanic, the small-but-pivotal role was reportedly once set to star one of the biggest acting titans in the business. Indeed, according to a report from The Mirror, De Niro was offered to play this part, but he had to turn it down. Apparently, the Oscar-winning star had a gastrointestinal infection at the time, which prevented him from accepting this brief-but-key role in James Cameron's romantic epic.
In addition to these big name stars, there were several other actors who may have been considered to play a part in Titanic, including (but not limited to) Nicole Kidman, Jennifer Aniston, Angelina Jolie, Madonna, and Reese Witherspoon for Rose and Tom Cruise, Brad Pitt, Jared Leto, and Jeremy Sisto for Jack. Lindsay Lohan also reportedly auditioned for Cora Cartmell. Suffice to say, this blockbuster's cast might've once looked completely different.
Your Daily Blend of Entertainment News
Will is an entertainment writer based in Pittsburgh, PA. His writing can also be found in The Playlist, Cut Print Film, We Got This Covered, The Young Folks, Slate and other outlets. He also co-hosts the weekly film/TV podcast Cinemaholics with Jon Negroni and he likes to think he's a professional Garfield enthusiast.
Your Daily Blend of Entertainment News
Thank you for signing up to CinemaBlend. You will receive a verification email shortly.
There was a problem. Please refresh the page and try again.