Brad Pitt Got Butt Makeup For Legends Of The Fall, And It Was As Awkward As You'd Guess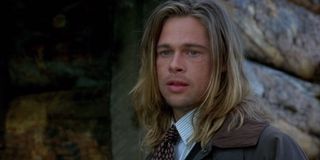 Brad Pitt is an unlikely candidate for HGTV; nonetheless he joined the popular Property Brothers for a special edition of Celebrity IOU in which he helped renovate his longtime makeup artist Jean Black's garage and guest space. Pitt and Jean have known each other for decades and have worked together since the early nineties, which means they've shared some embarrassing movie moments, like the time he had to wear butt makeup during Legends of the Fall.
During the special episode, Brad Pitt was helping Jonathan and Drew Scott to clear out the space of all of Jean's makeup from various movie projects. The makeup was labeled and one of the brothers joked about one container saying "butt makeup." Apparently, that's a topic that hits pretty close to home for Pitt, who told the following story.
As a makeup artist, I'm sure Jean Black is used to odd requests, but the embarrassing story from Brad Pitt takes things up a notch. The actor is known for two things in Legends of the Fall: showing his butt and having long and luscious locks. You can actually sort of see the tan lines he's talking about in a still from the film, which makes me wonder how bad they must have been if Jean Black was applying makeup the whole time.
It's also funny that Brad Pitt even brought up the butt makeup, as during press for Once Upon A Time In Hollywood, Quentin Tarantino declared he's "kind of shy about things like that."
Meanwhile, it's clear the two have gone through a lot during their long and storied relationship. Brad Pitt also mentioned they "got stuck together" on their second job, but it's clear he values Jean for many reasons. He mentioned she's a supportive person to himself and a lot of people in the Hollywood industry, people like the Coen Brothers, Julia Roberts and more. He also explained why he was doing something nice for Jean.
So, every once and awhile if she has to do something awkward like butt makeup, it's OK and they just try never to talk about it.
In fact, it's clear how much Brad Pitt values Jean Black. The renovation undertaken by the Property Brothers turned a storage garage into a guest house, complete with a makeup station, a guest bed and living room setup, a kitchen, a bathroom and an outdoor patio. It made me wonder while watching if the space is nicer than her actual house.
If it's been a while since you've seen Legends of the Fall, the 1994 film is currently available streaming on Amazon Prime. So, after you catch that Celebrity IOU episode, go ahead and give it a watch, we'll say it's to check out the tan lines.
Your Daily Blend of Entertainment News
Reality TV fan with a pinch of Disney fairy dust thrown in. Theme park junkie. If you've created a rom-com I've probably watched it.