Why Godzilla: King Of The Monsters Killed Off Those Two Returning Characters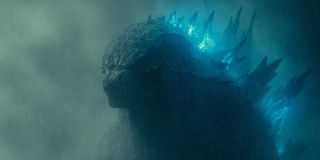 Godzilla: King of the Monsters expanded upon Warner Bros.' MonsterVerse by continuing the evolution of the titular beast and planting seeds for his upcoming battle with Kong. The film also established further continuity by bringing in characters from its 2014 predecessor. Unfortunately, two of those characters didn't make it out alive. While some may have been surprised to see them killed off, the creatives appear to have had good reasons for doing so.
By the end of Godzilla: King of the Monsters, both Sally Hawkins' Dr. Vivienne Graham and Ken Watanabe's Dr. Ishiro Serizawa met their demises. Graham was killed relatively early by King Ghidorah, but director Mike Dougherty explained that her death was necessary for developing the film's monstrous antagonist:
Mike Dougherty recently participated in a live watchalong of Godzilla: King of the Monsters, during which he revealed this and other behind-the-scenes secrets. This also included an explanation for offing Dr. Serizawa. Apparently, his death was a way of reversing a key scene from the 1954 Godzilla film:
In the film, Serizawa sacrificed himself by manually activating a nuclear warhead that was intended to speed up Godzilla's healing process. The scene is poignant because it rectifys the original Dr. Serizawa's actions in the 1954 classic, but Watanabe's decision to slightly alter his final piece of dialogue also adds an additional layer to it.
Although the death of Sally Hawkins' Dr. Graham feels like a punch to the gut, it happens so quickly that fans may not have gotten a chance to let it truly sink in. Despite this, Hawkins still played the scene quite well.
Serizawa and Graham weren't the only two characters that made their second MonsterVerse appearances in the film. Dr. Houston Brooks, who first appeared in the '70s-set Kong: Skull Island, returned and was played by Joe Morton. Corey Hawkins played his younger counterpart in Kong. And unlike his colleagues, Brooks survived the events of King of the Monsters.
It's unfortunate that the MonsterVerse has already said farewell to two veteran characters, but their deaths prove the franchise isn't afraid to play with audiences' emotions. Moviegoers can feast their eyes on the next installment in the monster-led franchise when Godzilla vs. Kong hits theaters on November 20.
Your Daily Blend of Entertainment News
Covering superheroes, sci-fi, comedy, and almost anything else in film and TV. I eat more pizza than the Teenage Mutant Ninja Turtles.
Your Daily Blend of Entertainment News
Thank you for signing up to CinemaBlend. You will receive a verification email shortly.
There was a problem. Please refresh the page and try again.