7 Quick Things We Know About Godzilla Vs. Kong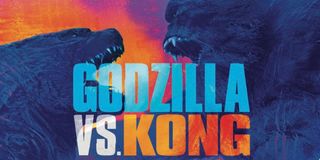 CinemaBlend is partnering with PIA VPN to bring you fresh content to stay in and stream with each day. We're also offering a special 76% discounted rate for a limited time only. You can sign up for the package with PIA here. (opens in new tab)
It's almost here. Godzilla. King Kong. Godzilla Vs. Kong! Cue the roar! (but whose?) You would think that everybody would know everything there is to know about a movie as massive as Godzilla Vs. Kong, but you may be surprised. But never fear, because a great big nerd is here to give you a few facts that you may not have already known about the monster-on-monster (on monster?)-a-thon.
Now some of these quick things you may have already known, but some of them I hope to surprise you with. So here are 7 quick facts about the next movie in the MonsterVerse saga. Let's do this!
Adam Wingard Is Directing It
Let's get an easy one out the way first. Adam Wingard, who also directed Blair Witch, The Guest and You're Next, will be helming Godzilla Vs. Kong. The genre he's been the most comfortable with so far has been horror, which could make him a good fit for a giant monster movie with two of the biggest behemoths in the business.
What's interesting though is that a different director has been brought on for each movie in the MonsterVerse thus far. Gareth Edwards helmed the 2014 Godzilla, Jordan Vogt-Roberts directed Kong: Skull Island, and Michael Dougherty helmed Godzilla: King of the Monsters, and each one of those movies felt extremely different from the last. So probably expect Godzilla Vs. Kong to feel different, too. Different director, different movie, right?
This Is The 36th Film In The Godzilla Saga, And The 12th Film In The King Kong Saga
Okay, so this might rile up some Godzilla devotees (Myself included), but Godzilla vs. Kong will be the 36th Godzilla movie. So that means that we're canonically counting the 1998 Roland Emmerich Godzilla movie in that tally. And you're going to have to do that, because if you're only counting the Toho productions, then all four of these MonsterVerse movies would technically not be included in the Godzilla tally since these are all Hollywood productions.
That said, King Kong fans usually tend to be more chill, and are more accepting of the two Japanese King Kong movies—the original King Kong vs. Godzilla and King Kong Escapes—as part of the King Kong saga.
Godzilla And King Kong will Apparently Have Some Company In The Movie
Okay, so you might file this under "speculation," but I'm going to say that it's likely a fact since there are numerous instances of toys being huge spoilers for films. But recently, some Godzilla Vs. Kong merchandise introduced a new monster called Nozuki.
Honestly, it wouldn't be that odd if another monster was added to the mix. The MUTO were included in the 2014 Godzilla movie, and there have been hints of other monsters in both Kong: Skull Island and Godzilla: King of the Monsters. So while it hasn't been confirmed yet, I think it's a pretty safe to say that Kong and Godzilla won't be the only monsters smashing into buildings (Japanese pagodas?!) in this picture.
Godzilla Vs. Kong Will Come Out On November 20th
Godzilla Vs. Kong was supposed to come out on May 29th. Then, it was moved up to May 22nd. And then, it was moved up to March 13th. Now, it's been pushed back to November 20th. What gives?
Well, what gives is that Warner Bros. and Legendary Pictures wanted this to do as well as possible, and positioning it around Thanksgiving seemed to be the best move for the picture. And that was true until…
Godzilla Vs. Kong Will Now Go Head-To-Head Against Pixar's Soul
Remember when I said earlier that Godzilla and Kong would likely have to face another adversary in this movie? Well, up until recently, I had no idea that this other adversary would actually be Pixar's new movie, Soul.
But due to the coronavirus (Thanks, Rona), Soul has been bumped from its original date of June 19th to November 20th, which is super bad news for Godzilla vs. Kong. That needs to be a success after Godzilla: King of the Monster's lukewarm performance at the box office. But come on now, what are parents more likely going to take their kids to see around Thanksgiving time? A Pixar movie or two monsters killing each other? I mean, I know what movie I would take my kids to see, but that's just me.
Kyle Chandler and Millie Bobby Brown Will Be Back to Reprise Their Roles
Did you watch Godzilla: King of the Monsters? (And I'm sure you probably did if you've gotten this far in the article). Then you'll likely remember that Friday Night Light's star Kyle Chandler figured prominently in that movie's story as Dr. Mark Russell. He was a scientist who formerly worked for Monarch, as well as Vera Farmiga's husband and Stranger Thing's Millie Bobby Brown's dad in the movie.
Both characters will definitely be returning, which is interesting since it means that this story is a direct follow-up to the events of Godzilla: King of the Monsters. It has not been confirmed yet though whether Vera Farmiga's character will be returning in Godzilla Vs. Kong, which makes sense since (Spoiler alert), her character sacrificed herself in the last movie. But flashbacks were created in the medium of storytelling for a reason, so she could always possibly make an appearance in Millie Bobby Brown's character's memory. You never know.
There Was No Victor In The Original King Kong Vs. Godzilla
And one final fact is that in the original 1962 film, King Kong vs. Godzilla, there was no real victor. Both titans fell into the water and then disappeared from sight. This was probably done to not upset American viewers who didn't want to see their homeboy lose, but also to not upset the Japanese viewers who didn't want to see Godzilla succumb to King Kong's mighty fists.
But this is 2020, and American audiences won't stand for another cop-out like that. So this is more a personal fact, but if King Kong and Godzilla fall into the water again, and that's the end of the movie, then I will stand up and boo until my voice is hoarse. Because I want a definitive conclusion this time, dammit!
And that's the list. How many of these fast facts did you already know? Sound off in the comments.
This poll is no longer available.
Rich is a Jersey boy, through and through. He graduated from Rutgers University (Go, R.U.!), and thinks the Garden State is the best state in the country. That said, he'll take Chicago Deep Dish pizza over a New York slice any day of the week. Don't hate. When he's not watching his two kids, he's usually working on a novel, watching vintage movies, or reading some obscure book.
Your Daily Blend of Entertainment News
Thank you for signing up to CinemaBlend. You will receive a verification email shortly.
There was a problem. Please refresh the page and try again.