Wait, Avengers: Endgame Wasn't Meant To Set Up The Loki TV Series?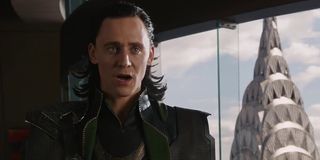 As the conclusion of the Marvel Cinematic Universe's decade-long Infinity Saga, Avengers: Endgame had a lot of spinning plates to balance. Luckily, it managed to effectively conclude some major story arcs, all while setting up a few things for the franchise's future. One of the projects it set the stage for is the upcoming Loki TV series. But it now appears that doing so wasn't an intentional move on the writers' parts.
Avengers: Endgame writers Christopher Markus and Stephen McFeely recently participated in ComicBook.com's Quarantine Watch Party screening of the film. During the live showing, they took over the site's social media channel and shared insight into the choices made for the movie. They also took the time to answer questions.
One query the two were given was about whether or not the executives at Marvel Studios wanted them to let the Loki of 2012 live to set the stage for the upcoming Disney+ series. And as it turns out, the studio never asked. The writers' ultimate decision just happened to work out for the show:
Many fans will remember that the set-up for the series came when Tony Stark, Steve Rogers, Bruce Banner and Scott Lang traveled back to 2012's Battle of New York in Avengers: Endgame. In their attempt to snag the Tesseract, Tony and Scott unintentionally allowed the recently captured Loki to grab it and escape.
Hearing that Christopher Markus and Stephen McFeely didn't intentionally set up Loki is very surprising, especially considering how organic it feels. However, it's possible that Marvel developed the premise of the series only after seeing what the two writers had done in Endgame.
Disney+'s Loki is reportedly set to continue the story of this 2012 iteration, who will use the cosmic cube to travel to different periods of time, such as the 1970s. It should also be pointed out that this particular Loki isn't quite the antihero that his deceased 2018 counterpart was. So there's a good chance he's going to have some mischievous fun playing around with time.
Still, this potential madcap mayhem doesn't mean there won't be room for growth. Loki creator and executive producer Michael Waldron is hoping to explore what makes the character tick. And what he's particularly hoping to zero in on is the fact that Loki has always been someone who's lacked control of his own life. He's also never been able to establish a true identity apart from his connections to Thor, Odin and Asgard. This should make for interesting storytelling and should add a few more layers to the fan-favorite character.
Regardless of whether Markus and McFeely's story choice was intentional or not, it set the stage for what should be an entertaining adventure with Loki. You can relive Loki's escape by streaming Avengers: Endgame on Disney+.
Covering superheroes, sci-fi, comedy, and almost anything else in film and TV. I eat more pizza than the Teenage Mutant Ninja Turtles.
Your Daily Blend of Entertainment News
Thank you for signing up to CinemaBlend. You will receive a verification email shortly.
There was a problem. Please refresh the page and try again.