Batman Forever: 5 Things About The Movie That Are Actually Good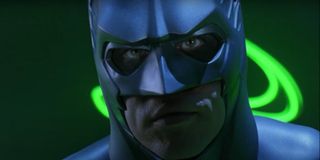 June 16, 2020, will mark the 25th anniversary of the release of Joel Schumacher's first and less remembered movie about the Dark Knight, Batman Forever. Stuck somewhere between the Tim Burton Batman movies and the trainwreck that was Batman And Robin, the 1995 summer blockbuster is probably one of the more forgotten Batman movies.
Batman Forever certainly isn't the best movie about Gotham City's caped crusader, but it's certainly not the worst. And while most of the time you hear people talk on and on about how terrible of a movie it is, you rarely see people singing the movie's praises. I mean, come on, Batman Forever gave us "Kiss From A Rose" for crying out loud. That should be worth something, right? Right?
The Campiness Is A Major Departure From The First Two Films
I recently watched Tim Burton's Batman Returns for the first time in quite some time, and I immediately wanted to call my dad and ask him what was going through his head when he decided to take me — a 4-year-old at the time — to the local theater to see it in the summer of 1992. It's grim, it's dark, and I would have probably been scared out of my mind if it weren't for the fact that I was seeing Batman on the big screen.
Batman Forever, however, doesn't have that problem. Sure, the Bat-Nipples, excessive use of neon and black lights, and over-the-top mannerisms of most of the supporting cast are a big departure from what we were used to at the time, but 7-year-old Philip Sledge was all about that life when I saw it in theaters. By taking elements of Burton's vision, combining them with the antics of the '60s television series, and topping it off with 1995, you have a fun, somewhat lighthearted, and visually pleasing movie. Plus, the cartoonish behavior of the main villains isn't as bad as you remember (okay, that might be a stretch).
The Riddler's Origin Story Gives Us A Great Descent Into Madness
Like just about everyone else, I'm excited to see how Paul Dano pulls off his portrayal of Edward Nashton, aka Riddler, in Matt Reeves The Batman in 2021, but until then we'll have to settle for Jim Carrey's take on the character in Batman Forever. I will be the first to admit that The Riddler goes off the rails a little too much for my liking in the final act of the movie, but everything up to that point, including the introduction of Edward Nygma, is damn near perfect.
The movie takes the tried and true route of having Edward Nygma serve as a disgruntled employee of Wayne Enterprises who has an unhealthy obsession with one Bruce Wayne. Watching Nygma transform from the awkward scientist to the murderous supervillain throughout the film's first act, we watch as the broken man slowly descends into madness before ultimately donning the iconic green suit covered in black question marks. Add the elaborate riddles that the villain uses to toy with Bruce Wayne, and you have a rather unique psychological element added to a summer blockbuster.
Tommy Lee Jones' Over-The-Top Performance Is Insane
In the early to mid '90s, Tommy Lee Jones was a certifiable crazy person, both off and on the screen if you believe what Joel Schumacher had to say about Harvey "Two Face" Dent on the set of Batman Forever. But on-set drama aside, just look at some of Jones' most notable roles from the era — JFK, Under Siege, and Natural Born Killers — and it's not hard to see why he was such a good fit in the third Batman movie.
From the very beginning of the movie we see Two Face jumping around, yelling, and firing his pistol all frantically while wearing one of the most ridiculous and unbelievable suits you'll ever see in a Batman movie. And for the most part, Tommy Lee Jones doesn't let up from there in his approach to the role. Over the course of the movie, the actor portrays his character's obsession with duality with as much subtly as a bank vault filled with acid, but you never see Tommy Lee Jones, only the twisted former Gotham District Attorney.
The Movie Offers A Deeper Exploration Of Batman's Fears And Motivations
Say what you will about Nicole Kidman's performance as Dr. Chase Meridian, the borderline delusional psychiatrist who falls in love with both Bruce Wayne and Batman, but the techniques she uses during her therapy sessions with Bruce Wayne offer an exploration of Batman's psyche like we've never seen before or since.
Through a series of flashbacks, dreams, and conversations, we take a deeper look at Bruce Wayne's fears and motivations. From losing his parents at a young age (doing away with the Jack Napier as the murder from the 1989 Batman) to examining Bruce's fear of bats, we are given a more in-depth look at the caped crusade, a technique that wouldn't be seen again until Batman Begins 10 years later. The Riddler also uses Bruce's fears as a weapon against him, an idea that was also revisited in the 2005 reboot.
Kiss From A Rose, Need I Say More?
There used to be an art to using music videos as marketing tools for the biggest movies, and that was never done better than with the Seal song "Kiss From A Rose" from the Batman Forever soundtrack. I mean, just look at that video. If you were around back in 1995 you still know just about every lyric to the song that earned Seal three awards at the 1996 Grammys, including both Record and Song of the Year.
The song and music video, had something for everyone — powerful lyrics for the music fans and all of those great Batman Forever clips for fans of the movie — and was an unstoppable force. But "Kiss From A Rose" wasn't the only great song of the film's soundtrack, which was produced by the Wu-Tang Clan's RZA. No, artists like U2 (they released a single for the soundtrack), The Flaming Lips, Nick Cave, and even Sunny Day Real Estate were all featured in perhaps the most 1995 album of the year.
BONUS: We Finally Get To See Arkham Asylum (Briefly)
One of the craziest things about Batman Forever is the fact that it's the first time the iconic Arkham Asylum showed up in a live-action Batman movie. The new home of Gotham's most feared criminally insane minds had been a major part of Batman lore since its introduction in 1970s, but wasn't seen in Batman or Batman Returns. And although we don't see Arkham until the final moments of Batman Forever, better late than never.
We see Arkahm when Chase Merdian goes to visit The Riddler at the end of the movie in order to uncover the true identity of Batman, only to be told by the deranged scientist that he is is Gotham's Dark Knight.
Those are just a few things about Batman Forever that are actually good. A handful of greatness might not outweigh a mountain of crap, but it proves there's always a silver lining, even if it's covering that absurd Batsuit. Speaking of which, have you checked out our ranking of the cinematic Batsuits or other great Batman stories here on CinemaBlend?
Philip grew up in Louisiana (not New Orleans) before moving to St. Louis after graduating from Louisiana State University-Shreveport. When he's not writing about movies or television, Philip can be found being chased by his three kids, telling his dogs to stop yelling at the mailman, or yelling about professional wrestling to his wife. If the stars properly align, he will talk about For Love Of The Game being the best baseball movie of all time.
Your Daily Blend of Entertainment News
Thank you for signing up to CinemaBlend. You will receive a verification email shortly.
There was a problem. Please refresh the page and try again.