Toni Kukoc And 3 Other People I Wish The Last Dance Would Have Given More Time To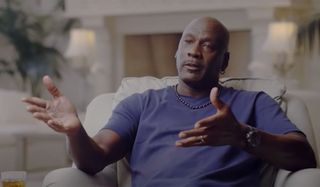 Let me get this out of the way before I start here. The Last Dance was absolutely, positively incredible. I'm not sure I have ever enjoyed a documentary more. It was appointment viewing in my household, and after each episode, I would immediately get on Twitter and review what other people had to say. Putting this together took years of director Jason Hehir's life, and everyone who worked on this masterpiece should be incredibly proud. So, huge thumbs up all around to the filmmakers, ESPN and Netflix.
That being said, I wish there were more episodes (though we are getting a talking head special) because there are a few players and personalities around the team I wish would have gotten a little more shine. I grew up in Chicago during this incredible run and watched all of these games. It's hard to explain how much it captivated the city and how larger than life even many of these side characters were, even those who weren't actually part of the team.
Toni Kukoc
To be clear, Toni Kukoc was in this documentary, and he was in this documentary a fair amount. I think everyone who watched understood that he was the fourth best player on the Bulls during their second three peat, but as someone who watched all of the games, I'm here to tell you there wasn't some huge gap between Jordan, Scottie Pippen, Dennis Rodman and Toni Kukoc. Kukoc had a lot of games in which he was the second best guy on the team. Hell, he had random games in which he was the best player on the team. In that Game 7 against the Pacers, he scored 21 points including a ton of key buckets in the third quarter.
Kukoc was also tremendously important to the growth of European basketball. The documentary talks some about his success in Europe, but he was arguably the single best player on the continent before he came over. He would have been the best or second best player on a lot of teams in the NBA, but he sacrificed the ball and shots in order to fit in and coexist alongside the Bulls. The Last Dance showed how many last second shots he hit without Jordan, and after MJ came back, he willingly deferred on those shots again. He was a great teammate, and the other Bulls players speak with him with the utmost respect now.
Ron Harper
Ron Harper was the 8th pick in the draft and a rising star in the NBA until he blew his knee out in 1990. He fought his way back and eventually ended up on the Chicago Bulls where he remade his game into that of a complimentary piece that fit in well alongside Jordan, Pippen, Rodman and Kukoc. That lineup, along with Harper, was way ahead of its time, as it didn't play a traditional center and switched almost everything on defense. They were absolutely ferocious, and he was a key part of why they were able to hold the Jazz to 54 points in a finals game.
If you're looking for some further viewing, watch the Bulls' 18 point comeback against the Magic in the 1996 playoffs. Ron Harper was a big part of that playing absolutely suffocating defense. The Magic could barely bring the ball up the court. He was another guy who owned his role perfectly and, like Kukoc, ultimately gave up minutes and shots in order to be part of something larger.
Luc Longley
Luc Longley is the most important player that we didn't hear from in his own words. That was reportedly because the production was over budget and couldn't afford to fly to Australia. That's a shame because Longley played a very active role in those last three titles and is often overlooked because the small ball lineup of Jordan-Harper-Pippen-Kukoc-Rodman is historically great. Longley more than could hold his own though, and as we saw in these last episodes, he hit some big shots and played some really key possessions.
As someone with a different personality and vibe, it would also have been nice to get his perspective on Michael Jordan's leadership style. He often seemed combative toward Longley; yet, MJ clearly had a healthy respect, as he fed him the ball in some key moments during their run. It would have been really nice to hear from him, and he deserved it because of all he contributed to those title teams.
Jerry Krause
Jerry Krause is in this documentary a lot. His shadow hangs over the entire thing. You could argue he's even the villain in it, but because of his death in 2017, we never get to see him look back on this run with the honesty everyone else had. His relationship with Jordan, Pippen, coach Phil Jackson and many of the other players was terrible. There's no denying that. The hostility is very obvious, but apart from Jordan, he also brought in every single important player used in all 6 of the title runs. These weren't, for the most part, obvious choices either. He traded for Scottie Pippen, despite being a former equipment manager from an NIAA school. He brought in Dennis Rodman when other teams thought he was more trouble than he was worth. He drafted Toni Kukoc at a time in which most other organizations were not looking to Europe to find talent.
Jerry Krause had a gift for finding guys who would accept their roles and thrive in them. He made great decision after great decision, and to be honest, he took the heat when he didn't always deserve it. As we saw in Episode 10 of The Last Dance, it was ultimately owner Jerry Reinsdorf's decision to break up the team because he didn't want to pay Pippen, Rodman and some of the other ancillary players. But the general public has always blamed Jerry Krause because he was an easier fall guy than Reinsdorf. That's not to say he didn't make mistakes along the way, but he did a lot right too. I wish we could have heard from him.
Enthusiastic about Clue, case-of-the-week mysteries, the NBA and cookies at Disney World. Less enthusiastic about the pricing structure of cable, loud noises and Tuesdays.
Your Daily Blend of Entertainment News
Thank you for signing up to CinemaBlend. You will receive a verification email shortly.
There was a problem. Please refresh the page and try again.