If I Learned Anything From The Last Dance, It's That Carmen Electra Hasn't Aged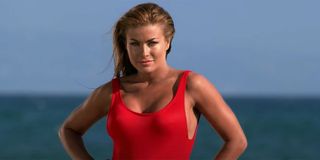 There's a lot to unpack in ESPN's big, splashy new documentary series The Last Dance. The documentary covers Michael Jordan's time playing for the Chicago Bulls, along with the histories and trajectories of key moments in the franchises's history as well as key players like Scottie Pippen, Dennis Rodman and others who helped to immortalize the team during that time. But the biggest thing I've learned from The Last Dance so far? Carmen Electra doesn't age.
This is a clip of Carmen Electra in The Last Dance when she spent time partying with Dennis Rodman. The two dated in the late nineties and were briefly married, and at one point in 1997-1998 season Rodman asked for leave from The Bulls to party with Electra in Vegas, which is how she gets introduced and is a part of the new ESPN documentary series.
This is what Carmen Electra looked like when she recently interviewed for The Last Dance.
I mean, her hair's a different color, but in the 20+ years since she and Dennis Rodman dated, not a lot has changed. Although some formerly ageless celebrities have at least a little rind on them these days – I'm looking at you Tom Cruise – to me Carmen Electra is in the same category as Paul Rudd. I'm not sure if you gave me two images of Paul Rudd that I'd necessarily be able to tell which one was taken earlier.
Carmen Electra has changed her look a little bit over time, so in that manner hair and fashion make it a little easier to date her looks. Having said that, the woman is almost 50 and she looks better than I did in my early twenties. Although we don't need to comment on whether or not that's more of a statement about me than Electra...
I'm not the only person who felt this way about the former Baywatch actress. The Last Dance has been nabbing huge ratings over at ESPN. Live TV is also more and more popular as we've been spending time inside and a lot of people have thoughts about Carmen Electra this week. If this person's right, though, she and Tom Brady went down to the crossroads to make a deal with the devil some time ago.
Some of the comments were a little bit more snack-oriented in regards to her looks.
Some people mentioned she's not the only person in The Last Dance whose before and afters look similar.
And some people felt exactly like I felt the whole dang time I was watching.
In short, while The Last Dance features wild stories from Michael Jordan's run on The Bulls as well as looks at intimate relationships and more, I totally got distracted by Carmen Electra. Regardless, there are a lot of compelling reasons to watch the new ESPN doc, particularly if you're a basketball fan, but even if you're not.
This weekend The Last Dance will be back on ESPN and will follow even more drama from The Bulls during the time Phil Jackson was coaching the team. An early look already seems to be teasing the book The Jordan Rules and more. Episode 5 will air at 9 p.m. ET on Sunday, May 3 while Episode 6 will follow at 10 p.m. ET. Streaming will happen on Netflix at a later point.
Your Daily Blend of Entertainment News
Reality TV fan with a pinch of Disney fairy dust thrown in. Theme park junkie. If you've created a rom-com I've probably watched it.
Your Daily Blend of Entertainment News
Thank you for signing up to CinemaBlend. You will receive a verification email shortly.
There was a problem. Please refresh the page and try again.