Looks Like Zack Snyder's Justice League Cut Won't Involve Reshoots With The Original Cast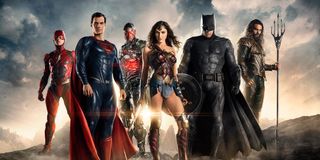 The dust is only beginning to settle on the incredible news that HBO Max is actually (no really) seriously going to #ReleaseTheSnyderCut. Fans are understandably thrilled with this development, but there are still some unanswered questions as to what this means for the movie and the franchise. There are a few things we can be pretty sure of though -- and one is that there won't be any reshoots for Justice League.
Since 2017, fans who were disappointed with the original version Justice League have been asking for the Snyder Cut. This led everyone from cast members to the director himself to reveal enticing tidbits about what that version of the film would even look like. Still, given how quickly Zack Snyder had to exit the project, it's always been unclear as to whether he even has enough footage to truly finish the film. Now, it looks like we have an answer:
While these comment's from TheWrap's Umberto Gonzalez may be a bit of a letdown -- even for the cast, who were totally geeked about the Snyder Cut news -- it's understandable -- reassembling the cast would be a logistical challenge, especially given the current uncertainty surrounding when regular film production can begin. Having the budget to polish up existing footage should still result in a version of the film that's more satisfying. Fans have also been curious as to whether or not a successful Snyder Cut could lead to a revival of the Justice League franchise. Yet it looks like that's probably not in the cards, either:
We've waited so long for the Snyder Cut, that it's good to know what we're in for when it finally arrives. If we have reasonable expectations about the finished product, that means when we finally get to see the Snyder Cut, we'll be able to fully enjoy it by focusing on what's in it, rather than what may have been left out or what could have been.
Though there's no official release date, thanks to the official announcement on Twitter, we know that HBO Max plans to premiere the film in 2021.
Your Daily Blend of Entertainment News