Could The Snyder Cut Lead To Justice League 2 And More?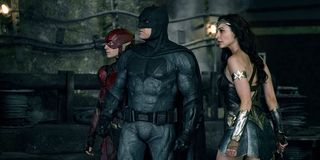 Have you heard? If you're reading this, chances are you're already well in the loop, but on the off chance you're not, yesterday it was announced that director Zack Snyder's intended vision of Justice League, i.e. The Snyder Cut, is heading to HBO Max in 2021. For years, the #ReleaseTheSnyderCut movement campaigned for this version of the movie to be made available to the public, and now their wish came true.
We'll have to wait a year to watch The Snyder Cut, a.k.a. Zack Snyder's Justice League, in full, but as fans discuss amongst themselves what they're looking forward to seeing most in this movie, there's another question worth addressing: could this pave the way for Justice League 2? As far as we know, no Justice League sequels are in active development over at Warner Bros and DC, but is there a chance that The Snyder Cut could change that? Let's talk it out.
What's Being Done With The Snyder Cut
We could spend hours talking about all the ways we know about how The Snyder Cut sets itself apart from the theatrical version of Justice League. Suffice it to say that version of Batman, Superman, Wonder Woman, Flash, Aquaman and Cyborg teaming up for the first time together unfolds quite differently than what moviegoers saw on the big screen in late 2017, not the least of which is because it'll be 214 minutes long rather than a solid two hours.
According to THR, $20-30 million is reportedly being spent to finish The Snyder Cut's visual effects, score and editing, and some, if not all of the main actors could be brought back to record new dialogue, if not outright film new footage. It's also possible that rather than be made available as nearly four hour-long film, The Snyder Cut will be split into six "chapters," thus serving as a miniseries of sorts. Regardless, this is an "entirely new thing" that will ideally be better received compared to the underwhelming reception the theatrical cut earned.
What Zack Snyder's Justice League Sequel Plans Were
In the early days of forming the DCEU, Justice League Part Two was scheduled to come out in June 2019. It ended being taken off the calendar in late 2016, but following Justice League's time in theaters, Snyder planned on not only making the sequel, but also working on Justice League 3. Those Justice League movies would combine with Man of Steel and Batman v Superman: Dawn of Justice to make a five-movie epic.
We don't know quite as much about Justice League 2 and 3 compared to The Snyder Cut, but among the details that have been parceled out over the years include the heroes traveling to Apokolips to fight Darkseid and his minions, the Green Lantern Corps getting involved, the heroes losing their battle, Bruce Wayne's Knightmare vision coming to pass after Darkseid levels Earth, and the heroes making one last stand against Darkseid. Yeah, that sounds like quite the explosive narrative, so is there a chance we could still see the fully story be brought to life someday?
Could A Zack Snyder-Influenced Justice League 2 Get The Green Light?
While the prospect of seeing Zack Snyder's Justice League trilogy be fully realized is obviously enticing to a lot of fans, there are a few obstacles in the way. For one thing, the DCEU isn't as concerned with MCU-style interconnectivity among its movies anymore, and while it's one thing to spend tens of millions of dollars to complete a movie that already went through principal photography, the studio may not comfortable yet moving forward with any full-fledged follow-ups. Plus, in addition to finishing Army of the Dead, Snyder also plans to tackle a film adaptation of The Fountainhead, so even if he wanted to jump back into the DCEU fray beyond finishing his Justice League cut, it would be a while before he'd be able to do so.
Let's also not forget that even if Zack Snyder's Justice League sequels were to get the green light, not all of the principal players would return alongside him. Ben Affleck has officially retired from playing Batman, and while he may be fine with recording new dialogue for The Snyder Cut, it's incredibly unlikely that he'll change his mind about reprising the role, especially since Robert Pattinson is the new cinematic Batman. As such, there'd need to be an explanation for why the Caped Crusader was no longer around. On the other hand, maybe this could be worked around by turning Justice League 2 and 3 into animated features.
Could A Different Kind Of Justice League 2 Forward?
For the sake of argument, let's assume that not only is Zack Snyder not doing anymore DCEU work beyond finishing The Snyder Cut, but his outlines for the two sequels are set aside. Could interest and reception towards The Snyder Cut nonetheless prompt Warner Bros to move forward with a Justice League sequel? Possibly, although the Ben Affleck of it all would still be an issue. Still, there have been plenty of times that Batman's sat out Justice League adventures, so you could easily throw someone else into that empty slot, like Green Lantern or Martian Manhunter.
Besides, even if you didn't follow Zack Snyder outlines, you could still see the heroes go up against Darkseid, as he's set to appear in The Snyder Cut and will still be out there. On the other hand, Justice League's theatrical cut had a post-credits scene that teased the formation of the Injustice League, and Deathstroke actor Joe Manganiello has indicated there's even more footage from that scene to be shown. The point being that even without Snyder in the director's chair, there are still ways to keep the Justice League film series going with another filmmaker at the helm, provided there's public and studio interest in a sequel or two.
The Snyder Cut Could Set Up New Solo Chapters For Its Heroes
Of course, even though The Snyder Cut is finally seeing the light of day, maybe Warner Bros just isn't interested in delivering any Justice League sequels. After all, even though a lot of DC and Zack Snyder fans are looking forward to watching The Snyder Cut, it's hard to say how many views it'll end up getting on HBO Max (opens in new tab). Even then, how many people in the general populace are interesting in Justice League sequels? WB may have finally agreed to fund Snyder finishing his version of the movie, but that doesn't guarantee that sequels will be put back on the table.
That being said, The Snyder Cut could still set the stage for future DC movies. So far, Aquaman is the only member of the team who's starred in a story set post-Justice League, so he's covered. Maybe there's something in The Snyder Cut that better sets up The Flash movie or even lays the groundwork for Wonder Woman 3, which would be set in the present day. The Snyder Cut could also reignite development on Man of Steel 2 and Cyborg, and perhaps even provide proper closure for Ben Affleck's Batman. That way the DCEU as a whole would still be continuing along this "solo" path it's currently on, but The Snyder Cut can influence the journey.
We here at CinemaBlend will keep you updated on what's happening with Justice League's Snyder Cut as more details come in. For now, look through our DC movies guide to learn what other DCEU projects are on the horizon.
Your Daily Blend of Entertainment News
Connoisseur of Marvel, DC, Star Wars, John Wick, MonsterVerse and Doctor Who lore. He's aware he looks like Harry Potter and Clark Kent.
Your Daily Blend of Entertainment News
Thank you for signing up to CinemaBlend. You will receive a verification email shortly.
There was a problem. Please refresh the page and try again.