Avengers: Endgame Concept Art Reveals Wild Alternate Design For The Time Travel Suits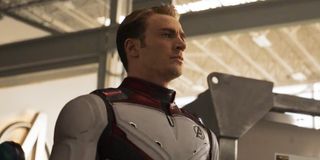 Fans are always excited to see what kinds of costumes the Avengers will sport in their latest films, and Avengers: Endgame managed to give all of the original heroes new looks. However, aside from their typical attire, Earth's Mightiest Heroes and their allies also donned quantum realm suits, which they used to travel through time. While the final designs for the costumes were well done, concept art has now revealed that the gear could've looked a lot different.
Aleksi Briclot, an artist and illustrator whose worked on several Marvel films, shared an early sketch of Captain America sporting a quantum realm suit. Only this suit is gold and is a lot bulkier than what we saw in the film. You can check out the alternate design for yourself:
At first glance, that suit doesn't even look like it was meant for time travel. Instead, it looks like it would be more suited for scuba diving. The gear also has key similarities to an Iron Man suit, especially due to its armor-like build. From a storytelling perspective, the Russos and the screenwriters could have made this an intentional connection, since Tony Stark was one of the driving forces behind the team's time travel efforts.
Nevertheless, it was probably best that directors Joe and Anthony Russo opted for the quantum realm suits that were featured in the movie. First off, the final design is a lot sleeker and very functional, which the heroes needed while traversing through different time periods. It would have taken time for them to move around in the others, and getting them off would have taken time away from their mission.
Bringing this design to life may have also required the use of more practical effects. One of the amazing things about the costumes seen on screen is that they were created entirely with visual effects. No part of the suits were done practically, which likely saved time. While it may not have been impossible to do so with this original concept, the creatives may have wanted to incorporate some level of practicality with it, which could have been time-consuming and costly.
Finally, the suits in the film are very similar to the Ant-Man suit cosmetically, which makes complete sense. Although Tony Stark discovered the trick to time travel, it was Hank Pym's eponymous Particles that made traveling possible. And with the team all using the particles, it would make sense that they'd have suits that are designed to handle their physiological capabilities.
The suit that appears in Aleksi Briclot's concept art is definitely interesting and would've been intriguing to see on the big screen. Still, fans didn't seem to have any complaints about what the attire that the characters ultimately ended up wearing. The final designs, admittedly, weren't as elaborate as this one, but they still got the job done, in more ways than one.
Avengers: Endgame is now available to stream on Disney+.
Covering superheroes, sci-fi, comedy, and almost anything else in film and TV. I eat more pizza than the Teenage Mutant Ninja Turtles.
Your Daily Blend of Entertainment News
Thank you for signing up to CinemaBlend. You will receive a verification email shortly.
There was a problem. Please refresh the page and try again.