There's Avengers Stealth Suit Fan Art For Iron Man And Cap That's Pretty Awesome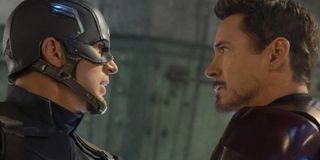 One of the things that hardcore Marvel fans look forward to the most in MCU films are the changes to the costumes the heroes wear. Each of the original Avengers have had some kind of alteration when it comes to their battle attire. Even the Hulk went from ripped jeans in The Avengers to a formfitting suit as Professor Hulk in Avengers: Endgame. But these costume changes couldn't be truer than for Captain America and Iron Man and, thanks to some fan art, the two now have some sleek, stealth wear.
An MCU fan account devoted to the two heroes shared two new photos that show Steve Rogers and Tony Stark sporting black ops-looking attire. While Rogers' suit seems to take slight inspiration from the quantum realm suits from Endgame, Stark's armor is just a blackened version of the Mark 50 from Infinity War. Take a look at the sweet images for yourself down below:
The Marvel Cinematic Universe has produced some stunning costumes in the past, but these can rival any of them. And while the photoshop is more than apparent, the pieces are still relatively well done.
Believe it or not, this isn't the first time Tony Stark and Steve Rogers have been given any kind of stealth clothing. Steve Rogers prominently wore a stealth-based Captain America outfit in 2014's The Winter Solider. He most notably used it during the film's opening sequence, which saw him, Black Widow and other SHIELD agents initiate a rescue mission. Chris Evans has also admitted that this Cap costume is his favorite.
Tony Stark also developed a stealth Iron Man suit, the Mark 15 aka Sneaky. While would assume that it was one of the dozens of suits that appeared during the final battle in Iron Man 3, the suit was more than likely destroyed when Stark initiated the "clean slate" protocol. Like Evans, Downey also has a favorite suit of armor, which just happens to be Iron Man 3's Mark 42.
Some may not believe it, but fans can be sticklers when it comes to some of the design choices for costumes. When characters like Doctor Strange and Black Panther were announced to be entering the cinematic franchise, many were anxious as to what they would look like. I mean Strange's Cloak of Levitation and T'Challa's vibranium armor could have turned out poorly in the wrong hands.
Both Steve Rogers and Tony Stark's time in the MCU has come to a close, so it's unlikely that we'll get to see any new costumes from them. Still, fans can definitely look back on their best looks and geek out over them with each other. Plus, they still have plenty of other heroes whose looks will evolve as time goes on.
To see the next costume evolution, check out Black Widow when it hits theaters on November 6.
Covering superheroes, sci-fi, comedy, and almost anything else in film and TV. I eat more pizza than the Teenage Mutant Ninja Turtles.
Your Daily Blend of Entertainment News
Thank you for signing up to CinemaBlend. You will receive a verification email shortly.
There was a problem. Please refresh the page and try again.