Walt Disney World: 6 Reopening Changes That Could Affect The Parks Forever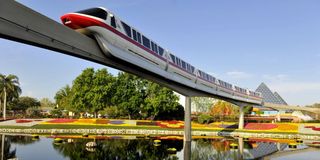 Last week, Walt Disney World revealed its plans to reopen in July. While the major global tourist destination will be back, it will be with a number of changes. New policies and procedures will be in place to try to curb viral spread, which includes significantly limiting the number of people who will enter the parks. At this point, it's far too early to tell how long things like face coverings will be required for guests and cast members entering parks like The Magic Kingdom and Animal Kingdom.
However, while it seems likely that some things, like artificially limiting capacity, are policies that will have an end date (even if we have no clue when that will be), it's possible and even probable that some of the other decisions that Walt Disney World and the other Disney Parks have made, and will continue to make, could have much longer-term consequences, possibly leading to permanent changes in the way the parks operate. Here are some of adjustments that could ultimately change the way Walt Disney World operates for good.
Ticket Reservations
The biggest single change for Walt Disney World when the park reopens is the need for every guest to have a ticket reservation. Due to the limiting of capacity, the park needs to keep a tight lid on the number of people who will be visiting on any given day. Walt Disney World has even paused selling new tickets until existing guests can be sorted out.
The biggest struggle Disney Parks have had in recent years is managing capacity. Crowds are good for business, but they can also negatively impact the guest experience, and finding that point of balance has been difficult. It wasn't that long ago that Disney tickets you bought were good for whenever you wanted to use them, but that's slowly been fading away. Now standard Disney World tickets have a much narrower window for use, and even one of Disneyland's Annual Passports requires booking reservations ahead of time for many dates. Now that this shift to specific reservations has been made, guests will get used to it, and so we could then see this become the new normal. Guests won't have quite the same freedom they once did, but the parks can better plan if they know exactly how many people will be there on any given day.
The End Of FastPass+
FastPass+ is Walt Disney World's system for allowing guests to skip most of the lines for a limited number of attractions each day. Schedule a time in advance and you can jump in a special, shorter line, which can be incredibly useful for popular attractions. Of course, getting a FastPass+ reservation for some of those popular attractions can be quite difficult. The need for social distancing in attraction queues means that FastPass+ will be closed for the foreseeable future, as that space is needed for the longer standby line.
There are a lot of people who hate FastPass+, as there are some significant issues with it. What frustrates a lot of people includes the fact that the most popular attractions can be hard to get booked, the limitations and the need to schedule what attractions you're going to do when on vacation up to 60 days before you get there. However, so much time and money was spent making FastPass+ what it is now, it's understandable why the park would be hesitant to make major changes. Now that's happened. The system is closed. With the existing system shuttered, it would be the best possible time to significantly change or completely replace FastPass+. When FastPass comes back, don't be surprised if it looks a little, or a lot, different.
An Increasingly Cashless Disney World
If you're visiting Walt Disney World, and especially if you're staying on property, there is so single item as important as the MagicBand. It holds your FastPass+ information, but it also has all your experience reservations, as well as doubles as your hotel room key and, possibly most importantly, your credit card, since you can use it to pay for your meals or your items from any gift shop. With the desire to reduce the amount of physical material passed between people, Walt Disney World has already said there is a desire to focus on the use of MagicBands and other forms of contactless payments even more.
Certainly Walt Disney World isn't going to stop accepting cash next month, and I'm not sure if that will ever really happen. But we have been largely shifting to a much more cashless society, and MagicBands allow Disney Parks to capture your money just that much more. They're easy to use and you can't use them anywhere else. And MagicBands are better than even credit cards as they don't require any physical transfer between people.
Dining Reservations
One of the unfortunate consequences of the changes that needed to be made in order to make Walt Disney World suitable for reopening was the cancelling of all existing dining reservations. It was necessary because restaurants will be forced to open to smaller crowds, so not all of the existing reservations could be honored, and all were lost. We're told that reservations will reopen at some point in the future, but the window for booking will be only 60 days prior to the desired reservation date, rather than the previous 180 days.
There's little reason that Disney World couldn't shift back to the 180 day window at some point in the future, but there may be less reason to bother. If the 60-day window works, and there's no reason that a longer period is needed, we could see the 60-day window become the new normal. Especially considering that the expectation is that theme park vacations might be harder to come by for a lot of people for the next several years. So being able to make plans on shorter notice, and by not being locked out of the best restaurants, might make such a trip more accessible if people find they have the time and money after all.
Masks, Maybe?
OK, this one is a little weird, but hear me out. I'm not saying that Walt Disney World is going to require face coverings at all times for the next decade. However, whenever the day comes that masks are no longer required, there are very likely going to be those who will want to keep wearing them for that extra bit of protection. And depending on just how things go, masks could become a normal part of all of our daily lives for years to come even if we're not all wearing them every day.
What's mostly interesting about that is the way masks could be incorporated into guests' parks ensembles. Masks are generally not allowed on guests and costumes are usually only technically allowed to be worn by kids, a rule which has given birth to the concept of Disneybounding, i.e. wearing outfits which make reference to Disney characters without crossing the line into costume. If face covering become more normalized following all this, expect to see them get integrated into Disneybounding outfits. Masks could end up taking people's Disney spirit to the next level, and so we could see people wearing them even when not technically necessary to complete a look.
Walt Disney World's changes are drastic action needed for a drastic situation, but quite often that sort of event is what causes real and permanent change. There's certainly no guarantee we'll see all these changes become long term. Some are more likely than others. It's quite possible that some of the changes we'll see can't be predicted quite yet. We won't know just how all of this works until guests arrive and the plan is put into effect. What does seem clear, however, is that when things get back to normal, it's unlikely Walt Disney World will look exactly as it did before the closure in March.
CinemaBlend's resident theme park junkie and amateur Disney historian. Armchair Imagineer. Epcot Stan. Future Club 33 Member.
Your Daily Blend of Entertainment News
Thank you for signing up to CinemaBlend. You will receive a verification email shortly.
There was a problem. Please refresh the page and try again.