Andy Serkis Was Advised Against Playing His Now-Iconic Lord Of The Rings Role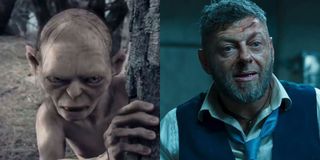 At this point in time, Andy Serkis' name is often identified with the words motion capture. He's the motion capture king, thanks to having really helped to mainstream the technology through the role of Gollum during the Lord of the Rings years. He's done quite a few motion capture performances since, but now he says he was actually advised against trying out the technology initially thanks to someone he was working with.
In a recent reunion Josh Gad put together for The Lord of the Rings: The Fellowship of the Ring cast as part of his "Reunited Apart" series, Andy Serkis spoke with Gad and fellow cast members such as Sean Astin, Viggo Mortensen, Orlando Bloom, Elijah Wood, Ian McKellan, Dominic Monaghan, Billy Boyd and part of the behind-the-scenes team, including director Peter Jackson himself. When asked how he became involved with Gollum, he revealed he was interested in the part and in filming in New Zealand, but a co-worker was adamant it was going to be a terrible idea.
At the time, obviously motion capture was a new technology and it was also not frequently equated with the name Andy Serkis yet. Special effects at that time were also not always that great when this sort of technology was being used, which is one of the reasons it's amazing how well the three LOTR trilogy movies still hold up today. I guess what I'm saying is, I don't totally blame this unnamed actor for trying to warn Serkis off.
Yet, thank goodness he didn't listen. Basically Andy Serkis went on to really be a leading pioneer in the motion capture work on film. After The Lord of the Rings: The Return of the King he went on to play Caesar in the Planet of the Apes franchise movies, also tackling that role for multiple movies. He's made a name in the industry for this sort of work.
Meanwhile, motion capture was really touch and go when Peter Jackson was trying to get The Fellowship of the Ring budgeted by the studio. Andy Serkis also told Josh Gad, Jackson and co. that the director did basically tell him he had no idea if they were going to be able to pull Gollum off, but he felt they had to try.
Peter Jackson went on to confirm Andy Serkis' latter comment, noting it was just difficult and that "in our imaginations we didn't understand even with ourselves whether this technology was going to hit." Ultimately, alls well that ends well, or in this case, alls well that ends in "a green onesie" and later donations to charity. If you'd like to see Andy Serkis, Viggo Mortensen and the rest of the cast in action, you can see the aptly named "One Zoom To Rule Them All: Reunited Apart" on Youtube now. The episode Supports No Kid Hungry, so it's for a good cause.
Amazing Race & Top Chef superfan with a pinch of Disney fairy dust thrown in. Theme park junkie. If you've created a rom-com I've probably watched it.
Your Daily Blend of Entertainment News
Thank you for signing up to CinemaBlend. You will receive a verification email shortly.
There was a problem. Please refresh the page and try again.