10 Must-Watch 90s Movies Centered On Black Characters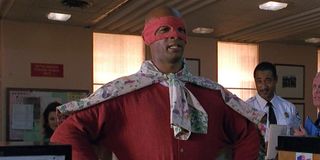 Clueless, Pulp Fiction, Jurassic Park. Yeah, yeah. I've seen all those movies. In fact, if you name any major movie from the '90s (Mrs. Doubtfire? Good Will Hunting? Rushmore?), I've seen those, too. That's because the '90s is my favorite decade. That was my childhood, man. But you know what? I feel like there were some movies back then that, while popular at the time, have kind of fallen into obscurity. And while not all of the picks on this list are forgotten (Friday got a resurgence again with the whole, "Bye, Felicia" meme), I feel like a lot of them are close to being forgotten, especially with today's generation.
Which is why I'm so happy to write this list. Back in the '90s, movies centered on black characters were actually very popular. It had a lot to do with the Hip-Hop culture, which had become mainstream at the time. And while the music of that era sounds somewhat dated (I'm sorry, it does), these movies still hold up pretty well today. So, will you get in this time-traveling lowrider with me and take a trip down memory lane? Come on. It'll be fun. I promise.
Friday (1995)
Directed by F. Gary Gray and starring Ice Cube and Chris Tucker, the story is simple: Two friends named Craig (Ice Cube) and Smokey (Chris Tucker) have to pay a drug dealer named Big Worm (played by Faizon Love) $200 by the end of the night. The rest of the movie is them trying to get the money.
But man, oh man. What they go through just to get it. It doesn't hurt that there are such great performances from two of my favorite comedians, John Witherspoon and Bernie Mac, in this movie. It's said that Ice Cube and his friend, DJ Pooh, were upset by all the depressing black movies coming out at the time, like Boyz n the Hood and Juice, so they decided to make a comedy that showed some of the better times in the hood. The result was a movie that has since become a cult classic.
Blankman (1994)
Before there was Kick-Ass, there was Blankman. Directed by Mike Binder, it was the story of a normal nerd (but don't call him that) played by Damon Wayans who decides to don a silly costume and become a vigilante. David Alan Grier plays his older brother and sidekick, Other Guy. No, really. That's his superhero name. Other Guy. What follows is Blankman basically becoming a hero by accident.
Blankman didn't set the world on fire back in '94, and basically nobody talks about it today. But in the superhero-obsessed culture that we're currently living in, Blankman was way ahead of its time in lampooning it. It's a really immature movie, with dick jokes and everything. But if you don't mind silly movies, then you'll find yourself wiping tears from your eyes watching this movie. We love you Blankman… and the Other Guy!
Don't Be a Menace to South Central While Drinking Your Juice In the Hood (1996)
Since we're already on the topic of the Wayans Bros., why not just jump right into the greatest parody film of all time? And yes, I've seen Airplane. This is still better. Just like how Ice Cube was tired of all the sad gangster movies of the early '90s, the Wayans family wanted to poke fun at the gangster genre as a whole, and they did so by taking key scenes out of the major ones (South Central, Menace II Society, Juice, And Boyz n the Hood, to be specific) and just making fun of them outright.
The Wayans family actually did a similar film in the late '80s called I'm Gonna Get You Sucka, which parodied blaxploitation films, but Don't Be a Menace is the superior film, mostly because it's sillier, and also because it better encapsulates black cinema at its given time.
The Nutty Professor (1996)
It's crazy when you think about how big The Nutty Professor was. In this Oscar-winning film (for Best Makeup. Calm down), Eddie Murphy stars as an overweight professor who develops a serum to lose weight, but it also changes his personality. It's actually a remake of the Jerry Lewis movie of the same name, but with a lot more overweight people chanting, "Hercules, Hercules."
Like with the success of Austin Powers, you kind of just had to be there to understand it. Eddie Murphy played several characters in the movie, most notably his family members, and audiences just ate it up. Watching it today provides an interesting time capsule for comedy in the '90s.
Life (1999)
I could have chosen Boomerang for my Eddie Murphy/Martin Lawrence pick, but I actually prefer Life. It's a period piece about two friends wrongly convicted and thrown in jail, and how they keep trying to escape only to keep getting recaptured. If it sounds like a fun film, it is.
Now, some of the humor doesn't land in 2020 (most notably the gay jokes), but outside of that, it's a buddy film that will always be enjoyable, especially since it takes place in different time periods. I love this movie!
Waiting to Exhale (1995)
Directed by Forest Whitaker and starring the late Whitney Houston, Angela Bassett, Lela Rochon, and Loretta Devine, the story is about four friends who have troubling love lives and are hoping to find men who they can actually be themselves around.
Waiting to Exhale was a massive success in the '90s, and for a romantic drama about four black women seeking love (and all of them getting happy endings—of sorts), it was a groundbreaking film for the time that still holds up today.
Set it Off (1996)
And now, if Waiting to Exhale was a heist movie… Another F. Gary Gray picture, Set it Off is everything an action heist film should be. It just happens to star four powerful black women. Queen Latifah, Vivica A. Fox, Jada Pinkett Smith, and Kimberly Elise are those women, and they all have their own reasons for why they're deciding to rob a bank. But the interesting part is how grisly it all is. You don't often see women dying in shootouts.
I always hear people talking about how female-led action films don't sell, and how Black Widow is such a big deal (which it is). But Set it Off pulled the female-led action movie off back in 1996. It was a financial and critical hit. It's been done!
Dead Presidents (1995)
Another heist film, of sorts, Dead Presidents is kind of like what would happen if First Blood and Reservoir Dogs were the same movie, but with black people in white face paint. That's not the best description of the movie, but it's not a terrible one, either.
Directed by the Hughes Brothers and a follow-up (though, totally unrelated to) Menace II Society, Dead Presidents is really about how war veterans—particularly war veterans of color—often won't find opportunities once they return home, especially if it's back home to the slums. The film is a little uneven, but the overall story is good. Plus, it also features Keith David and Chris Tucker, and that ain't bad.
Candyman (1992)
Comedies? Check. Drama? Check. Action movies? Check. Horror? Hmm… Were there any famous black horror movies back in the '90s? Oh, yeah! Of course there was! Candyman! Directed by Bernard Rose and starring the super creepy, Tony Todd, Candyman was a modern day classic in the genre when it was released. And while Candyman might not be as recognizable as say, Freddy Krueger or Jason Voorhees, he was definitely nestled in there with characters like Chucky and Pinhead in the B-tier.
Candyman is your standard boogieman story, but with a twist. This boogieman was the son of a slave, and the story centered more around race and class than other horror films at the time. I love Candyman, so you know I can't wait for the Jordan Peele-produced remake.
Tales From the Hood (1995)
Not only did the '90s produce a black horror movie in Candyman, but it also produced a black horror anthology movie in Tales From the Hood. There are four separate stories in this collection (two really good, two sort of meh), and it tackles topics like police brutality, racism, and domestic abuse, making it quite different from your Creepshow's and your Tales From the Darkside's.
It was directed by Rusty Cundieff, who also did the hilarious Fear of a Black Hat (which is pretty much a black This is Spinal Tap), and featured a Cryptkeeper-like character in Mr. Simms (Clarence Williams III) who introduced each new story. It's dark, and it's even fun at times. Watch it.
There are so many great movies in the '90s centered on black characters (I didn't even get into any of the fantastic Spike Lee movies that appeared in this decade) that it was hard to come up with these ten. But I wanted to provide a nice variety since I'm afraid that a lot of these films have already been forgotten, and that's a shame. Black cinema matters. In fact, all cinema matters. But you already knew that, right? So go and watch these movies! Laugh a little. Cry a little. But most importantly, embrace it.
Lover of Avatar (The Last Airbender, not the blue people), video games, and anything 90s, he will talk your ear off about Godzilla, so don't get him started.
Your Daily Blend of Entertainment News
Thank you for signing up to CinemaBlend. You will receive a verification email shortly.
There was a problem. Please refresh the page and try again.