Tom Hardy Had A Great Comment For Linda Cardellini When She Had To Slap Him In Capone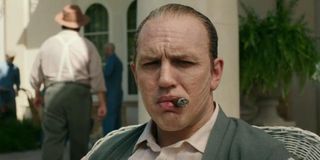 Throughout his career, Tom Hardy has proven to be fully committed to the roles he takes on. From Bane in The Dark Knight Rises to John Fitzgerald in The Revenant, and now Al Capone, he fully immerses himself in the character. And it sounds like he expects the same from his co-stars, which led to him giving Linda Cardellini a great comment in one Capone scene.
While speaking with THR, Linda Cardellini spoke a bit about acting with Tom Hardy on the set of Capone. She plays Mae Capone, Al Capone's wife, and in one scene Cardellini has to slap Hardy, which made her uncomfortable. After all, most people don't want to get slapped, but it sounds like Hardy encouraged it. Here's what Cardellini said about it:
Ouch! Tom Hardy clearly wanted Linda Cardellini to own the slap and make it look real. That sounds about right considering this is Tom Hardy we're talking about. While Capone overall has been getting mixed reviews, Tom Hardy's fully-committed performance seems to be the bright spot of the film.
While it sounds like Linda Cardellini has nothing but nice things to say about Tom Hardy, that hasn't always been the case of his other co-stars. His feud with Charlize Theron on the set of Max Max: Fury Road is practically legend at this point, though he says he regrets the drama now. He's probably happy there weren't any heavy slapping scenes in that movie.
Though that's not to say Tom Hardy is always serious on set; he has been known to find ways to break the tension when things get too serious. On the set of The Revenant, when the mood dropped, he would say, "Why don't we have a cuddle in front of all these people here?"
Tom Hardy's advice to Linda Cardellini isn't unlike similar advice Capone director Josh Trank received from fellow director and friend Rian Johnson. Recently, Trank revealed that he hosted a screening of Capone with his friends and family for some feedback. Afterwards, Johnson advised him that Capone is weird, but that he should own it and make it even weirder.
For those of you that want a bizarre gangster experience, Capone is available now on VOD. Keep visiting CinemaBlend for all the latest in movie news, and don't forget to browse through our 2020 release calendar.
Your Daily Blend of Entertainment News
Thank you for signing up to CinemaBlend. You will receive a verification email shortly.
There was a problem. Please refresh the page and try again.