Bride of Frankenstein Writer Teases The Universal Monster Movie's Storyline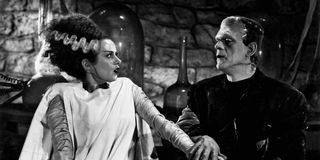 Bride of Frankenstein has been in development hell for years but, like its eponymous monster, it looks like plans for a new big screen adaptation could finally be resurrected. The film's screenwriter recently teased some details surrounding the Universal Monster movie, including what we can expect to see when it finally hits theaters.
When Bride of Frankenstein was initially announced, Bill Condon was attached to direct, and Angelina Jolie was set to star. It was meant to be part of Universal Pictures' Dark Universe. That burgeoning franchise ultimately failed to perform the way the studio had envisioned, following the lackluster response to 2017's The Mummy. Instead, they seem to have changed gears, handing off the idea to Blumhouse. This year's The Invisible Man wound up working successfully as a standalone film. Now, it looks like Bride of Frankenstein may get a similar treatment, as screenwriter David Koepp recently revealed that Bride is still very much alive:
The Bride has long been an iconic movie monster and, like Frankenstein, her story has always been a tragic one. But she's largely been relegated to a supporting role. That doesn't mean her story won't resonate with audiences today. It seems reasonable to expect that the new Bride of Frankenstein, like The Invisible Man, will be adapted to fit modern themes and, as David Koepp told Bloody Disgusting, many of those themes definitely draw parallels to the Bride's origin story:
Bride of Frankenstein isn't the only Monster movie Universal has lined up, as the studio is also developing a new remake of Dracula. However, David Koepp is right that there's a strong case to be made for why the Bride of Frankenstein is ready for her time in the 21st century spotlight, whether it winds up being a modern adaptation or not. Unlike her monstrous hubby, she's never really been given a treatment that reflects how interesting her story could be, and this could be the perfect time to do that.
There's no official word on when Universal Pictures will move forward with bringing Bride of Frankenstein to the big screen - but the plans definitely sound intriguing.
What would you want to see in a Bride of Frankenstein remake? Let us know in the comments!
Your Daily Blend of Entertainment News