Scarlett Johansson Talks The Intense 'Pressure' To Stay Thin In Hollywood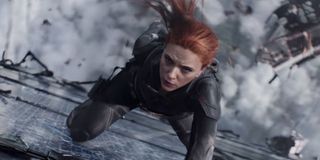 It's not uncommon for female actresses to be hyper aware of their weight, but you'd think that might be heightened even more for actresses like Scarlett Johansson, who have had to maintain a fitness level to play superheroes in the MCU. Even if I'm extrapolating out a bit and it isn't "heightened" per se to play a superhero, Scarlett Johansson is now saying she has felt some pressure in Hollywood to "stay thin."
In a candid new interview, Scarlett Johansson talked about the pressure she's personally felt as a woman in Hollywood, comparing her own experiences to a scene from the popular movie All About Eve that has always stuck with her. She told Candis Magazine (via The Eagle) regarding weight and the pressures of Hollywood:
All About Eve is the popular 1950 film where Bette Davis made famous the line "Fasten your seatbelts, it's going to be a bumpy night." While off the top of my head, I don't remember the particular moment Scarlett Johansson is referencing, we do know that the average woman's BMI in the '50s was 23.6 and now the average has changed to 29.6. During that time, however, the trend in celebrity bodies has gone from voluptuous like Marilyn Monroe (or Scarlett Johansson for that matter) to very thin, like Gigi Hadid or Angelina Jolie.
The pressures of staying thin have been explored in recent movies like Judy (in which a young Garland wasn't allowed to eat a cheeseburger) and comments from celebrities in the industry themselves, and while I hope women are comfortable with their bodies no matter the shape, it doesn't really surprise me that Scarlett Johansson has these feelings either. Actors often have to gain or lose weight for roles – some like Christian Bale are specifically known for it. But it's one thing if it's a choice an actor makes for a role. I'd imagine it's another thing to hear about weight when it has nothing to do with the work at hand.
Scarlett Johansson has always been one to speak her mind on various topics. This isn't the first time she's spoken out about her body either, as she was the subject of leaked nude photos some years back. It's no secret that she works hard to play Black Widow in the MCU, but it sounds like she has recent for her body and understanding its limits, also telling the magazine she's not willing to develop an eating disorder like some might in order to keep the weight off. She also noted:
Next up, she'll be fit as a fiddle in the Black Widow solo movie, also opposite Florence Pugh and Stranger Things' David Harbour. The movie was supposed to be out in May but has been delayed by the Hollywood shutdown and current world events.
Reality TV fan with a pinch of Disney fairy dust thrown in. Theme park junkie. If you've created a rom-com I've probably watched it.
Your Daily Blend of Entertainment News
Thank you for signing up to CinemaBlend. You will receive a verification email shortly.
There was a problem. Please refresh the page and try again.