Doctor Sleep Is Now Streaming, And The Internet Is Finally Falling In Love With It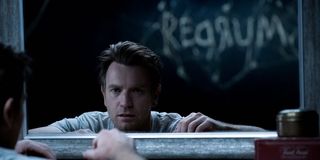 There's no way around it: when Doctor Sleep hit theaters last fall, it didn't do particularly great at the box office. Whether fans just weren't feeling a long Stephen King movie or they didn't realize it was a sequel to The Shining, it failed to drum up any serious interest. The good news is that it may be transforming into a bit of a, um, sleeper hit, though. Now that Doctor Sleep has become available on streaming platforms, fans are finding it -- and falling in love with its amazing story.
Doctor Sleep follows an adult Danny Torrance (Ewan McGregor) as he battles his own demons and ghosts. He eventually connects with Abra Stone (Kyliegh Curran), a young girl with psychic powers of her own and, together, they face a new battle between good and evil that forces Danny to confront his own childhood trauma.
It's a slow burn of a horror story, one that was rightfully critically acclaimed when it was first released last November, despite its lackluster box office performance. Now that it's hit HBO Max, it looks like film fans are finally checking it out, much to the delight of some Twitter cinephiles who've been waiting for people to stop sleeping on it:
Some fans took the time to call out their favorite elements of Doctor Sleep, including Rebecca Ferguson's ridiculously amazing portrayal of main villain Rose the Hat:
While Doctor Sleep's original runtime was already on the long side -- more than two and a half hours -- it looks like the even longer director's cut that's available on HBO Max is actually managing to draw in even more fans:
New and old fans alike were quick to point out Doctor Sleep's strengths -- and also revived some of the discourse that's long followed Stanley Kubrick's original adaptation of The Shining. Some praised Doctor Sleep for managing to do what they felt the iconic director failed at -- creating a solid adaptation of one of Stephen King's most beloved books:
Other fans made it clear they had no qualms with The Shining but still felt Doctor Sleep was a more than worthy adaptation and an exemplary adaptation of one of Stephen King's newest classics:
It's good to see Doctor Sleep seems to have found the fanbase it's always deserved. In many cases, there are films that aren't well received right away but, for some, that recognition comes with time. And when it arrives, it can be massive. HBO Max made the right call in making both the theatrical cut and director's cuts available to stream, because it gives both new and returning fans a chance to dive into the story.
Have you watched Doctor Sleep yet? If not, what are you waiting for?
Your Daily Blend of Entertainment News