More Alien And Predator Stories Are Coming, But Not In The Way You'd Expect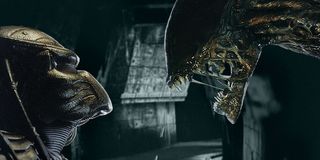 Both the Alien and Predator franchises have had long runs on the big screen, with several sequels and even their own crossover. But movies aside, many don't realize they've also had a long run in the comics, too. Now, it's been revealed that more Alien and Predator stories are on their way, but this time published by Marvel Comics.
According to IGN, Marvel Comics has acquired the rights to publish more stories for these two popular franchises. Dark Horse Comics had published the Alien and Predator stories since 1988 but has now transferred the rights.
As of right now, details are sparse about story information or the creative teams behind the new comics. All the same, it's exciting to hear we'll be getting more Xenomorph and Predator action in comic book form.
Since these two franchises will now be under the Marvel Comics umbrella, you wouldn't be blamed for wondering if these fearsome monsters might eventually face off against Marvel superheroes. Unfortunately, as of now, there's no word if that is even going to be a possibility or not. However, one teaser image did show Predator posing while holding Iron Man's helmet.
This isn't the only time Marvel Comics has acquired the rights of a popular story from Dark Horse Comics. In 2015, Marvel Comics also acquired the Star Wars line of comics from Dark Horse. Disney, of course, used that acquisition to start their new Star Wars timeline.
While they were still under the Dark Horse Comics banner, the Alien franchise was taken to all sorts of places. They even created an alternate version of Alien 3 based on William Gibson's unproduced screenplay, which, if you didn't know, is drastically different from the movie that David Fincher directed.
The Alien comics also worked as supplemental material to the movies. Around the time Prometheus released, Dark Horse Comics published Prometheus: Fire and Stone, a miniseries that follows another crew that heads to LV-223 about one-hundred years after the events of Prometheus.
Despite the activity in the comic book realm, both Alien and Predator have seemed to be on pause since Disney acquired 20th Century Fox. It's difficult to say at this point if any new projects will happen for either franchise. Ridley Scott, however, has said that he's got plenty of ideas on where to take Alien next. So it's always possible that the Alien franchise could keep going.
There's been sparse news on the Predator front about more movies as well. Shane Black's The Predator received mixed to poor reviews but exceeded its budget at the box office, earning roughly $160 million. From a purely financial standpoint, there might be a reason to bring the commando hunting menace back to the big screen.
With Alien and Predator coming under the Marvel banner, it makes me wonder if Marvel wants to somehow include them in their cinematic universe. It sounds preposterous, of course, but they've pulled off crazier things before. The other possibility is that Disney wants to create a new timeline for the movies like they did with Star Wars and will use Marvel Comics to create more supplemental material. It's all a guessing game, right now, so be sure to stay tuned for more news when it lands.
Your Daily Blend of Entertainment News