10 Comic Arcs To Read To Prepare For Marvel Cinematic Universe Phase 4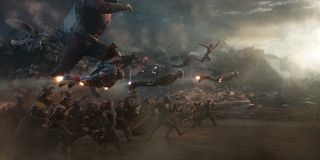 Marvel Cinematic Universe movies are never direct panel-for-panel adaptations of the source material on which they are based, but there's still no denying the incredibly important influence and impact that the comics have on the blockbusters. Whether it's major plot points, stylistic cues, character details, or even bits of dialogue, the words and artwork featured in decades of published magazines are in the core DNA of the adventures, and that's not an element of the development process that is going away any time soon.
It's with this in mind that we have built this feature – putting together a different kind of look ahead at what's coming from the developing Phase 4 of the Marvel Cinematic Universe. The full slate was announced at San Diego Comic-Con 2019, and while there are some projects, both on the big screen and on Disney+, that remain incredibly mysterious, there are most definitely clues to be discovered about them in the comics. So without further ado, let's dive into the books you should read to prepare for the next generation of Marvel projects:
Marvel Knights: Black Widow by Devin Grayson and J.G. Jones (Black Widow)
Similar to how it took Scarlett Johansson's Black Widow ten years to go from introduction to solo movie in the Marvel Cinematic Universe, it was quite a long time after the character was created that she got her own solo series in the comics. Readers first got to know her as an Iron Man antagonist in 1964's Tales Of Suspense #52, and it wasn't until 1999 that she got her own run with her name in the title. Funny enough, it's also this three issue run that should serve as good prep work for Cate Shortland's upcoming Black Widow movie.
It's not so much about getting to know certain plot developments, the story will take place after the events of Captain America: Civil War and feature Natasha Romanoff in different specific circumstances than any pre-existing story, but it will help audiences get ready for the introduction of a key new character: Florence Pugh's Yelena Belova a.k.a. Black Widow. She was created by Devin Grayson and J.G. Jones as part of this three issue series, and there's no better way to get to know Marvel heroes and villains than by going back to where they started. (And those who finish and want more can also check out the continuing adventures of Natasha and Yelena in the 2001 sequel series by Devin Grayson, Greg Rucka, and Scott Hampton).
The Eternals by Jack Kirby (The Eternals)
Marvel Studios Kevin Feige said a lot of things about all of the Marvel Cinematic Universe projects in Phase 4 at San Diego Comic-Con, but one of his most intriguing promises was that Chloe Zhao's The Eternals will be "full Jack Kirby." Naturally, that made selecting reading material for preparation tremendously easy, as our job now is simply to more emphatically point at that material.
Jack Kirby created The Eternals upon his return to Marvel Comics in the mid-1970s, having left to work a spell at DC Comics. Having not had the opportunity to complete his "New Gods" series while working for the competition, Kirby introduced something similar yet fresh to the Marvel Universe with immortal heroes and vile Deviants that have secretly existed on Earth for centuries. This original run will not only help you get to know important key characters, like Ikaris, Kingo, Makkari, Phastos, Ajak, Sprite, Gilgamesh, and Thena (who all make their debuts), but also expose you to some of Kirby's most exquisite, thought-provoking, and mind-expanding artwork.
The Hands Of Shang-Chi, Master Of Kung Fu by Various (Shang-Chi And The Legend Of Ten Rings)
Thanks in large part to the popularity of Bruce Lee and television shows like Kung Fu, the martial arts genre was booming back in the early 1970s, and Marvel Comics very much wanted to take advantage. Eventually it led to the creation of characters like Iron Fist, White Tiger, and Colleen Wing - but Shang-Chi preceded them all, and it's his earliest adventures that are worth checking out prior to the titular hero's debut in Shang-Chi And The Legend Of Ten Rings in 2021.
Admittedly you're not likely going to find much in the way of plot points that directly matchup between the "Hands Of Shang-Chi, Master Of Kung Fu" comics and the upcoming film, as The Mandarin and The Ten Rings weren't really part of Shang-Chi's initial legend. What you will get out of the read, though, is a sense of the character's history, how he fits into the larger Marvel Universe, the extent of his powers, and perhaps a taste of the very specific artistic feel that director Destin Daniel Cretton will hopefully bring to the big screen.
Strange Tales/Doctor Strange by Stan Lee and Steve Ditko (Doctor Strange In The Multiverse Of Madness)
This is the exact same series we would have recommended prior to the release of Scott Derrickson's Doctor Strange in Phase 3, but it's hard to imagine that the filmmaker will stray far away from this remarkable run as he ventures into the making of Doctor Strange In The Multiverse Of Madness. More specific source material will surely become evident as we learn more about the blockbuster's plot and central antagonist (similar to how the origin story in the first movie borrowed heavily from Brian K. Vaughn and Marcos Martin's "Doctor Strange: The Oath" limited series), but the original Stan Lee and Steve Ditko issues will surely continue to serve as inspiration for the sequel.
In addition to the fact that many of Doctor Strange's key villains were introduced in the 1960s run (like Mordo, Dormammu, and Nightmare), the unique visual style of Steve Ditko will undoubtedly be key to the film's larger aesthetic. There are frames in Doctor Strange that are clearly lifted directly from Ditko's drawings, most notably in the famed Magical Mystery Tour sequence – and there's a very real possibility that we'll see even more direct influence as things get even crazier in Doctor Strange In The Multiverse Of Madness.
Sam Wilson: Captain America by Nick Spencer, Daniel Acuna, Paul Renaud, and Angel Unzueta Galarza (The Falcon And The Winter Soldier)
In 2015, after years of speculation that Bucky Barnes a.k.a. The Winter Soldier would eventually become the new Captain America in the Marvel Cinematic Universe, Marvel Comics threw an interesting new possibility for the patriotic hero into the ether. Following events that saw Steve Rogers rapidly age and no longer be able to serve with the Avengers, it was officially declared that Sam Wilson a.k.a. The Falcon would succeed him and take on the Captain America mantle. Now we're about to see that same passing of the torch in live-action, courtesy of the upcoming The Falcon And The Winter Soldier Disney+ show, and what better way to get ready for the series than by reading the comics where it already played out?
With the show still in fairly early development, we can't be certain exactly how much will be used from the run written by Nick Spencer and with art by Daniel Acuna, Paul Renaud, and Angel Unzueta Galarza – but at the very least fans can become more accustomed to seeing a different hero carrying the shield. It's also worth noting that the "Sam Wilson: Captain America" run also features appearances by both Bucky and Baron Zemo – both of whom will play key roles in the live-action take, so that'll provide a nice glimpse into the future as well.
The Vision by Tom King, Gabriel Hernandez Walta and Michael Walsh (WandaVision)
We really don't know much of anything at all about the plot of WandaVision or the circumstances that lead into it, but one thing we can infer from the information that we have thus far is that it seems to be going for a kind of 1950s aesthetic – evidenced by the font being used for the logo looking like it was taken off of an appliance of the era. If that ultimately translates to a kind of Norman Rockwell's Americana feel for the series, the presence of the android Vision leads one to think that the character's eponymous 2015 series from Tom King, Gabriel Hernandez Walta and Michael Walsh will serve as a perfect appetizer.
This award winning limited series follows Vision as he attempts to try and lead a life similar to a human's, complete with an android wife, android children, and a suburban home. Though some of the neighbors are definitely a bit wary about their arrival, everything seems peachy keen on the surface – not dissimilar to a Norman Rockwell painting. However, reality does not exactly match up with presentation, as secrets, darkness, and danger linger. If WandaVision is fully confirmed to be taking inspiration from this work it would be tremendously exciting, but there are hiccups: Scarlet Witch isn't really a character in the run, and it doesn't quite directly explain how Vision is alive following the events of Avengers: Infinity War. This is something we fully acknowledge, which leads us to…
House Of M by Brian Michael Bendis and Olivier Coipel (WandaVision)
Since her introduction in Avengers: Age of Ultron, Scarlet Witch of the Marvel Cinematic Universe has seen her abilities grow more and more powerful. Her ability to manipulate energy has allowed her to do some pretty remarkable things, and it's not quite clear at this point what the ceiling is going to be. That being said, one important aspect of the character that has not yet been explored on screen is the way in which she is able to change reality. Of course, that's a subject that perhaps could be a massive piece of the puzzle with WandaVision, and Brian Michael Bendis and Olivier Coipel's "House Of M" is the arc you want to read to get a grasp on the full extent of what Scarlet Witch can do.
Admittedly this is a comic event that was very much tied into what was happening in the Marvel Universe when it was first released, so you may want to do some background research before just diving in – but the elevator pitch description of it is that an out-of-control Scarlet Witch changes reality so that mutants become the dominant species on Earth. Obviously this isn't a specific plot that we can expect to be directly adapted for WandaVision, but it's not a stretch to imagine that Wanda – inconsolably distraught following the death of her true love – forms a new existence where she is living a peaceful existence with Vision (which ties back into the previous section). This is just speculation, but "House Of M" will offer up some good background on the full extent of Scarlet Witch's abilities regardless.
What If by Various (What If...?)
The situation with preparation material to get ready for Marvel's upcoming animated What If…? series is a bit different than what's going on with the rest of the Phase 4 slate – namely because of the nature of its existence within the legacy of Marvel Comics. The whole concept of "What If" isn't about building full character arcs and multi-issue stories, but instead serving up one-shots that propose how things could have gone differently in previously published comics had a particular element been changed. Because of this, one can't really recommend any specific run; all you can really do is check out a few issues and get a grasp on what the storytelling is bringing to the table.
Just like the books, the Disney+ series will feature an alien known as The Watcher narrating events and setting things up to learn how things would have played out in alternate circumstances. The comics set stories up like "What If Spider-Man's Uncle Ben Had Lived?" and "What If Wolverine Had Killed the Hulk?" and you can pretty much pick and choose which issues you want to read based on the setups that interest you.
Hawkeye by Matt Fraction and David Aja (Hawkeye)
Similar to the case of The Eternals, this one is an easy recommendation, as Marvel Studios is doing absolutely nothing to disassociate the upcoming Disney+ Hawkeye show and the acclaimed 2012 Hawkeye limited series by Matt Fraction and David Aja. It starts with the fact that the logo for both the adaptation and source material are totally identical, and continues with the fact that it's been confirmed that the plot will be used to introduce fans of the live-action material to the energetic, badass Kate Bishop.
You'll have to check out 2005's "Young Avengers" run to find the first appearance of Kate Bishop, but it's the Fraction/Aja comics you want to check out if you want a full taste of the dynamic that she has with Clint Barton. The OG Avenger trains his pupil to basically take on the mantle of Hawkeye as they team up to take down some street level crime. Readers will also have the pleasant chance to meet Lucky, who is Clint's dog and best known to Marvel fans for his love of pizza (and there is literally a zero percent chance that he doesn't make it into the Disney+ show – especially following the scene-stealing part played by Goose the Cat in Captain Marvel).
Thor/The Mighty Thor by Jason Aaron and Russell Dauterman (Thor: Love And Thunder)
Jack Kirby's "The Eternals" wasn't the only comic series that Kevin Feige specifically highlighted during the massive Marvel Studios panel at San Diego Comic-Con 2019. With writer/director Taika Waititi and stars Chris Hemsworth and Tessa Thompson on stage, it was revealed by the Marvel Studios President that Thor: Love And Thunder would be adapting elements from the run on "Thor" by Jason Aaron and Russell Dauterman – specifically by turning Natalie Portman's Jane Foster into the new God of Thunder. And what better way to get ready for that 2021 action than by reading those specific comics?
Following a months-long, multi-issue tease that featured a mysterious new female Thor wield Mjolnir and don a face-concealing mask, Jane Foster was revealed as the powerful hero in July 2015, and while her book was interrupted by Marvel's massive Secret Wars event right after the revelation, she came back in a new on-going series, "The Mighty Thor," in 2016. Taika Waititi will surely be doing his own thing with the material when he makes Thor: Love And Thunder, but all the same time reading the books will give you some insight on where the movie is headed.
Surely this reading list will grow as we get to know more about each of Marvel's Phase 4 projects and the specific material that filmmakers are working from, but all of this is definitely a place to start. So head to your local comic book shop and/or check out Marvel Unlimited, and also be sure to stay tuned here on CinemaBlend for a whole lot more of our Marvel Cinematic Universe coverage.
Assistant Managing Editor
NJ native who calls LA home and lives in a Dreamatorium. A decade-plus CinemaBlend veteran who is endlessly enthusiastic about the career he's dreamt of since seventh grade.
Your Daily Blend of Entertainment News