New Star Wars Comic Answers Key Question About Luke Skywalker's Original Lightsaber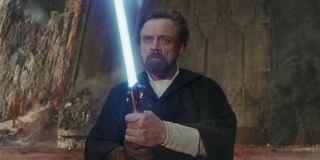 During her time on Takodana in Star Wars: The Force Awakens, Rey discovered something deep within Maz Kanata's castle that fans hadn't seen on the big screen for decades: Luke Skywalker's original lightsaber, the weapon that had previously belonged to his father, Anakin. When Han Solo later asked Maz how she got the lightsaber, she answered, "A good question... for another time."
The Star Wars Sequel Trilogy never followed up on that mystery, but the new Star Wars comic book series over at Marvel, which is being written by Charles Soule and illustrated by Jesus Saiz, has shed some light on the matter… well, partially. When we last Luke Skywalker's first lightsaber in The Empire Strikes Back, it was plummeting into the depths of Cloud City within the grip of Luke's sliced-off hand. Had the weapon eventually hit the ground, it would have surely shattered, but as it turns out, someone deeper within Cloud City caught it.
This new Star Wars comic book series is set in between The Empire Strikes Back and Return of the Jedi, and in issue #2 (via IGN), which has just been released, Lando Calrissian tells Luke Skywalker that he knows where his lightsaber is and that they'll need to go back to Cloud City to find it. Luke is then hit with a vision of a hooded figure catching the lightsaber and telling him to follow his destiny.
We don't learn who this figure is, although their garb suggests that they are a Jedi. No doubt their identity will be revealed in the coming issues, but clearly this person is invested in Luke Skywalker's journey. And if they do indeed want to help the young man, this couldn't have come at a better time.
This Star Wars comic book series has also shown that Luke connection to the Force has weakened after losing his duel with Darth Vader on Bespin. After all, not only did he lose both his hand and lightsaber, but he also learned that the Sith Lord was his father, despite Obi-Wan Kenobi having previously told him that Vader killed Anakin. We know that Obi-Wan will tell Luke in Return of the Jedi that he had been telling the truth "from a certain point of view," but right now, Luke is dealing with a lot of emotional baggage.
So now we know how the lightsaber that belonged to Anakin and Luke, and will one day end up in Rey's hands, made it out of The Empire Strikes Back intact. Furthermore, since Return of the Jedi had Luke wielding a green-bladed lightsaber that he constructed, one can presume that even if he finds his first lightsaber, he won't keep it.
More importantly, who is this hooded figure who caught the lightsaber? Is it a Jedi we've already met or someone brand new? Or is it even someone who's alive? In Star Wars: The Rise of Skywalker, Force Ghost Luke Skywalker grabbed his old lightsaber when Rey tossed it away, so Force Ghosts can interact with the physical world. Maybe it was Force Ghost Obi-Wan who saved Luke's lightsaber, and he intends on using it to continue guiding Luke on his path to becoming a Jedi.
In any case, one part of the mystery surrounding Luke Skywalker's original lightsaber has been cleared up, but we're still in the dark on how Maz Kanata got ahold of it. Granted, there's approximately three decades between the events of this comic book series and The Force Awakens, and a lot can happen over that many years, so perhaps the answer to that question will keep being saved for another time.
Star Wars #2 can be purchased digitally or at your local comic book store, and issue #3 will come out on February 26. Keep checking in with CinemaBlend for more updates on the Star Wars franchise, and look through our 2020 release schedule to learn what movies are coming out later this year.
Connoisseur of Marvel, DC, Star Wars, John Wick, MonsterVerse and Doctor Who lore. He's aware he looks like Harry Potter and Clark Kent.
Your Daily Blend of Entertainment News
Thank you for signing up to CinemaBlend. You will receive a verification email shortly.
There was a problem. Please refresh the page and try again.