Why Star Wars Should Never Retcon The Sequel Trilogy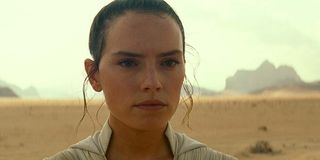 CinemaBlend participates in affiliate programs with various companies. We may earn a commission when you click on or make purchases via links.
Recently, an unconfirmed rumor hit the internet that there were internal discussions within Lucasfilm and Disney that the Star Wars sequel trilogy would be retconned. This means that Disney would remove the events of Star Wars: The Force Awakens, The Last Jedi, and The Rise of Skywalker from official canon.
While the rumor is unfounded and probably untrue, there are plenty of reasons why Disney should never retcon this trilogy. More than can encompass a list, really, but for the sake of brevity, here are the main reasons I believe it shouldn't even be considered.
The Sequel Trilogy Is The Only Swan Song For Star Wars' Classic Cast We'll Get
If the sequel trilogy is removed, so to are the final stories we have with the original characters who got this franchise going. Carrie Fischer has since passed, and while we may think the world of their abilities, it was unrealistic to ever assume Mark Hamill and Harrison Ford would lead another trilogy, given their respective ages.
If the intention in retconning the sequel trilogy would be to tell more stories with Luke, Han, and Leia, then recasts would be in order. For purists who don't want to see these characters played by anyone else, I can't help but think the sequel trilogy is the best fans could ever hope for, at least in regards to the original cast. They weren't the stars, but were given enough focus in the plot, and were allotted a decent amount of screentime so they'd be able to contribute in a good way. You can't ask for more than that.
Galaxy's Edge And Other Notable Works Based In Sequel Trilogy
Folks love to focus on the things they hate about the sequel trilogy, but we all often overlook the cool things it has given us. The coolest of the bunch, Galaxy's Edge, has given every Star Wars fan physical locations in which they can visit and feel as though they're a part of the fictional universe. Disney even has plans to expand that into a massive land cruise experience, would they dump all those plans because of disgruntled fans?
Beyond Galaxy's Edge, Disney also has a solid amount of books it has commissioned within the sequel trilogy that would be pushed into Legends canon as well. There are some quality stories in there (like Phasma, for anyone interested) and again, Disney likely wouldn't burn all that work and lore just on account of a polarizing trilogy.
Erasing The Sequel Trilogy Removes Some Truly Awesome Characters
Say what you will about the stories, but there is still some great potential in the characters introduced in the sequel trilogy. These characters will live on (save one) in other Star Wars adventures, regardless of whether or not the actors who played them will be willing to reprise the roles.
And look, I'm well aware that there is no shortage of people miffed that the trilogy killed off the most interesting character of the new bunch, Ben Solo. Be that as it may, there aren't many ways the galaxy's equivalent to Hitler could've realistically lived on post-First Order destruction, and retconning his exit would only rob the world of more stories from his life which happened before the movies. I may not love the entirety of the sequel trilogy, but I love these characters about as much as those in any other trilogy thus far.
The Retcon Using The Veil Of The Force Would Confuse Mainstream Audiences
To revisit the retcon rumor, it was said that Disney would utilize the Veil Of The Force to achieve this timeline change. The concept was introduced in Star Wars Rebels and is said to be a dimension that interconnects all of time and space via the Force. The concept would essentially create an alternate dimension in Star Wars, and set the stage for a diverging timeline that would allow for a new sequel trilogy to be told.
It's the kind of plot device that Marvel is tiptoeing into after multiple films, and a concept that hasn't been a part of Star Wars movies, ever, in its decades-long existence. I'm sure the retcon and explanation would be lauded and praised by some die-hards, but movies that make hundreds of millions at the box office aren't carried by die-hards. I think this explanation would be just too much for the masses to embrace, especially when Disney could just ignore the sequel trilogy for some time and jump ahead before or after it and tell stories elsewhere.
Attempting To Appease The Massive Fandom Is An Impossible Task
The Star Wars fandom spans generations and is appealing to folks from all walks of life. Given that reputation, it's always going to be difficult for the franchise to ever make another movie as well-received as the original trilogy, let alone another trilogy. There are just too many people to please, and many of them want different things.
That's not a problem that will ever go away, especially if Lucasfilm does something like deciding to retcon a trilogy based on the complaints of a vocal number of fans. We've already experienced the divide in the fandom with the release of The Last Jedi and The Rise of Skywalker, imagine what would happen if all of it were erased.
The Sequel Trilogy Has Its High Points
While I'm sure many would agree the sequel trilogy is weak as a cohesive product, there are many moments to love throughout these three films. There's no denying the emotional impact of Han Solo's death in The Force Awakens, and Rey and Kylo Ren teaming up to take on the Praetorian Guards after Snoke's death will go down as one of my favorite lightsaber battle scenes of all time.
Sure, there were uncomfortable parts or moments people didn't agree with, but Lucasfilm didn't retcon the prequel trilogy just because Jar Jar stepped in poop and Anakin said "yippee" one too many times. Folks don't talk about that nearly as much as they talk about the brilliant Battle of Mustafar, and I think that's how the sequel trilogy will be thought of as more time passes. That is to say, it will be a trilogy better remembered for a few key moments as opposed to the overall quality of its stories.
The sequel trilogy is now fully available to stream on Disney+ (opens in new tab). Check it out there and continue to stick with CinemaBlend for all the latest news happening in movies and television.
Mick likes good television, but also reality television. He grew up on Star Wars, DC, Marvel, and pro wrestling and loves to discuss and dissect most of it. He's been writing online for over a decade and never dreamed he'd be in the position he is today.