Should Hamilton Be Eligible For Oscars? We've Got Thoughts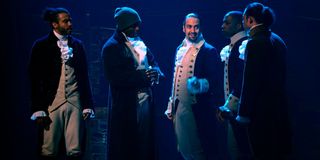 Everyone is talking about Hamilton thanks to its recent release on Disney+, and the conversation surrounding Lin-Manuel Miranda's blockbuster musical hasn't been limited to just the reactions to its content. The filmed production with the original cast, taken from several performances back in 2016, has stirred up a lot of chatter regarding what business the production could have done if it had hit theaters instead of streaming, and, as will be explored in this feature, the debate of whether or not it should be considered eligible for Academy Awards.
Needless to say, there's a bit of a divide on the latter matter, even amongst our own ranks at CinemaBlend. In the spirit of Hamilton, we've opted to duel over the subject of whether this film should be eligible or not. The big difference, of course, is that instead of pistols being drawn, we'll be using arguments that take into account the Academy's rules for what qualifies as a valid entry into the Oscars race (thanks to details published by Variety). Starting us off and definitely not taking aim at the sky is Eric Eisenberg, arguing against Hamilton being considered for Oscar recognition.
Why Hamilton Shouldn't Be Eligible For The Oscars
Putting aside various issues and systemic problems, the Academy Awards is about one thing: the celebration of film. All genres are taken into consideration, as are documentaries and shorts, and the art is highlighted on a great number of levels – from visual effects and production design, to scripts and direction. There are rules regarding length, distribution, and other details, but it's a fairly open contest within the medium.
All that being said, there's a simple explanation as to why Hamilton shouldn't be taken into consideration for the Oscars: it's not a film; it's a taping.
When Lin-Manuel Miranda first set out to write his hip-hop-heavy historical musical, one of the first choices that he had to make was to choose a medium, and the medium he chose was theater. This was a key decision that impacted nearly everything about the production from that point forward, from its structure (a two act story that uses an intermission to separate pre- and post-revolutionary periods) to its presentation (such as the rotating segments of the stage, and the spotlight moments for Jonathan Groff's King George III).
That work culminated as the show witnessed by thousands live as it was staged on Broadway, and the musical that is now available to stream for Disney+ subscribers. And that's the point. While the edit uses material from multiple performances, the content of the creation itself was not changed in any way to fit a new medium. Something doesn't just become a film because you point a camera at it. By that logic, the Oscars would need to start looking at recorded sporting events, stand-up comedy specials, and Fathom Events opera presentations too.
Had Lin-Manuel Miranda adapted what he created for the stage in Hamilton this would be a completely different conversation, but that's not what happened. It may feature multiple camera angles and a variety of cuts, but it's not a film, and rightfully shouldn't be taken into consideration by the Academy.
And now, to rebut this argument, is Mike Reyes, who is on the side of Hamilton being considered for Academy Award recognition:
Why Hamilton Should Be Eligible
If Hamilton was merely a recording of the original Broadway cast, I'd be more inclined to agree that it's just a "recording of a performance" and leave it at that. But the way that the show was filmed and edited, especially the usage of audience-free performances of certain moments for close ups, convinces me that at the very least, the film should be considered in the Best Documentary Film category. However, I would even go as far as saying that with all of the time, effort, and thought that went into staging and capturing the Hamilton performances we see in the Disney+ version of the show, a Best Picture nod wouldn't be a possibility out of the question either.
I wouldn't go as far as saying the film would be eligible for nominations pertaining to set design, costuming, or any other pre-existing component that was designed for the Broadways how. But at the very least, the product of the film itself deserves to be honored; especially in a year where there may not be too much content eligible in the traditional sense to begin with. Hamilton is a filmed experience that takes the Broadway musical, and translates it into a cinematic journey. At the very least, it should be considered as an awards contender in that respect.
There you have it! Two sides have come to the table to debate whether or not Hamilton belongs in the running for Oscars gold or not. However, don't take that as a sign that the matter is closed and done. Now it's time for you, the reading audience, to tell us what you think. Should Hamilton qualify as an Academy Award contender, or do you think that it's not playing by the rules?
Let us know what your feelings are in the matter through a vote in our poll below. Also, don't forget to hit the comments section with your expanded thoughts on why you feel one way or another on the subject. Meanwhile, Hamilton is currently available to stream on Disney+; but you may have already known that.
This poll is no longer available.
NJ native who calls LA home; lives in a Dreamatorium. A decade-plus CinemaBlend veteran; endlessly enthusiastic about the career he's dreamt of since seventh grade.
Your Daily Blend of Entertainment News
Thank you for signing up to CinemaBlend. You will receive a verification email shortly.
There was a problem. Please refresh the page and try again.