So Many Hamilton Reaction Tweets Focus On Jonathan Groff's Spit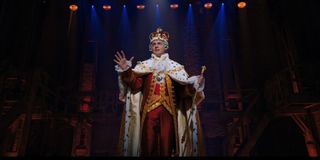 CinemaBlend participates in affiliate programs with various companies. We may earn a commission when you click on or make purchases via links.
Look, guys, Jonathan Groff is a spitter on stage. He knows it. You know it, and now tons of people watching Hamilton for the first time on Disney+ know it. It's just a thing he does. Of course, that hasn't stopped the many reaction tweets to focus on Jonathan Groff's spit.
Right now, people on Twitter watching Hamilton are having a bit of a field day. While some are basking in the glow at getting a chance to witness the praised play, others are focusing on something else, notably how much Jonathan Groff spits when he acts on stage. For some, the amount of spit he projects is somewhat disturbing, as noted below.
Perhaps Jonathan Groff wasn't aware his spit would be on display for the world to see up close? It's more likely he just doesn't care and is doing what he does because, well, he's a professional. Still, as this next tweet hilariously alludes, there's no way Groff could get away with this in a post-COVID world.
Earlier this year, it was announced, to the delight of many fans, that a Hamilton movie would indeed be coming our way. Originally the plan was for it to get a theatrical release in October 2021, but then that changed to it being thrown onto Disney+ right off the bat. The recorded play that just hit the streaming service has already been receiving rave reviews from critics. Cinema Blend's own Sean O'Connell said, "You've never had a better seat at Hamilton."
Of course, for people watching Jonathan Groff spit on the hit Broadway show, having the best seat in the house in the comfort of your own home might be a blessing and a curse. While not everyone finds it uncomfortable, some people are all for it.
In fact, some are so impressed by Jonathan Groff's performance as King George that they go so far to say that he is "the moment" and that his spit is "royal." Check it out:
Like any hard-working actor, Jonathan Groff wants to make sure he's putting on the best possible performance. He's become well-known for his roles as Kristoff in Frozen and FBI agent Holden Ford in Netflix's Mindhunter. Though you can rest assured that there's little spit to be seen in those movies. For some, it wasn't Jonathan Groff working in overtime, but rather, his spit.
There are numerous reasons to watch Hamilton on Disney+. The play won 11 Tony Awards, a Pulitzer and a Grammy, among numerous other accolades. It stars Lin-Manuel Miranda as the titular character. And, according to this Hamilton fan, it features Jonathan Groff's spit in crisp 4K:
Kidding aside, not everyone is exactly happy so much attention is being given to Jonathan Groff's abundant saliva. Some wish people would focus on his incredible talent instead.
If you're ready to witness this for yourself, the only thing really stopping you is a Disney+ subscription. For those of you who have seen this in full display, what's your take on Hamilton and Jonathan Groff's excessive spitting? Let us know in the comments!
Your Daily Blend of Entertainment News