Why Rian Johnson Would Be A Good Fit For Directing Detective Pikachu 2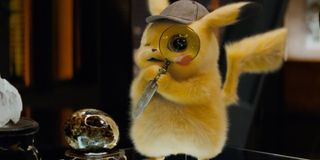 CinemaBlend participates in affiliate programs with various companies. We may earn a commission when you click on or make purchases via links.
Over a year after Pokemon: Detective Pikachu was released into theaters, there's still no clear word on what the status is for a potential sequel. Fans might have thought that with such a huge presence in the world of video game movies, the Ryan Reynolds/Justice Smith buddy detective flick would have some sort of plan in play by now for a follow-up. Which is why I'd like to present a pretty solid foundation for a future plan to be constructed: Rian Johnson should be signed on as the director for Pokemon: Detective Pikachu 2.
Now this isn't just a thought that came to mind after a late night dance with some popcorn and coffee. No, this has some basis to it, and it's pretty solid. If Johnson's skills are brought to the Pokemon table, Detective Pikachu 2 could be something as special as it is unique. With that in mind, I'm about to pitch you folks on why Rian Johnson is a super effective choice to be the next director in the Pokemon franchise.
Rian Johnson Is A Fan Of Pokemon
Something that came as a bit of a surprise in last week's news cycle is the fact that Rian Johnson is, in fact, a fan of Pokemon. Citing his experience as a "longtime Pokemon trainer" when talking about that Pokemon Go commercial he directed, that piece of information feels like a new layer in the man's persona, but also something that makes perfect sense. Naturally, if you have someone who knows the franchise in and out, and has a true affinity for the property they're working with, they're a solid hire for a gig like Detective Pikachu 2. Putting Rian Johnson into the director's chair feels like a good fit for moving forward, which is only bolstered by some other key facts about his skill set.
That Pokemon Go Commercial Was A Great Test Run
Returning to a point previously mentioned, Rian Johnson has actually directed humans and Pokemon before, thanks to his work on a recent Pokemon Go commercial. In a short advertisement to promote an upcoming virtual tournament, Johnson found the joy and excitement at the heart of the game, and he put it onto the screen. As anyone who saw Pokemon: Detective Pikachu will tell you, that's a very crucial step in the process of making a Pokemon movie. Rian Johnson further solidifies his potential hiring for Detective Pikachu 2's directing slot by being able to show his enthusiasm and fandom in a finished product. Sometimes that's the harder part of the job, as translating your vision to the big screen isn't always a clear cut path. Though there is another experience that Johnson has recently undertaken that also speaks to this very point.
The Last Jedi Proved Rian Johnson Can Make Franchise Blockbusters
In addition to being a Pokemon fan, Rian Johnson is also a Star Wars fan. Whether the fans enjoyed his spin on the mythos or not in Star Wars: The Last Jedi, you can't argue that he didn't create a film that felt like a big budget affair that belonged in the Star Wars canon. So of course, his Pokemon Go ad speaks to just how well he'd fit in the world of Nintendo's Pocket Monsters and their cinematic goings on. Just as director Rob Letterman turned Pokemon: Detective Pikachu into eye-popping proof that the world of Pokemon could indeed be brought to live-action/CGI life, Rian Johnson feels like an absurdly good fit to keep things going with Detective Pikachu 2. The best part is, no matter what the budget may be, Johnson can scale his talents accordingly; as he's done with both huge budget spectacles and low to mid-sized stunners.
Mysteries Are A Strong Suit For Rian Johnson
This might not come as a surprise to you Rian Johnson fans out there, but I have to note that the man knows his way around a legitimate mystery. Brick, Looper and, of course, Knives Out all have a mystery component that's central to their stories. In each case, Johnson was able to craft a compelling quest to find the answers, crack the case and eventually deliver on the shadowy circumstances at the heart of each of these projects. So not only would Detective Pikachu 2 benefit from Rian Johnson's visual eye and Pokemon fandom, it would also be able to utilize his mystery-crafting abilities to make a plot that could compel as well as entertain. Also, if you have young ones at home who aren't ready to watch any of those previously-mentioned films, this could be some serious gateway potential for introducing children to Rian Johnson's non-Star Wars canon.
Rian Johnson Could Be The Key To Cracking Detective Pikachu 2's Story
The main reason we probably don't have another Detective Pikachu instalmment to look forward to in the near future is probably the fact that the story for a potential follow-up has to be difficult to put together. By the end of Pokemon: Detective Pikachu, Justice Smith's Tim solves the mystery of his missing dad, and Ryan Reynolds' Harry is no longer stuck with his consciousness inside a Pikachu. Case closed, everyone goes home happy. But how do you follow that up? Well, if Detective Pikachu is going to be sequel-ized, Rian Johnson is probably one of the best people to trust in figuring out a way forward. Much as he has the Knives Out detective Benoit Blanc on track to become the center of various criminal acts in need of solving, surely Johnson can keep this family of sleuths together in a fresh and unique way. Rian Johnson knows how to look outside of the box, and that's a skill that always helps when pushing a franchise forward.
Obviously there are no real rumors or speculation that Rian Johnson is even anywhere near being considered for Detective Pikachu 2. This all really stemmed from seeing how good of a job Johnson did directing that Pokemon Go spot, as well as his proclaimed love for Pokemon. However, those particular facts, in addition to the way his career has played out so far, make him a fantastic candidate to pull this Scorbunny out of a hat. So fingers crossed there's at least a meeting between Rian Johnson and Warner Bros to, at the very least, talk this possibility out. It certainly couldn't hurt, and in the best case scenario, this could be the key to unlocking that potential sequel.
Should you be keen on revisiting Pokemon: Detective Pikachu after all of this sequel talk, you can head on over to HBO Max and enjoy that film in your own time. If you're not already a subscriber, you can check out the 7-day free trial (opens in new tab) that the platform is offering at this time. At the very least, you get a little Pokemon excitement out of the deal!
This poll is no longer available.
CinemaBlend's James Bond (expert). Also versed in Large Scale Aggressors, time travel, and Guillermo del Toro. He fights for The User.
Your Daily Blend of Entertainment News
Thank you for signing up to CinemaBlend. You will receive a verification email shortly.
There was a problem. Please refresh the page and try again.