Every Hayao Miyazaki Movie Including Spirited Away, Ranked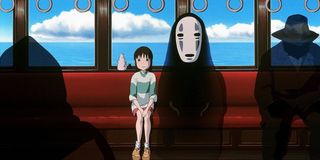 You know the name. Few directors command the respect of Hayao Miyazaki. Pretty much synonymous with Studio Ghibli, Miyazaki is probably most known for his breathtaking 2001 picture, Spirited Away. So obviously, that movie is ranks very highly on this list.
But that still leaves 10 other movies that need to be ranked. Now, I'm judging his films on a few factors. One, is the stories themselves, as "story" isn't always necessarily at the forefront of every one of his films. Two, the animation. Some of his work is so beautiful, I want to cry, but coupled with the first factor, that's not always everything. And three, the overall impact the film has had on the rest of the world. Still with me? Good. Now on with the list. Balse!
11. Nausicaa of the Valley of the Wind (1984)
Based on the manga, Nausicaa of the Valley of the Wind, which was Miyazaki's second film, already had the director's environmentalist views at the center of its tale. It's the story of a young princess who's trying to stop a kingdom from destroying a world of giant bugs. It has a Dune-vibe to it, and also has a young female protagonist as an action hero, so that's pretty cool.
So why is it at the bottom of this list then? Well, I just find Nausicaa's story to be really slow. I've seen both the Japanese version and the 2005 American dubbed version, and while Patrick Stewart and Mark Hamill help keep me invested in the story, I still find myself dozing off whenever I try to watch it.
10. Ponyo (2008)
Ponyo is the story of a goldfish that falls in love with a little boy and wants to be human, but her father disapproves. So really, it's The Little Mermaid, but much, much weirder.
Some people adore Ponyo. But I merely just enjoy it. Watching Ponyo run on waves is enthralling and it's a charming story. But by the end of it, I'm kind of just shrugging. This is a Miyazaki movie where the animation does most of the legwork.
9. The Castle of Cagliostro (1979)
Miyazaki's first film, The Castle of Cagliostro is about a thief named Lupin III who robs a casino only to find that his reward is counterfeit bills. So he goes to the source, which brings him to the titular castle, but he gets involved in a plot involving a young woman who's soon to be married to a Count. Adventure and fun ensue.
The Castle of Cagliostro is definitely the most "anime" Miyazaki movie. This is likely because Lupin III was already an established character, so Miyazaki was just throwing him into another adventure. But it's a fun one. It's also the movie that feels the least like a Miyazaki film, but is that such a bad thing?
8. The Wind Rises (2013)
At one point thought to be Miyazaki's last movie, The Wind Rises is a historical drama about a man named Jiro who designs planes during World War 2. But Jiro is conflicted since he finds planes beautiful, but doesn't want them to be death machines.
The Wind Rises is a fitting swansong and unlike any other Miyazaki movie. It's meditative and devoid of magic. It also revels in the director's pacifistic nature. But it's a little slow, so that's why it's not higher on this list.
7. Castle in the Sky (1986)
The very first Studio Ghibli film is a special one. Its visuals are steampunk, and its story is enchanting. It's about a young boy and a princess with a magic crystal who are being tracked by sky pirates and their quest to get to Laputa, which is a castle in the sky.
This movie is pure imagination. And with the robots and the airships and the castle in the sky, it feels like a lost Final Fantasy adventure. Still, even though it invokes an old-timey, yet futuristic vibe, it still feels a little dated. And like many Miyazaki films, it has its slow patches.
6. My Neighbor Totoro (1988)
One of the most famous Miyazaki movies, My Neighbor Totoro is about two young girls who befriend some weird spirit animals, most notably Totoro and Catbus.
This is one of those Miyazaki films where the universe is so unique that you kind of forget that there isn't much of a story. And Totoro makes for a pretty cool mascot. It's over before you know it, but the journey is an interesting one while it lasts.
5. Porco Rosso (1992)
Probably Miyazaki's weirdest film, Porco Rosso is about a former World War 1 pilot who is turned into a pig and fights air pirates. I'm serious.
I love this movie. It's probably the most fun Miyazaki's been since The Castle of Cagliostro. It just lets loose and is confident in what it is, which is an adventure movie about a flying pig! How can you lose?
4. Howl's Moving Castle (2004)
Loosely based on the novel of the same name, this version is about the clash of magic and technology. A young woman is turned into an old woman by a witch, and she needs the help of a wizard with a moving castle. There's also a war at the center of it.
An anti-war picture at its heart, Howl's Moving Castle is probably the most visually spectacular movie in the Miyazaki catalogue, and the visuals enhance the story rather than just being the story itself like Ponyo.
3. Kiki's Delivery Service (1989)
Kiki's Delivery Service is the movie that I most associate with Hayao Miyazaki. It's about a young witch who wants to be independent and make a life for herself with a flying delivery service.
This is a movie that's a lot deeper than it seems. It's all about believing in yourself. You find this narrative in a lot of male-driven stories, but it's refreshing to see it in a female-driven story. But most of Miyazaki's protagonists are female, and that's why he's awesome.
2. Princess Mononoke (1997)
Probably Miyazaki's angriest film, Princess Mononoke is like a much better version of Nausicaa. At its heart, it's a movie about man vs. nature. There's a war between the forest gods and people, and a young man who gets caught in the middle of it all.
Princess Mononoke is not messing around. Through its dark visuals, it's a movie that unequivocally sides with nature. It's a bold, fast-paced story that isn't afraid to get bloody. It was my favorite Miyazaki film until…
1. Spirited Away (2001)
The greatest animated film of all time (fight me), Spirited Away is about a 10-year-old girl who moves to a new town, but somehow finds herself in a world of spirits where her parents are turned into pigs and she has to work to get them out and go back home.
But there's so much more to unpack. Visually, it's so distinct and sometimes scary, which is meant to mimic what a child often experiences growing up—that sense of fear of the unknown. And this is one of the only movies that has ever made me cry, but they were tears of joy. Spirited Away is one of my favorite movies, and it's definitely Miyazaki's best film. Honestly, nothing comes close.
Miyazaki is a legend, and he doesn't have a single bad film under his belt. But what do you think is his best film? Let me know in the comments.
This poll is no longer available.
Your Daily Blend of Entertainment News
Rich is a Jersey boy, through and through. He graduated from Rutgers University (Go, R.U.!), and thinks the Garden State is the best state in the country. That said, he'll take Chicago Deep Dish pizza over a New York slice any day of the week. Don't hate. When he's not watching his two kids, he's usually working on a novel, watching vintage movies, or reading some obscure book.