Hayao Miyazaki Is Returning To Studio Ghibli After Long Absence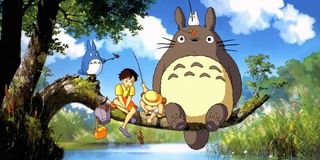 Although he had announced his retirement a few years ago, animation superstar Hayao Miyazaki is officially back at Studio Ghibli! A newsletter recently published by the Japanese animation studio says that the legendary filmmaker is in the office and hard at work on his first new feature film in years, which is titled Boro the Caterpillar.
Originally a short film written and directed by Hayao Miyazaki for Mitaka's Ghibli Museum, Boro the Caterpillar is now being expanded to be feature length, as noted in Studio Ghibli's newsletter. The short film was expected to debut at the museum last month, but screening schedules listed through the end of October don't seem to include Boro. It's entirely possible that with the feature film in development, the museum won't end up premiering the short film version of Boro anytime soon.
Boro the Caterpillar, which marks Hayao Miyazki's first CG work, is said to follow a particularly small, hairy caterpillar, but additional details have yet to be revealed. Tiny protagonists are a particular specialty for Studio Ghibli. Isao Takahata's 2013 release, The Tale of the Princess Kaguya, adapted one of Japan's oldest pieces of folklore, telling the story of a bamboo cutter who discovers a tiny woman growing inside a bamboo stalk. Shortly before that, Ghibli released Hiromasa Yonebayashi's The Secret World of Arrietty. The 2010 feature was based on The Borrowers by Mary Norton, and it centered on a family of miniature people living within the walls of a regular-sized house.
Hayao Miyazaki's return from retirement has him in good company. Fellow Academy Award winning filmmaker Steven Soderbergh also planned to step away from directing movies in 2013, but that didn't last. This weekend, Soderbergh is back with the comedic heist movie Logan Lucky, his first big screen release since Side Effects. It seems that for some artists, the lure of big screen storytelling is just too great.
Hayao Miyazaki founded Studio Ghibli in 1985 alongside Toshio Suzuki, Isao Takahata and Yasuyoshi Tokuma. Having already helmed the pre-Ghibli animated feature, Nausicaä of the Valley of the Wind in 1984, Miyazaki went on to helm Ghibli's debut feature, Castle in the Sky, in 1986. Over the next three decades, Miyazaki was responsible for animated classics like My Neighbor Totoro, Porco Rosso, Kiki's Delivery Service, Princess Mononoke and several more. Boro the Caterpillar will represent Miyazaki's tenth theatrical release.
In 2003, Hayao Miyazki took home a Best Animated Feature Oscar for his coming of age fantasy Spirited Away. In 2013, he released what was to be his final film, The Wind Rises. The drama offered the story of Jiro Horikoshi, the real world aircraft designer whose fighter designs came into significant use during World War II. Soon after The Wind Rises was released, the Academy also bestowed on Miyazaki the 2015 Governors Award in recognition of his incredible contributions to the world of cinematic storytelling. Thanks to his return to Studio Ghibli, perhaps even more accolades will be coming his way in the near future.
Your Daily Blend of Entertainment News