Ukrainian Hostage Situation Ends With Demand To Promote Joaquin Phoenix Movie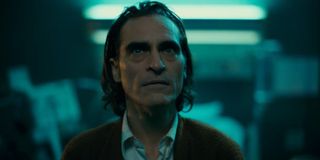 Armed with a variety of weapons, 44-year-old recently Maksym Kryvosh took thirteen hostages on a bus in Ukraine. The 12-hour harrowing standoff with the police ended when Ukraine President Volodymyr Zelenskiy agreed to Maksym Kryvosh's demand—promote the 2005 documentary Earthlings narrated by Joaquin Phoenix.
According to Deadline, Maksym Kryvosh has been identified by authorities as an animal rights activist with a criminal history of gun possession. He released the thirteen hostages unharmed and has since been arrested by the police. The Ukraine President promoted the documentary in a six-second clip on social media before deleting it.
When Maksym Kryvosh barricaded himself inside the bus with the hostages, he published his demands and manifesto on Twitter. Along with his demands about Earthlings, he also asked government officials and the Ukrainian Orthodox Church to say they are terrorists. While they waited, Maksym Kryvosh showed the hostages the Earthlings documentary (via Variety).
This all began early Tuesday. Maksym Kryvosh fired shots, took control of the bus, and told police he armed it with explosives. Police cornered off the city center in Lutsk and began intense negotiations. After being arrested, Ukraine interior minister Arsen Avakov said "a lengthy prison sentence awaits him." (via THR).
Earthlings is directed by Shaun Monson, narrated by Joaquin Phoenix, and includes music by Moby. Presented in five chapters, it follows the day-to-day practices of the largest industries in the world that use animals for profit. It currently has a 92% audience score on Rotten Tomatoes, but doesn't have any critical reviews.
Of course, it's not a surprise Joaquin Phoenix would narrate Earthlings. He has long been an outspoken vegan. He said he first became a vegan after being on a boat with his family and watching a fish being killed. That image haunted him and he made the decision at that moment. But, not only will he not eat animals, he refuses to wear leather and did so on the set of Gladiator.
After winning his Academy Award for his role in Joker, Joaquin Phoenix didn't speak much about the movie, but instead, shared his beliefs about animal rights with millions of people. In a part of his speech he said he believes we've become far removed from the natural world and have an egocentric worldview.
In the movie industry, animal rights have long been a source of controversy. Everyone now knows the famous Animal Humane Association's tag line at the end of movie credits—"No animals were harmed." These principals are no doubt important to Joaquin Phoenix, among his other causes like the subject of Earthlings.
Back in 2013, The Hollywood Reporter released a shocking and troubling report about animal abuse on movie sets. Using AHA's own internal documents, logs, emails, meeting minutes, and more, they found movies like The Hobbit had goats and sheep die from dehydration, and Pirates of the Caribbean: The Curse of the Black Pearl caused an explosion which killed marine life.
Animal rights abuses become worse the further back you go in movie history. The 1981 movie Roar is infamous for its use of 110 real lions, tigers, leopards, and cheetahs on set without any real controls in place. As a result, 70 members of the cast and crew were severely injured, including actresses Tippi Hedren and Melanie Griffith.
Today, with the power of CGI, movies can make animals look surprisingly realistic. This year, PETA praised the movie The Call of the Wild as much for using 100% CGI animals. So, considering the animal rights abuses of the past, maybe CGI isn't a bad way to go in the future. Regardless, there's no way that the cast and crew of Earthlings could have expected such a wild story from Ukraine to connect to the film.
Your Daily Blend of Entertainment News