Watch Lions Attack Melanie Griffith And Her Family In Terrifying Roar Trailer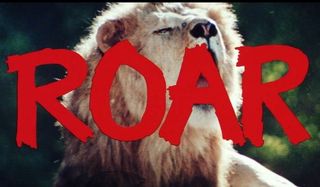 Most movies and their casts often love to boast about how dangerous it was shooting their efforts. That's despite the fact that those involved were likely never in any real danger of being injured during the shoot. But 1981's Roar is the one real exception, because while it was being filmed 70 members of its cast and crew were attacked by wild animals. Intrigued? Thought so. Well you're in luck too, because Roar is being re-released and it looks just as intense and traumatic as its injury count would suggest.
I think it's physically impossible not to be enticed by Roar -- especially since its trailer wholly embraces just how irresponsibly dangerous both its idea and production were. Any movie that claims to be the most dangerous film ever made certainly deserves immediate, undivided attention. The problem is, living up to such a label more often than not proves to be impossible. But it sounds as though Roar more than does succeeds. How can it not, when its opening title boasts, "For over a decade, Noel Marshall, Tippi Hedren, and their family lived with 150 untrained wild animals to create what became the most dangerous movie ever made."
Rather than just being 102 minutes of Tippi Hedren, Noel Marshall and Melanie Griffith playing hide and seek with this posse of wild animals, there is actually a narrative to Roar. Noel Marshall, who at the time was married to Tippi Hedren and was the step-father to Melanie Griffith, stars as Hank, who lives with 110 tigers, lions, leopards and cheetahs, as well as four tigers cubs, and two elephants. But disaster strikes when his wife and three children decide to visit his home, only to quickly learn that he's not actually there. But all of his animals are. Cue mayhem. Bloody, violent mayhem.
The injuries the 70 members of the cast and crew weren't mere scrapes and scratches either. As the trailer boasts, during production Noel Marshall got gangrene and multiple puncture wounds; Tippi Hedren broke her leg; Jan De Bont, who would go on to direct Speed and worked on Roar as a cinematographer, was scalped by a lion; and Melanie Griffith needed to have facial reconstructive surgery. That's a hell of a lot of brutality, and really demonstrates some extreme irresponsibility on behalf of the filmmakers
Despite all this toil and trauma, Roar only managed to gross $2 million at the box office from a budget of $17 million. For those affected, let's hope that it fares better when it's re-released in select cinemas on April 17th.
Your Daily Blend of Entertainment News
Thank you for signing up to CinemaBlend. You will receive a verification email shortly.
There was a problem. Please refresh the page and try again.