Why Captain Marvel's Brie Larson Is Trying To Be A More Open, Honest Version Of Herself These Days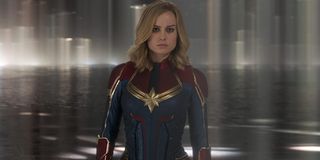 In the past, Brie Larson mostly remained a private person, despite winning an Academy Award and playing superhero Captain Marvel. But with the release of her new YouTube channel, she's started to share more of herself with the world, being open and honest about who she is. Why the sudden shift? She recently delved into that.
Brie Larson appeared on an episode of Hot Ones on the First We Feast YouTube channel, and she spoke a bit about her reticence to put herself more online. She was afraid it might affect the audience's perception of her while she played a character. Here's what the actress said:
This makes sense. Some actors tend to just play themselves on camera, and it doesn't sound like Brie Larson wants that to be an issue for her. Though she looks to have gotten over it and become comfortable with showing herself and her flaws.
Everyone knows the internet is full of controversy, some real and some not, so an actress being vulnerable on it might feel scary. But even being away from the internet, Brie Larson hasn't been able to avoid controversy.
A year ago, Brie Larson sparked a bit of internet controversy after making comments on a press tour about how she doesn't want to hear what a 40-year-old white dude thinks about A Wrinkle In Time, but would rather hear what people of color think. After coming under fire, she had to clarify her statement by saying:
So it's likely that Brie Larson wants to set the record straight about who she really is rather than through some other lens. Later, she said:
Fortunately for fans of Brie Larson, we're not anywhere done with seeing her again. We last saw her in Avengers: Endgame, but can also plan to see her in the officially happening Captain Marvel 2, with Megan McDonnell being tapped to write the script. There's no word yet on who will direct the sequel. Stay tuned to CinemaBlend for all your movie news.
Your Daily Blend of Entertainment News
Thank you for signing up to CinemaBlend. You will receive a verification email shortly.
There was a problem. Please refresh the page and try again.