The Hamilton Song That Left The Biggest Impression On Leslie Odom Jr. After He Read The Script For The First Time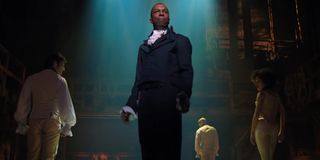 When he was starring as Aaron Burr in Hamilton, Leslie Odom Jr. had a pretty huge role. Not only does he serve as narrator, he also sings two of the Tony Award-winning musical's most memorable songs. So it might be surprising that his favorite song from Hamilton isn't "Wait For It" or "The Room Where It Happens." In fact, it's a song he wasn't even a part of.
Since Hamilton first hit Broadway, it's taken the world by storm. In the weeks since a filmed version starring the original cast hit Disney+, it's seen a huge resurgence in popularity, as new fans begin to fall in love with Lin-Manuel Miranda's innovative ode to Alexander Hamilton, America's first treasury secretary. Leslie Odom Jr., who appears in Disney+ film, recently shared with Wired that he still has a vivid memory of the moments from the musical that captivated him the most early on:
One of the most talked about aspects of Hamilton has always been the way it reframes the American revolution and many of our most famous Founding Fathers as people of color. So it makes sense that Leslie Odom Jr. would have been struck by how revolutionary that was the first time he fully encountered it, too.
The actor has taken some time in the past few weeks to really unpack what being a part of Hamilton has meant for him. That means addressing some of the controversies surrounding how it tackles issues like slavery and what it means to have the musical widely available for fans all over the world to stream. It's clear that the impact that "The Story of Tonight," and Hamilton in general, has had on his life has been long-lasting.
"The Story of Tonight" is a song that holds a lot of meaning for many Hamilton fans, too because of what it represents to the musical's story. It's sung by Alexander Hamilton, Marquis de Lafayette, Hercules Mulligan and John Laurents. We hear it, in some form, three times in Hamilton: first, immediately following the big "I want" song, "My Shot."
Later, it's heard as a reprise following Alexander and Eliza Hamilton's wedding. Then we hear it once more, on a more somber note, when the titular character learns that one of his friends has passed away. In short, it does what a lot of Hamilton does -- spans a full range of emotions, from hope to heartbreak -- while pushing the story forward.
What Hamilton song left the biggest impression on you? Are you surprised by Leslie Odom Jr.'s answer? Let us know in the comments!
Your Daily Blend of Entertainment News