Why I'm Convinced Hamilton Is Actually Named After Eliza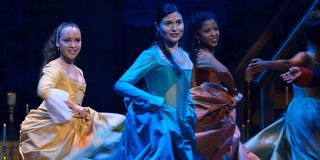 (Image credit: (Disney))
Five years after Lin-Manuel Miranda's groundbreaking musical first hit the stage, Hamilton dropped on Disney+ over the weekend. The beauty of the show being available on streaming is we can now have a more collective conversation about the phenomenon's content. Over the past week, Hamilton has already been the subject of a number of conversations ranging from Jonathan Groff's spit to the musical's place in the continued discourse about systemic racism. Now I want to talk about the name of the show itself, and how it could very well be tied to Alexander's wife, Eliza.
Think about this: why is it called Hamilton and not Alexander Hamilton? The addition of his first name certainly would have added clarity to passerbys (before it became a cultural staple of course) regarding who exactly the musical was about. Hamilton isn't a particularly rare name either. Under the observation that its playwright Lin-Manuel Miranda thought through each and every syllable in the show before bringing it to audiences, I believe its title belongs to Eliza Hamilton just as much (maybe even more?) than the Founding Father. Let's talk through why:
Hamilton Is A Musical About Leaving Behind A Legacy
During the first song in Hamilton we learn right away that his story will end in him being shot by Aaron Burr. It's an interesting choice for a play to make, to "give away the end," especially considering a ton of people probably go into it not knowing or remembering every detail of Alexander Hamilton's history. I believe this is because the true arc of the musical seeks to discuss the importance of storytelling and what you leave behind after you died. In Hamilton's case it was his ideals for American government and his wife, Eliza.
Following the form of many other epic musicals, Hamilton has a number of repeated lines that underline its themes to the audience as they take in a ton of information about Alexander's life and death. One especially important one we hear throughout the show is "who lives, who dies, who tells our story" in between Hamilton's frequent examination of "legacy" itself throughout the show – particularly highlighted in "The Story of Tonight." It's no mistake that the final song in the show is called "Who Lives, Who Dies, Who Tells Your Story" too as it places Eliza at center stage as she sings, "I put myself back into the narrative." Let's dissect that further…
Hamilton Is About Eliza Hamilton Being Added To The Narrative
So the shocking end to Hamilton is not the fact that he dies in a duel with Aaron Burr, it's already been foreshadowed to us. The show ends with Eliza taking the stage and explaining how she continues her husband's legacy in her 50 more years alive. As the character tells the audience, she started New York City's first orphanage, interviewed soldiers who fought by Hamilton's side, and raised money for the Washington D.C. Monument, spoke out against slavery and shared her husband's story. The show itself ends up highlighting Eliza's contributions to legacy from beginning to end and therefore centers her as the actual hero of the musical.
Earlier in the musical, Eliza pleads to her husband to stay alive when she is pregnant with their son, who was imagined to be the one to carry on their legacy. As "The Story of Tonight" says, "And when our children tell our story, they'll tell the story of tonight." Hamilton shows how many figures in history do not get remembered due to their lack of privilege. Both him and his son were shot at a young age, but Eliza was lucky enough to "be alive right now" and survive to tell their story and do more for the causes they cared about. Some audiences believe its this realization of her power on stage that causes her to gasp/cry out. Read our breakdown of the Hamilton ending here.
Eliza Completely Embodies The Intentions Of Hamilton
To round out my point, Eliza Hamilton has a place in the title more than any other character (including Alexander) because she embodies the story Lin-Manuel Miranda is looking to tell within the framework of his hip-hop musical. In Hamilton, the playwright cleverly used actors of different backgrounds than the actual Founding Fathers to add a contemporary take on their vision at a time when they were underdogs in America. However, this cannot mask these characters actually being white men of privilege who have been glorified for centuries since. More intensely than Alexander's status as an immigrant and orphan were the struggles of women at the time, especially for Eliza, one who lost her child and husband, who would have provided her with the money she needed to survive.
Eliza was in a position of power due to her father's wealth, but even with that in mind at the time she would have been treated even worse in society than Alexander could imagine and the show illustrates some of that grief. Yes, no one can deny Hamilton is about Alexander's life in particular as he had significant influences on the founding of the United States. But the play itself is about Eliza as the unsung hero of telling history. Eliza made sure his legacy was known even through her own loss, suffering and challenges. Hamilton could not have been written without her.
Audiences Are Catching On…
Although I started to think through this concept as soon as I watched Hamilton for the first time on Disney+, I don't seem to be alone. The idea is catching on and let's keep it going! Check it out:
Work, work! As more people check out the musical, more audiences are realizing not only the importance of Eliza Hamilton (and Phillipa Soo's incredible talent), but looking into the figure herself. Take a look at this tweet:
Eliza Hamilton's story is now being told through those who have watched the musical and as she continues to remain an icon in popular culture as the years go on, I would imagine her story will become more well-known in American History. That's not something Alexander Hamilton needed a boost for. While I only remembered the basics of Hamilton before the play, the guys already on the ten dollar bill. I'd say he made it... Eliza is a massive takeaway from Hamilton. For one final peace out:
What do you think? Did I convince you Hamilton is actually named after Eliza? Vote in our poll below and stay tuned here on CinemaBlend for more movie discussions.
This poll is no longer available.
Your Daily Blend of Entertainment News
YA genre tribute. Horror May Queen. Word webslinger. All her writing should be read in Sarah Connor's Terminator 2 voice over.