Leslie Odom Jr. Reflects On Hamilton Hitting Disney+ After He Couldn't Afford Broadway As A Kid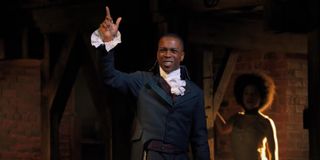 If you grow up as a theater kid, you don't just dream about being on Broadway -- you dream about seeing a Broadway play. While live theater is accessible to some, it's not always financially or geographically feasible for everyone to make it to the Great White Way. Hamilton's Leslie Odom Jr. knew that all too well, and that's part of what makes the musical's debut on Disney+ feel so meaningful to him.
Leslie Odom Jr. shot to stardom after his inspired performance as Alexander Hamilton's friend-turned-foe-turned-murderer Aaron Burr in Lin-Manuel Miranda's 2015 musical. It goes without saying that the chance to shape a role that will go on to live in Broadway infamy was probably a dream come true.
The one downside is that, up until this weekend, only a limited number of people were able to see him play Aaron Burr, since Leslie Odom Jr., like many original cast members, left Hamilton in 2016. Disney+'s Hamilton film has made it possible for millions of people all over the world to not just hear the OBC through the cast recording but to see them in action, too. Leslie Odom Jr. told Broadway World that, for him, that idea is especially meaningful:
Disney was originally going to release Hamilton in theaters in 2021. After the COVID-19 pandemic hit, though, they chose to bring it to their streaming service early, citing the opportunity to bring a message of hope and tenacity to the world during these unprecedented times.
The added benefit of making the live theater experience more accessible to viewers worldwide can't be overlooked, though, either. Even going to the movies isn't easy for everyone, so having the opportunity to watch Hamilton from home could be life-changing for some burgeoning theater fans.
Have you ever seen a Broadway play? Was Hamilton your first experience seeing a musical performed? Let us know in the comments!
Your Daily Blend of Entertainment News