Leslie Odom Jr. Celebrates Hamilton's Disney+ Success With Message To Everyone Who Watched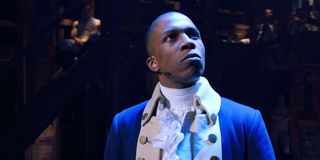 It's been years since Leslie Odom Jr. played Aaron Burr, but his performance as Hamilton's narrator/villain has recently taken on a new life. Since Disney+ began streaming a filmed version of Lin-Manuel Miranda's musical, it's seeing a surge in popularity -- and that clearly means a lot to the actor, who's celebrating the new wave of success with a special message to fans both new and old.
Hamilton was big when it first hit the stage in 2015 -- one of the rare musicals to make a dent in pop culture outside of the Broadway bubble. It's become a lot bigger since Disney's streaming service offered up exclusive access to the film version of the Broadway show featuring the original cast, because people around the world were able to fully experience it for the first time. Even if you haven't been online to see fans talking about it non-stop, a glimpse at the surge in sales of the soundtrack and downloads of the Disney+ app are enough to confirm its increase in popularity.
The Hamilton family has been engaged with fans online since the movie dropped, taking time to share their own stories and participate in live-streaming events. So they've definitely seen the love that fans are bestowing on both the musical and on them -- in fact, Leslie Odom Jr. told fans during an interview with Broadway.com how much he appreciates the response:
It seems like fans aren't the only ones who've fallen down a Hamilton rabbit hole. While they've taken the time to acknowledge how the musical's unique approach to American history might feel different today than it did a few years ago, they've also been able to have a bit of fun.
A lot of the cast members, even Lin-Manuel Miranda, have themselves found a new appreciation for Hamilton in the weeks since its Disney+ premiere. It's given them time to look back on everything from their biggest on-stage flubs to the more, um, unique aspects of their performances.
Leslie Odom Jr. has also spoken about what it means to him to have his and his castmates' Hamilton performances immortalized on film, especially since he didn't get a chance to see anything on Broadway as a child. So knowing that they now have fans all over the world who have been inspired has to be especially exciting for him. Since Hamilton will be on Disney+ for the foreseeable future, it's likely he and the rest of the cast will be able to hear about the impact they've made for years to come.
Your Daily Blend of Entertainment News