Seth Rogen's An American Pickle And 14 Other Dual Role Comedies To Check Out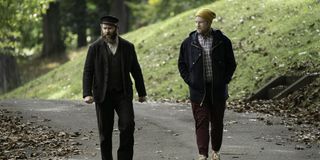 This weekend, HBO Max subscribers are getting two Seth Rogens for the price of one. In the new film An American Pickle, the comedy star takes on the classic actor challenge of a dual role – playing both a time-displaced 1920s Eastern European immigrant and his great-great grandson – and the results are phenomenal, with Rogen delivering some of the funniest work of his career. It's so excellent that once you are done you may find yourself hungry to watch even more dual-role performances, and if you end up feeling that way, we have some recommendations for you.
The tradition of dual role comedies goes back decades and decades, with some of the results being legitimate all-time classics, and being excited after watching An American Pickle we figured that we would take the opportunity to highlight a number of them. From Nicolas Cage to Eddie Murphy to Peter Sellers, here are 14 great titles to check out:
Adaptation.
Only Charlie Kaufman could get away with adapting an award winning book by making a movie about his attempt to adapt said award winning book… and give himself a twin brother who doesn't exist for good measure. Spike Jonze's Adaptation. is an ingenious example of the way his unique mind works, and it gives Nicolas Cage the material to deliver one of the best performances of his career as the endlessly neurotic Charlie and the far too easy-going Donald.
The Great Dictator
This list wouldn't be legitimate if it didn't include Charlie Chaplin's The Great Dictator, which is a remarkable classic for many reasons, with one of them being the writer/director/producer's dual performance as both a poor Jewish barber and Adenoid Hynkel – what was considered at the time of the movie's release in 1940 to be a radical parody of Adolf Hitler.
Dave
Ivan Reitman's Dave features one of the all-time great supporting casts, featuring so many impressive names that we don't have space to list them all here, but Kevin Kline rules all in the roles of President Bill Mitchell and president impersonator Dave Kovic, who winds up sitting in the big man's chair in the creation of a White House conspiracy. It's a nice feel-good comedy that makes for a pleasant watch in the current moment. And once you're done, you can also check out Robert Young Fred Schepisi's Fierce Creatures, which features another excellent dual-role performance by Kline.
History Of The World Part I
Like other actors on this list, Mel Brooks is a guy who has done multiple movies with dual roles, including Spaceballs and Blazing Saddles, but we opted to highlight History Of The World Part I specifically because of the Prince And The Pauper-esque story set during the French Revolution. It's Brooks at the height of his powers, and also gives us one of the all-time quotable lines: "It's good to be the king."
Back To The Future Part II
The original Back To The Future doesn't quite qualify for this list given that multiple actors are simply playing their same characters at different ages, but the fact that Robert Zemeckis' Back To The Future Part II brings look-alike relatives into the mix for both the McFly family and Biff Tannen makes it totally fair game. Michael J. Fox and Thomas F. Wilson both do some pretty broad work to differentiate their roles as Marty McFly Jr., Marlene McFly, and Griff Tannen (you gotta love that ultra-squeaky voice that Junior sports), but they get big laughs.
The Parent Trap
Yeah, yeah. Boo-hiss. I'm a millennial who is choosing the original Haley Mills-starring The Parent Trap over the Lindsay Lohan version. Sue me. If you grew up exclusively on the remake, you should really check out director David Swift's original, as it has a wholly different charm coming out of the early 1960s, and is arguably even sweeter and funnier.
Kind Hearts And Coronets
Some performers mentioned on this list play two characters in a single movie, and a couple play three, but absolutely nobody comes even close to touching the high water mark set by Sir Alec Guinness in Robert Hamer's Kind Hearts And Coronets. The black comedy from 1949 features the actor best known as Obi-Wan Kenobi in a grand total of nine different roles – each of them set up as victims of a man out for revenge against the family that disowned his mother. Guinness plays each of the parts with their own specificity, and he's the great standout of the film.
Bowfinger
We came super close to including Tom Shadyac's The Nutty Professor as Eddie Murphy's entry in this feature, but ultimately decided to give the edge to Frank Oz's Bowfinger because 1) the dual roles make for a key part of the story, and 2) it's the better overall film. Though it wound up being Murphy's last great comedy for a long time (basically until My Name Is Dolemite came around), it's legitimately one of his best he's made, delivering two great performances as the paranoid superstar Kit Ramsey and his insanely nerdy and fragile brother Jiff.
Cat Ballou
Lee Marvin is truly one of the all-time great "tough guy" actors, but the man most definitely had range, and there's quite possibly no clearer evidence than what's found in Elliot Silverstein's western comedy Cat Ballou co-starring Jane Fonda. Marvin gets to do his practiced "tough guy" act as the villainous Tim Strawn, but his Kid Shelleen is a drunken buffoon who can't shoot straight unless he's blind drunk. It's disarming fun, and even has a funny little twist arrive at the end.
Austin Powers: International Man Of Mystery
Put at the center of his own superspy comedy, Mike Myers couldn't help but play both hero and villain, and the resulting performances are simply iconic. Both Austin Powers and Dr. Evil are two of the most quoted characters of all time, and it's damn impressive the way that Myers disappears into both roles and provides them each with a totally different comedic energy. You can also check out So I Married An Axe Murderer and the Austin Powers sequels for more multi-Mike Myers action, but it doesn't get better than the original Austin Powers: International Man Of Mystery
.
Mars Attacks!
In Mars Attacks!, Tim Burton goes full blown weird, and perhaps the best expression of it is his usage of one of the greatest actors of all time. Jack Nicholson got the opportunity to play both the President of the United States and the ridiculous Las Vegas-centric developer Art Land after joking about wanting to play all the roles in the movie, and what ends up happening? Both wind up dying horrible, violent deaths. It's fantastic.
Bill And Ted's Bogus Journey
This is a case similar to Back To The Future Part II in that Bill And Ted's Excellent Adventure doesn't quite qualify for this list despite having Keanu Reeves and Alex Winter play a pair of sequences opposite themselves, but Bill And Ted's Bogus Journey most definitely counts thanks to the evil robot versions of the eponymous heroes. Reeves and Winter didn't exactly need to go to wholly new places for their performances, but it remains a fun pair of dual-role turns (and there is also the bonus of Winter also playing Granny S. Preston, and William Sadler briefly appearing as "English Father" in addition to his more prominent make-up covered character, Death).
Joe Versus The Volcano
The multiple roles played by Meg Ryan in John Patrick Shanley's Joe Versus The Volcano is one of the odder inclusions on this list, as the movie doesn't really offer any kind of practical reason for it (of the three parts, only two of them are sisters), but the film makes this list because Ryan puts on a wonderful show in all three roles and perfectly adds to the overall weirdness of the 1980s cult classic. I'll even just say it: it's the best of the Tom Hanks-Meg Ryan movies.
Doctor Strangelove Or: How I Learned To Stop Worrying And Love The Bomb
Now it is time to talk about Peter Sellers, and legendary trio of performances in Stanley Kubrick's Dr. Strangelove – playing the titular German scientist, Group Capt. Lionel Mandrake and President Merkin Muffley (fun fact: he was also supposed to play Maj. 'King' Kong but faked a broken leg to get out of it). It's a truly remarkably piece of work as Sellers gets howling laughs in all three varied roles, and the film has a fair claim for the title as the greatest multi-role comedy ever.
Before you check out all of these awesome films, be sure to watch An American Pickle when it arrives on HBO Max this Friday, and stay tuned for more of our coverage of the film here on CinemaBlend – including stories from our interview with Seth Rogen!
NJ native who calls LA home; lives in a Dreamatorium. A decade-plus CinemaBlend veteran; endlessly enthusiastic about the career he's dreamt of since seventh grade.
Your Daily Blend of Entertainment News
Thank you for signing up to CinemaBlend. You will receive a verification email shortly.
There was a problem. Please refresh the page and try again.