What To Watch Streaming If You Love Nicolas Cage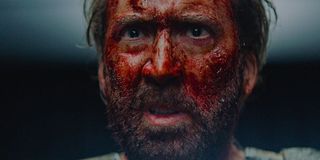 For several decades now, Nicolas Cage has been continuously mastering the fine art of Nouveau Shamanic. The perplexing inconsistent actor isn't always known for his triumphs, but he'll often commit wholeheartedly to his material when asked to, resulting in several outstanding or, at least, very memorable performances throughout his strange and fascinating career. If you're a Nic Cage fan, here are just a few titles that you should check out now on various streaming services.
Raising Arizona (HBO Max)
An ex-con (Nicolas Cage) and an ex-cop (Holly Hunter) in a childless relationship kidnap a quintuplet baby from another family to disastrous results.
Why It's A Good Option for Nicolas Cage Fans: Sadly, Nicolas Cage and the Coen brothers have only collaborated once in their respective careers, but the resulting film, Raising Arizona, is a splendidly wacky comedy with the benefit of featuring one of the actor's funniest, most lively performances. With a premise that could've easily fallen sideways, Joel and Ethan Coen ramp up the cartoonish silliness with the ample Cage playing up the goofiness well. It results in an oddly charming lead performance with the actor providing a nicely boyish look at an ex-criminal with a desire to do right for his makeshift family. It's hard to imagine how many other actors could've pulled this role off, but Cage nails it.
Stream it on HBO Max here (opens in new tab).
National Treasure (Disney+)
An adventurous historian (Nicolas Cage) goes on a quest searching for clues left in (or near) famous U.S. monuments in order to discover lost treasure hidden during the American Revolutionary War. To find these archival riches, this wannabe cryptologist will need to steal the Declaration of Independence.
Why It's A Good Option for Nicolas Cage Fans: Certainly among the actor's most commercially successful blockbusters, National Treasure might not be the most formal history lesson you'll find of our country's history, but its endearing mix of entertainment and loose education proved to be a rousing new take on the action-adventure formula, allowing Nic Cage to lend his atypical charisma to this foolhardy, gold-hunting protagonist who'll stop at next-to-nothing to discover the treasure he seeks. Even if that involves stealing one of the most foundational U.S. monuments. You'll have no trouble finding something here for everyone to enjoy.
Stream it on Disney+ here (opens in new tab).
Mandy (Shudder/Hoopla)
A once-peaceful woodsman (Nicolas Cage) seeks bloody, merciless revenge on a deranged, drug-addled hippie cult after they murder his wife (Andrea Riseborough) in cold blood.
Why It's A Good Option for Nicolas Cage Fans: After littering Redbox machines nationwide with underwhelming b-movies, lackluster action movies, and listless revenge tales, Mandy provided Nic Cage super-fans with this ultimate Cage Rage experience, a moody, majestically manic acid trip of an odyssey into the psyche of a man with nothing to lose and everything left on the line. The results are splashy and sensational, providing artsy rumination and genre-heavy leanings into a goofy, deranged new take on this familiar vigilante genre. Through its intoxicating atmosphere, pulpy visuals, and Cage's gleefully unhinged central performance, Mandy is an outstanding return-to-form, playing to his strengths to produce one of the most spellbinding horror films in years.
Stream it on Shudder here (opens in new tab) and Hoopla here.
Leaving Las Vegas (Amazon Prime, PlutoTV)
A disgraced Hollywood screenwriter (Nicolas Cage) travels to Las Vegas in order to drink himself to death. From there, he forms an unlikely relationship with a local sex worker (Elisabeth Shue).
Why It's A Good Option for Nicolas Cage Fans: Leaving Las Vegas is a depressing, haunting, and a fittingly (or, perhaps, ironically) sobering film that's elevated nicely by Nicolas Cage's mesmerizing, award-winning performance. In the role that turned him into an Oscar winner, Cage provided his signature blend of conviction and uninhibited dedication to provide an introspective, unrestrained look at an addict walking along the edge, lacking remorse or any desire for treatment. What could've been an utterly bleak, entirely soul-crushing movie is given a dark sense of fascination through Cage's peculiarly unique performance. It's certainly among Cage's most celebrated, well-recognized performances in a constantly scattered career.
Stream it on Amazon Prime here (opens in new tab) and PlutoTV here.
The Weather Man (Hulu)
A disliked Chicago weatherman (Nicolas Cage) struggles with a midlife crisis following his separation from his wife and children. Battling emotional and sexual frustration, this television personality must determine whether or not personal and professional success can be mutually beneficial.
Why It's A Good Option for Nicolas Cage Fans: For my money, The Weather Man remains one of the most underrated dark comedies of the '00s, as well as one of Nicolas Cage's strongest, most overlooked performances. While the character isn't always the most likable son-of-a-gun, Cage brings a good bit of warmth and humility to this cynical comedy about a befuddled man with a cloudy mind who must weather (har har) the storm of his personal life outside of professional livelihood. It's an engrossing character study, particularly into a profession that's often denounced. Alas, the movie hasn't gotten its full due.
Stream it on Hulu here (opens in new tab).
The Croods (Netflix)
A family of prehistoric cavemen, led by patriarch Grug (voiced by Nicolas Cage), must trek through lands unknown and undiscovered in search of their new home.
Why It's A Good Option for Nicolas Cage Fans: Though he's more well-known for his adult work, Nicolas Cage's family movies (as discussed with National Treasure) can also be a great bit of fun, producing some of Cage's most consistently watched and ritually enjoyed performances. With The Croods, Cage provided a surprisingly sweet-hearted performance as a lug-headed caveman trying to find safe dwellings for his B.C. household. This DreamWorks Animation movie balances the company's blend of humor and heart to good measure, resulting in an amusing, winning family film with beautiful visuals and a nice message to boot. There are sequel plans, which will see Cage returning to the familial role. Hopefully, it's as rock-solid as the original!
Stream it on Netflix here (opens in new tab).
Con Air (IMDbTV)
A freshly paroled U.S. Ranger (Nicolas Cage) finds his plans to reunite with his family derailed when he's ironically held prisoner on a transport plane seized by maniacal inmates.
Why It's A Good Option for Nicolas Cage Fans: Either you're on-board for Con Air's stylistic shenanigans or you're not. Thankfully, I'm definitely in the former camp. Simon West's absurd, high-testosterone macho action blockbuster is far from the smartest, most sophisticated, or most logical film you'll ever see. But this delightfully dim-witted extravaganza relishes in every ludicrous moment and every cheeky bit of nonsense, never losing the big smile that's permanently plastered over its face. With an all-star ensemble, including John Malkovich, John Cusack, Ving Rhames, Steve Buscemi, Colm Meaney, Danny Trejo, and Dave Chappelle, Con Air is exactly the sort of '90s high-stakes buffoonery you expect from a Jerry Bruckheimer production, and Cage's winningly sincere performance allows it to soar.
Stream it on IMDbTV here.
Bad Lieutenant: Port Of Call - New Orleans (Tubi, IMDbTV, Peacock, PlutoTV, Kanopy, Hoopla, Vudu)
Loosely inspired by 1992's Bad Lieutenant, Bad Lieutenant: Port of Call - New Orleans follows a deeply corrupt detective (Nicolas Cage) investigating the killing of Senegalese immigrants in post-Katrina New Orleans.
Why It's A Good Option for Nicolas Cage Fans: Nicolas Cage teaming up with legendary filmmaker Werner Herzog was bound to produce some memorable results, but Bad Lieutenant: Port of Call - New Orleans isn't merely a striking cinematic descent into madness but also one of Cage's best, most unhinged performances of the '00s. Liberated by Herzog's soulful, unbridled direction, Cage unleashes a compellingly bizarre turn and throws himself fully and completely into the insanity at the heart of his utterly despicable lead character — producing a deliriously enrapturing experience.
Stream it on Tubi here, IMDbTV here, Peacock here (opens in new tab), PlutoTV here, Kanopy here, Hoopla here, and Vudu here (opens in new tab).
8MM (Showtime)
A private investigator (Nicolas Cage) must discover if a snuff film is authentic.
Why It's A Good Option for Nicolas Cage Fans: To remember the late director Joel Schumacher, this might be the ideal time to check out 8MM, one of two collaborations between the filmmaker and Nicolas Cage (the other being 2011's Trespass), if you haven't seen it already. With an excellent cast, including Joaquin Phoenix, Peter Stormare, Anthony Heald, Chris Bauer, Catherine Keener, and James Gandolfini, who is also sadly no longer with us, this mystery-thriller didn't receive the best reception upon release — though it has found an audience over the years, notably through its explorative look into human depravity and Nicolas Cage's fixated central performance. It might not be the film that either the actor or the director is best known for, for better or worse, but it's a curious watch.
Stream it on Showtime here.
Spider-Man: Into the Spider-Verse (Netflix)
Miles Morales (voiced by Shameik Moore) becomes the new Spider-Man of his universe, only to join forces with Spiders-Man (Spider-Men?) from other multiverses to stop a threat to all their well-beings.
Why It's A Good Option for Nicolas Cage Fans: While Nicolas Cage only played one part in this animated hit's enormous success, he contributed to what's been widely been considered not only one of the best animated movies in recent memory but one of the finest superhero films in years (even in a crowded market). In the role of Spider-Man Noir, the brooding, black-and-white, Nazi-punching web-shooter allowed Cage to lend his voice to a moody variation of the popular character, thus letting the comic book-loving actor have another swing at leap a popular superhero character off-the-page following missed opportunities (Ghost Rider) and failed attempts (Tim Burton's abandoned Superman project).
Stream it on Netflix here. (opens in new tab)
Mom and Dad (Hulu)
Two children (Anne Winters, Zackary Arthur) must fight for their lives when mass hysteria from sources unknown causes a pair of parents (Selma Blair, Nicolas Cage) to turn violent against their own children.
Why It's A Good Option for Nicolas Cage Fans: Reuniting with director Brian Taylor, one half of the duo behind Ghost Rider: Spirit of Vengeance, Nicolas Cage provides a rambunctious, gleefully self-aware performance in this wicked dark comedy. Paired with the similarly-game Selma Blair, Cage allows this disturbing premise to indulge his manic energy and menacing terror to great effect, showcasing a patriarch with all inhibitions lost and truly vicious disdain ruling this nightmarish 24-hour period. In what other movie are you going to see Nicolas Cage swinging a sledgehammer around while singing "Hokey Pokey?" Much like their past collaboration, Taylor indulges Cage's goofiest sensibilities in this effectively nasty horror-comedy.
Stream it on Hulu here. (opens in new tab)
Birdy (Amazon Prime)
When teenage buddies return home from the Vietnam War, one friend (Nicolas Cage) turns unstable while the other (Matthew Modine) obsesses about becoming a bird.
Why It's A Good Option for Nicolas Cage Fans: To commemorate the loss of director Alan Parker, you should be sure to check out Birdy, an unlikely story with a pair of effecting performances from Nicolas Cage and Matthew Modine. While it didn't take the box office by storm, this William Wharton adaptation earned a great deal of praise for Cage as a developing young talent, particularly shown through his dedication and singular intensity to his craft. This performance helped prove that Cage was the real deal.
Stream it on Amazon Prime here (opens in new tab) and PlutoTV here.
In addition to all these titles, it's also worth noting that you can stream Face/Off and The Rock on Fubo, Moonstruck on Hulu, Bringing Out the Dead on Amazon Prime, World Trade Center on Crackle, Knowing on Tubi, Red Rock West on Peacock, and Color Out of Space on Hoopla, to name a few more options available on various platforms. Certainly, if you're a Nicolas Cage, you have a lot of streaming options. What is your favorite Nicolas Cage movie? Be sure to let us know in the comments!
Your Daily Blend of Entertainment News
Will is an entertainment writer based in Pittsburgh, PA. His writing can also be found in The Playlist, Cut Print Film, We Got This Covered, The Young Folks, Slate and other outlets. He also co-hosts the weekly film/TV podcast Cinemaholics with Jon Negroni and he likes to think he's a professional Garfield enthusiast.