9 Tom Hanks Movies You May Not Have Seen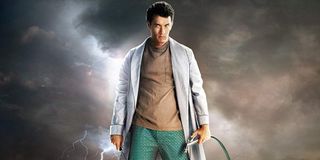 You know Tom Hanks. Unless you've been hiding under a rock for decades (if so, err... Welcome back! A lot has changed!), there's a very good chance that you're familiar with the acclaimed, beloved A-list superstar.
The two-time Academy Award-winning actor, producer, writer, and director is the star of several celebrated, well-known titles, including (but not limited to), Forrest Gump, Philadelphia, Cast Away, Sleepless in Seattle, A League of Their Own, Big, Splash, Saving Private Ryan, Captain Phillips, Apollo 13, The Green Mile, The Polar Express, Catch Me If You Can, You've Got Mail, the Toy Story movies, and, most recently, A Beautiful Day in the Neighborhood, and several movies on his resume became critical or commercial successes (or both). But alas, not every movie starring the veteran actor is as well-known as these titles. Here are some Tom Hanks movies that might've slipped your notice, even if you're a super-fan.
Joe Versus The Volcano (1990)
John Patrick Stanley's Joe Versus The Volcano is certainly an intriguing addition to Tom Hanks' filmography. Made shortly after the actor was beginning to make a name for himself with roles in Splash and Big, but before he'd take more dramatic turns in movies like Philadelphia, this dark romantic-comedy is often considered either one of Hanks' better or worse movies, depending on who you ask. The premise follows a man (Hanks) who, after discovering that he's dying of a rare disease, travels to a South Pacific island to throw himself into a volcano. But does love intervene? Hanks first on-screen collaboration with Meg Ryan, with whom he'd later star in Sleepless in Seattle and You've Got Mail, the film wasn't beloved but it gained serious fans, eventually becoming a cult favorite. Check it out for yourself to see where you stand.
Bachelor Party (1984)
It's weird to imagine two-time Academy Award-winning actor in a ribald sex comedy. Alas, during his earlier years, one of Tom Hanks' first leading man roles was in 1984's Bachelor Party, directed by Neal Israel (Police Academy). Released the same year as Splash, Bachelor Party follows Rick Gassko (Hanks), a soon-to-be-wed young man who gets a rambunctious bachelor party thrown in his honor, causing the bachelor to question if he can stay faithful to his future bride for this bawdy evening.
While perhaps not as raunchy as other R-rated comedies in this vein, it's surprising to see the normally classy Hanks in a role that requires him to play against his future family-friendly image. The man who'd later be considered America's Dad is seen in a notably lewd, cruder environment, though it's a testament to Hanks' charisma that he remains a likable presence in this wild-and-out comedy.
Volunteers (1985)
Though screenwriter/director Nicholas Meyer has often celebrated for his earlier works, including 1979's Time After Time and, most notably, 1982's Star Trek II: The Wrath Of Khan, 1985's Volunteers, his third theatrical release (his third movie, 1983's The Day After, was a made-for-TV movie), didn't get the same warm response. It's a shame because, when it comes to casting, it has a stellar pair of stars with Tom Hanks and the late John Candy, reuniting after Splash.
In this adventure-comedy, we follow Lawrence (Hanks), a recent Yale graduate, who escapes to Thailand after his father refuses to pay for his college loans. From there, he makes a new friend in Tom Tuttle (Candy). The critical response to Volunteers was mixed-at-best, though it did garner fine notices for Hanks' performances. And it played a significant role in his life; it fostered his relationship with his future wife, Rita Wilson.
Nothing In Common (1986)
As an actor and comedian, Jackie Gleason was best known for his starring roles in The Honeymooners, The Jackie Gleason Show, The Hustler, and Smokey and the Bandit, among other films and shows. He made his final screen appearance was in 1986's Nothing In Common, a dramedy starring the then-upcoming Tom Hanks. A father-son story about a successful ad executive (Hanks) who puts his life on hold when he discovers that his dad (Gleason) is divorcing his mother, Nothing in Common earned mixed reviews and it wasn't a huge success upon release, but it gained prominence in the years to follow.
Certainly, it was a stepping stone movie for Hanks; it helped him transition from lighthearted comedies to more dramatic roles — especially in the decade to follow. Additionally, Gleason's final performance was celebrated among critics too, notably his on-screen screen dynamic with a young(er) Hanks.
The 'Burbs (1989)
Though slightly more well-known than a few other titles on this list, 1989's The 'Burbs didn't get quite as much notice or cultural adoration as other Tom Hanks comedies around this time like 1988's Big. Or even Turner & Hooch, which was released the same year as Joe Dante's off-beat suburban dark comedy. This is somewhat understandable. The premise, which follows Ray Peterson (Hanks), a cranky, overstressed suburbanite who — along with his other neighbors — believe that the new family on the block might actually be involved in a murderous Satanic cult, is stranger and more acidic than your typical Hanks comedy, with Hanks playing against his more likable, endearing image in select scenes.
The oddball mash of tones and styles divided critics and general moviegoers alike, though it gained an audience in the years to follow. And understandably so. It's kooky, but it's also fun.
Dragnet (1987)
A buddy cop comedy based on the radio and TV crime drama of the same name, 1987's Dragnet plays as both a parody and homage to the famous show. Alas, it didn't fully end up working. Despite the presence of Tom Hanks and co-writer Dan Aykroyd, the reviews were ultimately mixed, claiming that the comedy was inconsistent and the material was clumsy in its tonal clash.
Still, it's the rare opportunity to see these two celebrated performers in their unexpected on-screen collaboration, and while the movie itself was seen favorably in the broad sense by every critic, many celebrate the work of these two actors working with and opposite on another in this buddy comedy. Also, Dragnet proved to be a moderate box office success to boot, which furthered Hanks' ever-continuing star power.
A Hologram for the King (2016)
You would think it'd be hard for a new Tom Hanks movie to slip through the cracks. Yet, Tom Tykwer's A Hologram for the King basically came and went, garnering only a limited theatrical run and a muted critical notice. It's a shame because, while it's not faultless, it's not half bad either. The dramedy, based on Dave Eggers' novel, is a fish-out-of-water story which follows a washed-up corporate salesman named Alan Clay (Hanks) who goes all the way to Saudi Arabia for a new business deal.
While some critics found this adaptation to be a bit too meandering in its approach, Tykwer's striking eye for visuals, especially in such a picturesque location, along with Hanks' commendably mature performance help give this movie its form. Though it doesn't stand quite as tall as some other titles in his vast filmography, Hanks' fans will likely enjoy it.
Punchline (1988)
In 1988, the same year he was seen in Big, Tom Hanks frontlined Punchline, a romantic dramedy centered around a medical school dropout (Hanks) and a housewife (Sally Field) who venture in stand-up comedy. While the movie has been criticized for its less-than-accurate depiction of New York City's stand-up scene, Punchline was also celebrated for Hanks' starry performance at the center. It was seen as another showcase for the actor's mix of comedic and dramatic talents, notably as the actor was transitioning into more serious roles in the years to come. While Punchline is more a fan favorite than a critical darling, this sweet, romantic look at the world of stand-up comedy continued giving Hanks the center stage in the years to come.
The Man With One Red Shoe (1985)
In 1985's The Man With One Red Shoe, a remake of the 1972 French film, The Tall Blonde Man With One Black Shoe, Tom Hanks plays Richard Drew, a man who is picked at random to be made the target of CIA surveillance and pursuit. Released in the years leading up to Hanks' success as a leading man, The Man With One Red Shoe didn't necessarily critical acclaim or box office success. The reviews were mixed-at-best and the film became a box office disappointment. Still, the film allowed the actor to dip his toes into the espionage genre, and it allowed him to coast by on his continued charm.
In addition to these overlooked/forgotten Tom Hanks movies, there are a few others that fans might've missed. Those include Money Pit, Cloud Atlas, and, perhaps, Larry Crowne, which he also co-wrote and directed. But what are some of your favorite Hank performances? Let us know in the comments below!
Your Daily Blend of Entertainment News
Will is an entertainment writer based in Pittsburgh, PA. His writing can also be found in The Playlist, Cut Print Film, We Got This Covered, The Young Folks, Slate and other outlets. He also co-hosts the weekly film/TV podcast Cinemaholics with Jon Negroni and he likes to think he's a professional Garfield enthusiast.