Wait, The Original Bill And Ted Movie Almost Had A Very Different Title?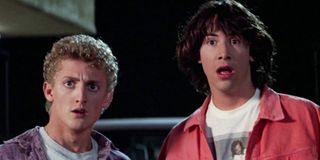 Throughout all three Bill & Ted films, the eponymous heroes travel through time via an old-school phone booth. All things considered, their chosen mode of time transportation is one of the most memorable parts of the entire franchise. Honestly, it's hard to imagine the series without it. Yet, according to an early draft of the script, the first Bill & Ted movie almost had a completely different name, and that title makes it clear that their time-traveling adventures would have looked a lot different.
Bill & Ted Face The Music, the third movie in the franchise, is hitting VOD and a handful of theaters in the United States on August 28th. The movie, at least according to those who made it and who have seen it, is a perfect blend of fun and nostalgia. So it makes perfect sense why anyone involved, be it the cast and crew or fans, would be reminiscing about when the first films came out in the late 1980s and early 1990s.
However, one of Bill & Ted's screenwriters, Ed Solomon, ended up reminding fans of a pretty startling piece of trivia when he shared the results of his own trip down memory lane. He shared the cover for an early draft of the Bill & Ted's Excellent Adventure script, which revealed a much different name for the movie. Take a look at what could have been in his Twitter post below:
A number of hardcore fans may be aware of the film's original title, but this may be news to some. It also just goes to show how many revisions movies go through before they make it to the screen and how a few small but key differences can change everything.
It's not totally clear why they switched gears, but having Bill and Ted use a phone booth instead definitely helped set the movie apart from the super-successful Back to the Future series and its infamous DeLorean. Plus, if you think about it, it's a good thing our favorite time traveling dudebros ended up not navigating through time in a van. The return of the now-completely obsolete phone booth for Bill & Ted Face The Music will likely add another layer of comedy that a van -- while outdated, not extinct -- simply could not.
Really, any way you look at it, the phone booth time machine was the right call. Bill & Ted's Excellent Adventure and the follow-up Bill & Ted's Bogus Journey have attained a kind of iconic status within the buddy comedy and time-travel genres. Bill & Ted Face the Music seems poised to both captivate old fans and collect news ones, too.
Do you think the Bill & Ted team made the right call in not using a space van? What kind of van do you think they would have used? Let us know in the comments!
Your Daily Blend of Entertainment News
Your Daily Blend of Entertainment News
Thank you for signing up to CinemaBlend. You will receive a verification email shortly.
There was a problem. Please refresh the page and try again.