Shia LaBeouf's The Tax Collector Is Topping Charts, Despite Poor Reviews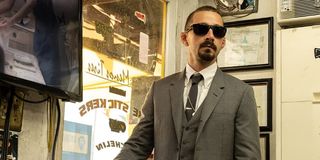 Conventional wisdom typically says that movie reviews affect box office numbers. It makes sense to a degree; if you hear a movie is bad, you're less likely to be fired up to go see it, right? But that's not always the case, as seen by Shia LaBeouf's The Tax Collector, which is topping the movie charts even though it has received mostly poor reviews from critics.
Directed by David Ayer, The Tax Collector just released on VOD on August 7. Though CinemaBlend's own Mike Reyes called it a "compelling crime thriller," the overall critical reception has been less-than-kind with some critics calling it "cliché," "offensive," and "boring." Still, that hasn't stopped audiences from devouring the movie. Both FandangoNOW and Vudu, two online VOD services, have announced their top ten lists in the past week with The Tax Collector sitting proudly at number one.
It's hard to put a finger on why The Tax Collector has remained impervious to critical reviews, but one reason could be the stark divide between critics and fans, a trend that has cropped up every so often. As of right now, according to Rotten Tomatoes, The Tax Collector has a critical rating of 18% while the audience score is at 61%. With that said, word of mouth praise could be driving people to go see it.
Another reason could be the Shia LaBeouf factor. The Transformers actor has been known for doing wild behavior off camera, which only makes him more intriguing. But he's also become a well-respected actor that seems to take commitment of his craft to a whole new level. Wanting to see his performance could be a huge draw.
And then there's David Ayer. Though his recent movies like Suicide Squad and Bright haven't been well-received by critics, he's been praised for his work on Fury and End of Watch. He's also built a considerable fanbase of late surrounding his version of Suicide Squad. Many of his fans are pulling for Warner Bros. to release an Ayer Cut, similar to Zack Snyder's Justice League. David Ayer is known for his visceral, gritty, and grounded approach to storytelling, a brand that his audience loves.
The Tax Collector obviously is not alone as being a movie that does successfully at the box office but is panned critically. There's a whole slew of movies that have received poor marks but did surprisingly well. Transformers: Revenge of the Fallen, for example, got a 19% Rotten Tomatoes rating, but still made a little over $406 million at the box office.
On the flip side, there are also plenty of movies that get glowing reviews from critics that no one ever watches. People like what people like, and sometimes it's not always clear cut. But, in The Tax Collectors case, audiences overall seem to be digging it.
Your Daily Blend of Entertainment News
Your Daily Blend of Entertainment News
Thank you for signing up to CinemaBlend. You will receive a verification email shortly.
There was a problem. Please refresh the page and try again.