10 Recent Movies Fans Liked Much More Than Critics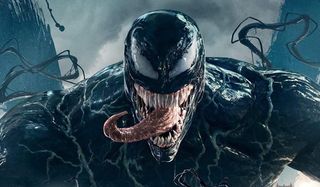 You may think critics and moviegoers rarely agree, but that's not the case. More often than not, user reviews from Rotten Tomatoes, IMDb, CinemaScore, social media, and general word of mouth are fairly close to what the critics posted. But increasingly, it seems, the gap is widening. The 2017 movie Bright was emblematic of this trend, and it continued into 2018 and now in early 2019. Here are 10 recent films from the past year that fans rated much higher than the critics.
Venom
Rotten Tomatoes Critics Score: 28% Fresh (average rating 4.4/10, from 296 reviews)
Rotten Tomatoes Audience Score: 84% (average rating 4/2/5, from 36,070 ratings)
CinemaScore: B+
IMDb Rating: 6.8 (from 213,112 ratings)
Yes, Tom Hardy's Venom is the new poster child for the fan/critic disparity. Critics sniffed at the first film in Sony's Marvel Universe, but not only did fans around the world -- especially China -- embrace the film at the box office to more than $855 million, they also gave it high ratings. Sometimes a movie makes a lot of money and afterward fans wish they hadn't bothered. But with Venom, the moviegoers polled at CinemaScore gave it a healthy B+, and the Audience Score at Rotten Tomatoes is a very healthy 84% from way more ratings than critical reviews. Over at IMDb, there are even more users weighing in, and they seemed to split the difference a bit, giving Venom a mid-to-high rating of 6.8. The more people who weigh in, the more I tend to value the overall rating.
Bohemian Rhapsody
Rotten Tomatoes Critics Score: 62% Fresh (6.1/10)
Rotten Tomatoes Audience Score: 89% (4.4/5)
CinemaScore: A
IMDb Rating: 8.3 (from 184,589 ratings)
Many critics groaned, or just rolled their eyes, when Bohemian Rhapsody recently won the Golden Globe for Best Picture - Drama. Rami Malek has earned universal praise, but the rest of the film? Not so much. But fans love the movie -- not only giving it a high Rotten Tomatoes Audience Score, but also a solid A CinemaScore and a very high 8.3 user rating at IMDb. The film has also taken the box office by storm, and it looks like Rami Malek has a decent shot at an Oscar, which will lift the film to even greater heights.
Glass
Rotten Tomatoes Critics Score: 35% Fresh (so far)
Rotten Tomatoes Audience Score: 78% (so far)
CinemaScore: B
IMDb Rating: 7.4
Glass is officially hitting theaters as of this writing on January 18, so the numbers above are fluid. But by this point, the movie has already screened for critics and many fans. The critics pretty much trashed the movie out of the gate, but many fans have gone on the defense and embraced the film. It's possible critics expressing their disappointment lowered expectations for some fans, who found themselves pleasantly surprised. Either way, there's a big gap in play. It'll be interesting to see the Glass CinemaScore from polled moviegoers, but that's going to have to be added over the weekend, since it's not up yet. Guessing ... B+. We'll see. (Update: It's B. Probably a mix of high and low reactions, rather than people just saying "Meh, it was OK, I'd give it a B.)
The Upside
Rotten Tomatoes Critics Score: 40% Fresh (5.2/10)
Rotten Tomatoes Audience Score: 87% (4.3/5) (so far)
CinemaScore: A
IMDb Rating: 5.5
This movie just came out in theaters last week and was a "surprise" hit. It managed to dethrone Aquaman as #1 at the domestic box office. Critics were never on board with the film, and its current 40% rating on Rotten Tomatoes is even less than the 47% CinemaBlend had predicted. But it got an A CinemaScore and a very high 87% Audience Score (so far). However, it only has a 5.5 rating on IMDb, and that's from 4,810 users -- which is more users than RT. This isn't a major superhero movie so not that many users are weighing in. Sometimes people rate movies based on other factors, without even proving that they watched the movie, but CinemaScore surveys moviegoers, and they loved Bryan Cranston and Kevin Hart's film.
Fantastic Beasts: The Crimes of Grindelwald
Rotten Tomatoes Critics Score: 38% Fresh (vs. 74% for the first movie)
Rotten Tomatoes Audience Score: 60% (average 3.5/5) (vs 79% and 3.9)
CinemaScore: B+ (vs A for first film)
IMDb Rating: 6.8 (vs 7.3)
The second Fantastic Beasts movie is an interesting case in that it's technically a success for Warner Bros. -- one of their top-grossing movies of 2018 -- but it was a disappointment overall compared to the first film in the franchise. Critics and moviegoers were actually pretty closely aligned when it came to Fantastic Beasts and Where to Find Them. Critics gave it 74% and fans 79%, and it did very well at the box office. The second movie was liked a lot less by both groups, but the critics went way low while the fans were more measured in their ratings. Grindelwald also made a lot less money at the box office, more than $100M less worldwide. Not a good trend for a franchise planning five films.
Hunter Killer
Rotten Tomatoes Critics Score: 37% Fresh (4.7/10)
Rotten Tomatoes Audience Score: 79% (3.9/5)
CinemaScore: A-
IMDb Rating: 6.7
Critics didn't find anything fresh about Gerard Butler's submarine thriller, but their 37% was somehow even more than CinemaBlend's own prediction of 30%. But fans weren't looking for anything but a good time, and they seemed to find one. They liked Hunter Killer more than just fine with a 79% Audience Score and an A- CinemaScore.
Life Itself
Rotten Tomatoes Critics Score: 13% Fresh (3.6/10)
Rotten Tomatoes Audience Score: 78% (4.1/5)
CinemaScore: B+
IMDb Rating: 6.4
Polarizing! That's a good word for this drama written and directed by This Is Us creator Dan Fogelman. Critics hated the life out of Life Itself, giving it a wince-worthy 13% rating. Fans went in the opposite direction with a 78% rating. IMDb found middle ground with 6.4, but the CinemaScore moviegoers were also pretty positive with a B+. Fogelman had reacted to the critical bashing by saying he just had a "wildly different creative palette than the cynical film critic" and he hoped the film would be warmly received by moviegoers. As much as the fans who did watch the movie seemed to, on average, like it a lot, there weren't that many of them. Worldwide, the movie only made $7.3 million, per Box Office Mojo.
Death Wish (2018)
Rotten Tomatoes Critics Score: 17% Fresh (3.9/10)
Rotten Tomatoes Audience Score: 74% (3.9/5)
CinemaScore: B+
IMDb Rating: 6.4
Never bet against Bruce Willis! Seriously, though, he has two recent movies on this list -- Glass and this remake of the 1974 film Death Wish. Fans don't always embrace remakes, especially when they share the name of the original film, but they loved this one. Critics trashed the film at 17% -- way less than CinemaBlend predicted with 31% -- but fans flipped that to 74% with a B+ CinemaScore. They got what they came for, and that's all you can hope for as a film fan.
Peppermint
Rotten Tomatoes Critics Score: 12% Fresh (3.4/10)
Rotten Tomatoes Audience Score: 74% (3.9/5)
CinemaScore: B+
IMDb Rating: 6.5
Critics were very sour on Peppermint, with just 12% fresh, but fans embraced Jennifer Garner's vigilante film with 74% and a B+ rating. IMDb users averaged it out again. It's a critic's job to critique a movie -- it goes with the title -- so it does make sense when critics are more harsh with movies that they feel have weak scripts or wasted potential. But it's clear audiences either disagree on those metrics or set different standards, so it's always interesting to see how things play out.
Rampage
Rotten Tomatoes Critics Score: 51% Fresh (5.3/10)
Rotten Tomatoes Audience Score: 75% (4/5)
CinemaScore: A-
IMDb Rating: 6.1
This one was closer than many of the others when it comes to Rotten Tomatoes. I'm interested in the disparity between the A- CinemaScore and IMDb's 6.1 rating. The Upside had a similar set-up, except for an even higher CinemaScore and lower IMDb rating. In this case, though, the Rampage IMDb rating is from 101,985 users, which is waaaaaay more than The Upside. Critics were middle-of-the-road meh on Dwayne Johnson's movie, and RT users liked it more but not by a huge amount. In terms of the box office, Rampage "only" made $101 million at the domestic box office, off a reported $120 million production budget. But it made up that money overseas, picking up $327 million internationally for a total of $428M.
It's only January and already two films from 2019 are represented on this list. Considering how many potential blockbusters are ahead in 2019, there's an extremely high chance that more films this year will be disliked by critics and loved by fans, and also vice versa.
Of course, not all fans and not all critics are represented by these numbers. This is just the average of how things look at this point. Here's naively hoping that we all love most (if not all) of the films we see this year. After all, it doesn't really matter what other fans think, never mind the critics. If you are the one and only person who loved Film X, you still won!
Your Daily Blend of Entertainment News
Gina grew up in Massachusetts and California in her own version of The Parent Trap. She went to three different middle schools, four high schools, and three universities -- including half a year in Perth, Western Australia. She currently lives in a small town in Maine, the kind Stephen King regularly sets terrible things in, so this may be the last you hear from her.
Your Daily Blend of Entertainment News
Thank you for signing up to CinemaBlend. You will receive a verification email shortly.
There was a problem. Please refresh the page and try again.