Janelle Monae On Why It Was Important Hidden Figures And Moonlight Were Her First Two Movie Roles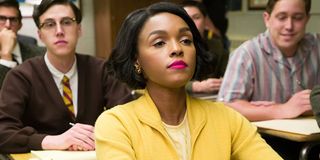 Although Janelle Monae first appeared on the entertainment scene in 2003 with her music, she absolutely shined as an actress more than a decade later with her first starring roles in Hidden Figures and Moonlight. Both of these films tell unusual but vital stories featuring black leads and now Monae has spoken out about why it was important they were her first two big movie roles.
On a Season 3 episode of Close Up With The Hollywood Reporter, Janelle Monae opened up about why it was important for her to choose both Hidden Figures and Moonlight specifically as her first two roles. She mentioned that even as part of her music career, she's always had a focus on making sure the world knows black people are capable of a multitude of things.
For those who are unfamiliar, the mention of math and orbit references Hidden Figures, a biographical drama that follows three exceptionally smart African American women working at NASA on an astronaut's launch into space. In it, Janelle Monae plays Mary Jackson, NASA's first black female engineer. Then, Chiron is the main character in the coming-of-age drama Moonlight, which is so good it won Best Picture (following a La La Land flub, of course). The film takes viewers through Chiron's childhood, teenaged, and adult life stages and Monae plays the girlfriend of a drug dealer who becomes a father figure to Chiron.
Janelle Monae also spoke about walking her truth growing up as a queer black woman in America and how that formed a deep responsibility within her to make sure that African Americans are represented in entertainment. Hidden Figures and Moonlight are inspiring stories, both on and off screen, and Monae has become a role model. Her characters allow young girls of color to see themselves in a positive light and gives them something to aspire to. In her own words,
Sounds like art is extending far beyond a career for Janelle Monae and she's taking her ability to represent blacks well in the media very seriously. Through various forms of media, including acting and her music, she has already made a dent and shown no signs of slowing down on that effort. So, what is Janelle Monae hoping for her acting career in the future? She also revealed in the interview:
Whether we want to admit it or not, implicit biases exist, and we all have them. But now that people have opened their eyes to these biases and begun to understand what changes need to take place, the work can really begin. As for Janelle Monae, I have high hopes she will see those scripts. And maybe even that Black Panther role.
Your Daily Blend of Entertainment News
Obsessed with Hamilton and most things Disney. Gets too attached to TV show characters. Loves a good thriller, but will only tolerate so much blood.
Your Daily Blend of Entertainment News
Thank you for signing up to CinemaBlend. You will receive a verification email shortly.
There was a problem. Please refresh the page and try again.