Justice League Dark Concept Art Shows Off Swamp Thing From Cancelled Movie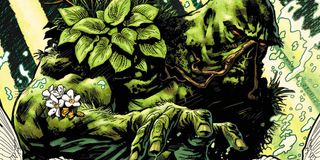 Several years back, one of the ways the DC Extended Universe planned on expanding was through Justice League Dark, which would have spotlighted some of DC's most well-known supernatural heroes. Alas, that cinematic project has been shelved, but that doesn't mean we can't still get a glimpse of what might have been.
One of the Justice League Dark's primary members is Swamp Thing, who has been a DC Comics mainstay for decades, so it's hardly surprising that he would have been present in the team's theatrical debut. Thanks to artist Houston Sharp, we have an idea of what the plant elemental creature could have looked like on the big screen:
In collaboration with David Masson, Houston Sharp came up with a cool-looking Swamp Thing design based on the vision for the character that director Doug Liman had. While Swamp Thing is often depicted as human-sized, he's certainly capable of growing his body much larger, as seen here where he's surrounded by a forest set on fire by a group of arsonists. Here's another piece of Swamp Thing concept art that Sharp shared on his Instagram page:
Oh boy, I do not want to be in those arsonists' shoes. It's bad enough dealing with Swamp Thing's wrath when he's at a more standard height, but at that large size, it's even more the stuff of nightmares. As mentioned earlier, Edge of Tomorrow's Doug Liman was once attached to direct Justice League Dark, and before he came aboard, Guillermo del Toro was guiding it along, having also written the script. The movie would have seen Swamp Thing fighting the forces of evil alongside John Constantine, Zatanna, Deadman and Madame Xanadu.
While things didn't work out for the Justice League Dark movie, Swamp Thing is fortunate enough to already have plenty of live-action experience under his belt. After first leading two movies, 1982's Swamp Thing and 1989's The Return of Swamp Thing, the character led his own TV series on USA Network from 1990 to 1993. Then last year, Swamp Thing starred in his own DC Universe series, which only lasted one season (it was cancelled after the first episode premiered) and took place on Earth-19 within the Arrowverse.
It's also worth noting that the Justice League Dark still have a bright future ahead of them in the live-action realm. Earlier this year, it was announced that a TV series centered on the team is in development at HBO Max, with J.J. Abrams and Ben Stephenson executive producing. That show's lineup hasn't been officially revealed yet, but one could logically assume that Swamp Thing will be part of the creepy festivities, whether it's the version we saw on DC Universe or a brand-new incarnation.
We here at CinemaBlend will keep you apprised on how HBO Max's Justice League Dark is coming along. You can discover what DC movies are still in development with our comprehensive guide.
Connoisseur of Marvel, DC, Star Wars, John Wick, MonsterVerse and Doctor Who lore. He's aware he looks like Harry Potter and Clark Kent.
Your Daily Blend of Entertainment News
Thank you for signing up to CinemaBlend. You will receive a verification email shortly.
There was a problem. Please refresh the page and try again.