What Is Justice League Dark And Who Are The Members?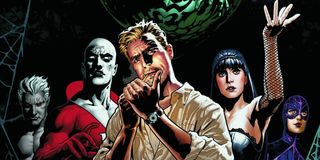 The possibility of the Justice League Dark members getting a movie is fantastic news for DC die hards. However, more casual comic book movie fans might hear that name and ask, "What is that? Just another name for the Justice League Snyder Cut?"
Actually, Justice League Dark is a special unit of DC's ultimate superhero alliance that specializes in things a bit weirder than what Batman or Superman might face off against, and despite getting a straight-to-video animated feature in 2017, its live action adaptation has been in development hell for years. However, according to Deadline, J.J. Abrams and his company Bad Robot, which signed a five-year contract with WarnerMedia in September 2019, intends to develop projects for film and TV involving members of Justice League Dark.
Once again, we have another glimmer of hope added to the live action Justice League Dark adaptation's otherwise shadowy history. If J.J. Abrams' involvement should be the beginning of finally getting this long-anticipated project off the ground, perhaps we should first give this irreverent comic a proper introduction.
What Is Justice League Dark?
The traditional members of the Justice League often deal with agents of chaos, or alien invasions, or megalomaniacal real estate developers. Whenever things like magic or mythological creatures seem to pose a problem, that is when you call Justice League Dark.
The group is a branch of the Justice League, [first introduced in DC comics](https://dc.fandom.com/wiki/JusticeLeagueDark(PrimeEarth) by creators Peter Milligan and Mikel Janin for its own series in 2011, that specializes in handling threats pertaining to the supernatural. Think of it as DC's answer to Dark Horse's B.P.R.D.: the paranormal research and defense agency that Mike Mignola's Hellboy is employed by.
The alliance of many of DC's more "horror-esque" characters originated when magic wielder Madame Xanadu's premonition of a threatening rampage by Enchantress (who ended being the main antagonist of the Suicide Squad movie in 2016) prompts her to enlist the help of the founding members of Justice League Dark. Speaking of which, who are the original members?
Who Are The Founding Members Of Justice League Dark?
To stop Enchantress, Madame Xanadu called upon some of the greatest defenders against darker forces of the supernatural known to the DC Universe. Most of Justice League's Dark's founding members possess mystical abilities themselves, making them experts in all that goes bump in the night.
Madame Xanadu, the one who started it all, is an 11th Century princess (and the sister of King Arthur) who learned the art of sorcery from her trainer, Merlin. Also a skilled in magic is Zatanna Zatara, the daughter of a former magician who also uses her mystical abilities for an audience in her successful illusionist show, as well as her off-and-on love interest John Constantine, a chain-smoking investigator of the supernatural who you may recognize from his big screen debut starring Keanu Reeves and Matt Ryan's many portrayals of him in several DC-related projects, including the animated Justice League Dark film.
One of the more tragic figures of Justice League Dark is the ghostly Deadman, who was a circus performer named Boston Brand before he… well, died by assassination, but was placed within the plane between life and death by cosmic entity Rama Kushna, forcing him to help others as an atonement for his sins. Rac Shade, an interdimensional poet who fights evil as Shade the Changing Man, also has a tragic backstory involving malfunctions in his stolen reality-distorting vest that created hallucinations of his dead lover, Kathy. This drove him to madness, eventually forcing him to leave Justice League Dark.
Justice League Dark has had a rotation of members since its first conception. In fact, in its current lineup, Zatanna is the sole founding member remaining. Who else is joining her?
Who Are The Current Members Of Justice League Dark?
As Justice League Dark has changed its members, the lineup has only gotten darker and, especially weirder. Not only are the personas and abilities of its members relatively strange, but seeing one certain DC icon involved in their endeavors is particularly surprising.
It is no surprise to see the likes of Swamp Thing (a plant-like humanoid being) or Man-Bat (the animalistic alter ego) of chemist Kirk Langstrom) joining Zatanna on the team. I even find that the inclusion of the highly intellectual, cigar-chomping primate Detective Chimp makes perfect sense. What surprises me, though, is the sight of Wonder Woman in Justice League Dark.
Yes, that is right. Diana, the Amazonian princess of Themyscira and a founding member of the Justice League is doing double-duty as the leader of their paranormal unit. However, in retrospect, it is not completely nonsensical. Wonder Woman could be considered a supernatural being, as an immortal demi-goddess with lesser-known magical abilities, and there is no denying her leadership capabilities.
What Justice League Dark Projects Are In Development At Bad Robot?
As much as we wish we could pull a Madame Xanadu and give you a premonition of what to expect from the world of Justice League Dark on screen, I am afraid we cannot. The recent announcement of Bad Robot's interest in expanding on the world of Constantine, Zatanna, and maybe even Wonder Woman, is the extent of our knowledge on the topic.
As you should recall, the Justice League Dark property has been tossed around Hollywood for quite a while, first as an option for Guillermo del Toro to helm before being passed to Edge of Tomorrow director Doug Liman, who walked away over disappointment in the script. While we have high hopes, there is still no telling if this is the last time we will hear of the property being put on hold.
To switch gears to more positive thinking, the good thing to consider about this development is that there are numerous possibilities for what direction Bad Robot could go with these projects. Justice League Dark has had several more members than the characters I have already mentioned, such as the shape-shifting Black Orchid, African wizard king Doctor Mist, and even DC's iteration of the creature built by Dr. Victor Frankenstein. That is just the tip of this chilling iceberg.
Justice League Dark is the unholy union of some very unique kinds of crime fighters that, if done right, could be a very magical experience. For more updates on the continuing development of these projects, be sure to check back right here on CinemaBlend.
Jason has been writing since he was able to pick up a washable marker, with which he wrote his debut illustrated children's story, later transitioning to a short-lived comic book series and (very) amateur filmmaking before finally settling on pursuing a career in writing about movies in lieu of making them. Look for his name in just about any article related to Batman.
Your Daily Blend of Entertainment News
Thank you for signing up to CinemaBlend. You will receive a verification email shortly.
There was a problem. Please refresh the page and try again.