Epic Fan Art Imagines Keanu Reeves' Constantine In The DCEU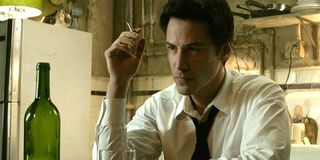 Keanu Reeves' hasn't played DC's John Constantine in over 15 years. Still, people love Keanu Reeves so much that many Constantine fans would likely be down to see him reprise the role, possibly within a cinematic universe. And one fan has taken it a step further by creating some epic fan art of Keanu Reeves' Constantine.
Some may not know after watching the 2005 movie Constantine that the character is based off of a DC comic. As such, many fans have wondered what things might be like if John Constantine were to enter the DC Extended Universe. As such, one art and DC fan made shared art on their social media of Keanu Reeves taking on the role again. Check it out:
How cool is that? This another stunning rendering by artist Boss Logic, who often makes fan theories come to life. Since playing the titular character in John Wick, Keanu Reeves has stoked quite a bit of attention for his action genre prowess. And, as it so happens, Keanu Reeves wants back in as John Constantine as much as the fans, saying:
While Constantine was met with mixed reviews at the time, it still did well at the box office and seems to have aged well with fans. Despite that, the planned sequel never came to fruition for one reason or another. But the character has had life on the small screen in other ways.
Since then, the character took a new form in NBC's Constantine, this time starring Matt Ryan. Sadly, that show was cancelled, but Matt Ryan's John Constantine lived again in the Arrowverse. When speaking about HBO Max's planned Justice League Dark series, Matt Ryan also said he'd like to at least have a crack at the role.
It's hard to say how DC could fit Keanu Reeves' Constantine into the DCEU. It seems like HBO Max wants to continue to establish the DCEU in some capacity. If they wanted the Justice League Dark series to play within the larger DCEU, he would have to play John Constantine in that and in a new Constantine sequel, right?
While it's not impossible, it's still difficult to imagine his character fitting in a future DCEU crossover. The studio would have to plan things out really well to make it work, and there have been some issues with this before. Only time will tell if the iconic hero ever makes it back into live-action, and which actor plays him.
With all that said, I think getting Keanu Reeves to reprise his role as John Constantine would be smart decision. People love Constantine, they love Keanu Reeves, and they love his portrayal of the character even after 15 years. Get him to come back and you have a pretty solid formula. But, what do you think? Should Keanu Reeves come back as John Constantine? Let us know in the comments!
Your Daily Blend of Entertainment News
Thank you for signing up to CinemaBlend. You will receive a verification email shortly.
There was a problem. Please refresh the page and try again.