That Time The Batman's Colin Farrell Confused His Castmate While In Character As Penguin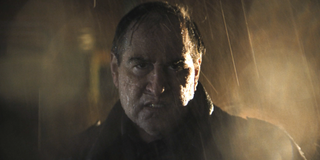 Ever since we saw the first footage of The Batman, fans have been eager to learn more about what Matt Reeves has in store for DC fans. Now that the first teaser trailer has dropped, the excitement for the upcoming movie has only grown -- especially since it had fans looking twice at some of the finer details, like the reveal of Penguin. Now, we're learning that thanks to his radical transformation, even one of Colin Farrell's castmates was confused when they first encountered him on set.
One of the coolest things about The Batman trailer is that it's given fans a ton to dissect. After it dropped, we were obviously pretty preoccupied with the more exciting aspects, like getting to see Robert Pattinson's Batman in action. But eagle eyed fans quickly began to pick up on some other details -- including what appeared to be our first glimpse at a nearly unrecognizable Colin Farrell as The Penguin.
It turns out fans weren't the only ones who had a hard time identifying the usually very recognizable actor. Jeffrey Wright, who plays Commissioner Gordon in the upcoming film, recently told SiriusXM during an interview that he also did a double take when he came across Colin Farrell on The Batman set:
In the brief glimpse we get of Colin Farrell in the trailer, he is heavily done up with prosthetics to make him appear much heavier than he is in reality, so it's easy to see why Jeffrey Wright was momentarily confused. The makeup artist in question is Mike Marino, an SFX specialist, who's definitely done some impressive work in the past. He did prosthetics work for last year's The Irishman and Joker, and he's also worked on series like I Know This Much is True and True Detective.
Despite the eye-catching prosthetic work for The Penguin, it remains to be seen how prominently the villain will feature in The Batman. It definitely appears that he'll prove to be a formidable foe for the Caped Crusader. The teaser trailer also establishes Zoe Kravitz's Catwoman as a major player in the movie -- though we also got an intriguing glimpse of Paul Dano's Riddler.
We will get to see more of how Colin Farrell embodies The Penguin's unique persona when The Batman hits theaters. It's currently still on schedule to arrive on October 1, 2021.
What did you think of Colin Farrell's appearance in The Batman trailer? Did you recognize him at first? Let us know in the comments!
Your Daily Blend of Entertainment News
Thank you for signing up to CinemaBlend. You will receive a verification email shortly.
There was a problem. Please refresh the page and try again.