Miles Teller Recalls The First Time Tom Cruise Got Back Into Maverick Gear On The Top Gun Set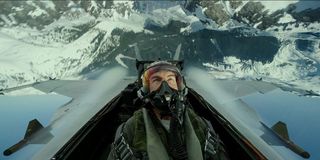 Top Gun is over 30 years old, meaning Tom Cruise hasn't hopped back into the cockpit as Pete "Maverick" Mitchell for quite some time. Now that he's returning for Top Gun: Maverick, Miles Teller revealed how big of a deal it was the first time Tom Cruise got back into his signature gear on the Top Gun set.
Despite its age, Top Gun is a legendary movie with few rivals, impacting several generations now. With Tom Cruise suiting up again, it created quite a moment. Miles Teller spoke a bit about this on The Rich Eisen Show, after he was asked what it was like being on the Top Gun set for the first time. Here's what he said:
It can't be overstated how big a moment something like this is. For a long time, Top Gun seemed like it would remain a standalone film with little hints of a sequel. Now that it's getting a sequel in Top Gun: Maverick, Top Gun fans can't wait to see Maverick hit the skies once again. And that includes Miles Teller himself.
Of course, this time Maverick will be significantly older and in a different stage of life. But that doesn't mean he won't be the same old Maverick we've come to know and love. Top Gun: Maverick director Joseph Kosinski elaborated that in the new film Maverick is still just as good at what he does, but will be forced to confront his past and reconcile with it.
Miles Teller, for his part, will be playing Bradley Bradshaw, the son of Nicholas "Goose" Bradshaw who famously and tragically died in Top Gun. Additionally, his character is supposed to be a student of Maverick's. Teller reportedly admitted it had been tough to keep up with Tom Cruise on set, saying it required a lot of training.
Under ordinary circumstances, Top Gun fans would have seen Top Gun: Maverick by now, with a previously scheduled release date of June 24, 2020. However, these aren't ordinary circumstances, so fans will have to wait until December 23, 2020 to catch the film in theaters. For more movie news, be sure to stay tuned to CinemaBlend.
Your Daily Blend of Entertainment News